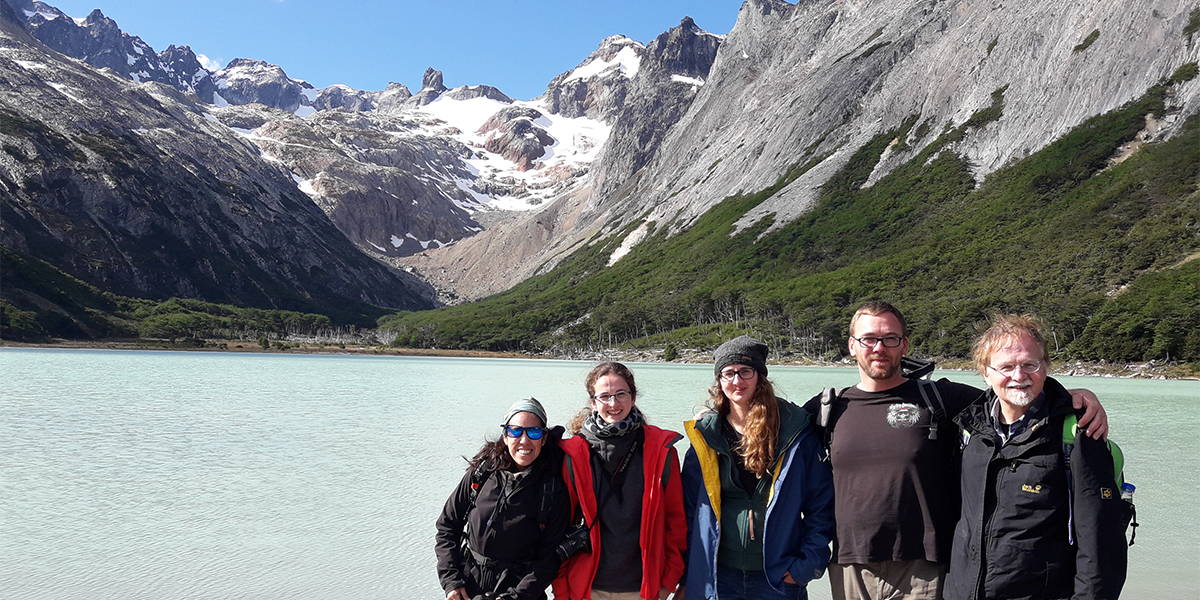 This is an active excursion, for those who enjoy walking and being outdoors in contact with nature. The forest, mountains and the glacier that surround it make the Emerald Lagoon an incredible place worth visiting.
---
This is one of the most interesting hikes to get to know the surroundings of Ushuaia and be surprised by the unique charm of the Laguna Esmeralda (Emerald Lagoon), hidden in the mountains.
The excursion begins in the morning with the transfer to the Valley of Tierra Mayor, just 20 km from Ushuaia on Route 3. Here we will start the walk of about two hours towards the lagoon, trekking through pristine forests, peat bogs, beaver dams, mountains and glaciers. Almost 5 km one way where we will cross over two valleys: Tierra Mayor, the largest in Tierra del Fuego  and also a Natural Reserve, located at 250 ms asl; and the Valley of Emerald River.
The trail enters the forest and then goes through a peat moss area where we cross a log bridge over the Emerald stream. From here we can see some beaver dams and part of the damage they cause in these forests. Not being a native species of this region, they cause serious damage to the local ecosystem.
From here, the landscape will alternate between forest and peat moss as we head deep into the valley. Along the path you will see incredible landscapes surrounded by mountains and snowy peaks, plus the crystal clear stream that comes from the lagoon.
At around 11 am, we will reach the beautiful Emerald Lagoon going up a hill, located at the foot of the Ojo de Albino glacier, between the Bonete hill and the Toribio cord. Its green waters live up to its name and contrast with the reddish color of the peat moss that surround it. We will enjoy the scenery for an hour while we take photos, rest and enjoy a picnic lunch in the mountain to regain strength for the way back.
We will return by the same path, and we might take a shortcut to see a gigantic beaver dam on the way. By 2.30 pm we will be back at the hotel
---
GENERAL INFORMATION
6 hs regular excursion.

Departure time at 8.30 am.

Operates daily.

Distance: 10 km (6.1 miles) round-trip.

Includes: Round-trip transportation from hotels, picnic lunch with empanadas, fruits, cereals, alfajores and hot beverage).

It is recommended to wear hiking shoes or boots and a backpack. Bring sunscreen, a cap and sunglasses.
---