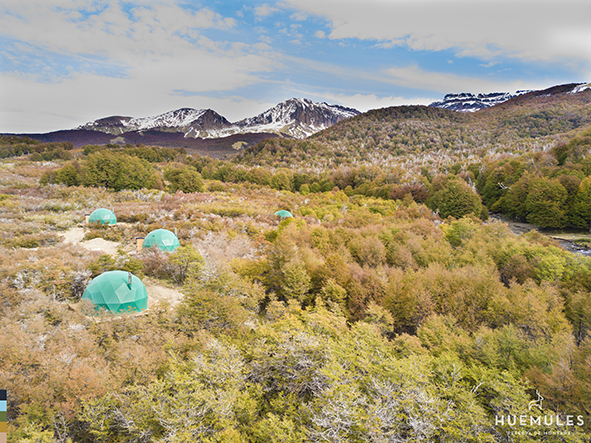 A natural reserve that combines comfort, hospitality and domes in the middle of the forest.
---
Huemules Mountain Reserve is located on the Rivadavia Mountain Range, 22 km from Esquel, Chubut province. 6100 hectares of natural reserve, next to Los Alerces National Park, with snowy mountain summits, streams and forests of original species.
This project aims not only to offer accommodation, but a full experience to embrace Patagonian nature like nowhere else; including local cuisine, the kindest service, as well as a variety of adventurous activities, four daily meals and a daily guided tour.
At Huemules you will stay at a private dome with great panoramic view, amenities and services that provide the utmost comfort while maintaining that special feeling of living in nature. In total, there are 10 double and triple domes of 28m2 each, with private bathroom, hot water, electricity, wood stove, deck and private balcony.
Between November and April, Huemules provides recreational outdoor half or full day activities to enjoy the reserve's natural environment and landscapes. Horseback riding, trekking and mountain biking circuits with different levels of difficulty, altitudes and breathtaking scenery just in the company of the Patagonian immensity.
For this summer, there will be six daytime trekking paths, and a special night time one, when there's a full moon. Hiking through forests, valleys and creeks while enjoying mountain views and learning about local flora and fauna is a great way to get to know the Patagonia.
As for horseback riding, there will be three circuits, one of each level of difficulty. Vidal and El Cruce are also two of the trekking paths, so this is an option for a more relaxed journey through the reserve's surroundings.
For more adventurous people, mountain biking is your choice! Three half day circuits and one full day, all of them offer a thrilling experience up and down slopes, zigzagging across the woods. Adrenaline rush guaranteed going downhill traversing the lenga forest on Downhill Norte circuit.
Gastronomy is a very important part of this experience. Meals are included with your stay, so be prepared to enjoy Patagonian flavors all the way.
To start the day, a typical buffet breakfast with hot infusions and freshly squeezed seasonal fruits juices. Also, a selection of eggs a la carte and croissants, freshly baked breads and homemade marmalades in addition to cereals, yoghurts and an assortment of regional fruits.
Lunch at Huemules is an invitation to learn and enjoy typical Patagonian cooking techniques where fire is the main character. Cordero a la cruz (upright charcoal grilled lamb) and a typical Argentinian barbecue all served with grilled seasonal vegetables and salads prepared with herbs are just an example of what they offer to renew energies for the next mountain adventure.
Upon arrival from the tours, in the warm atmosphere of the restaurant, hot infusions, delicious pastries, chocolate and fruits will be served while waiting for the sunset.
For dinner, the finest local dishes, regional products, Patagonian beef, lamb, trout and game meats prepared according to traditional recipes, paired with the best Patagonian wines and beers.
Delight yourself with great meals, fun activities and an enchanting environment where snowy mountains, forests and streams provide the perfect atmosphere for relaxation.
---
GENERAL INFORMATION
Included in the rate: Accommodation in the dome – Four daily meals – A daily tour – Natural water.

Not included: Soft and alcoholic drinks – Additional tours – Transfers.

Huemules will open in November 2019. Summer season will be extended until Easter Sunday 2020.
---