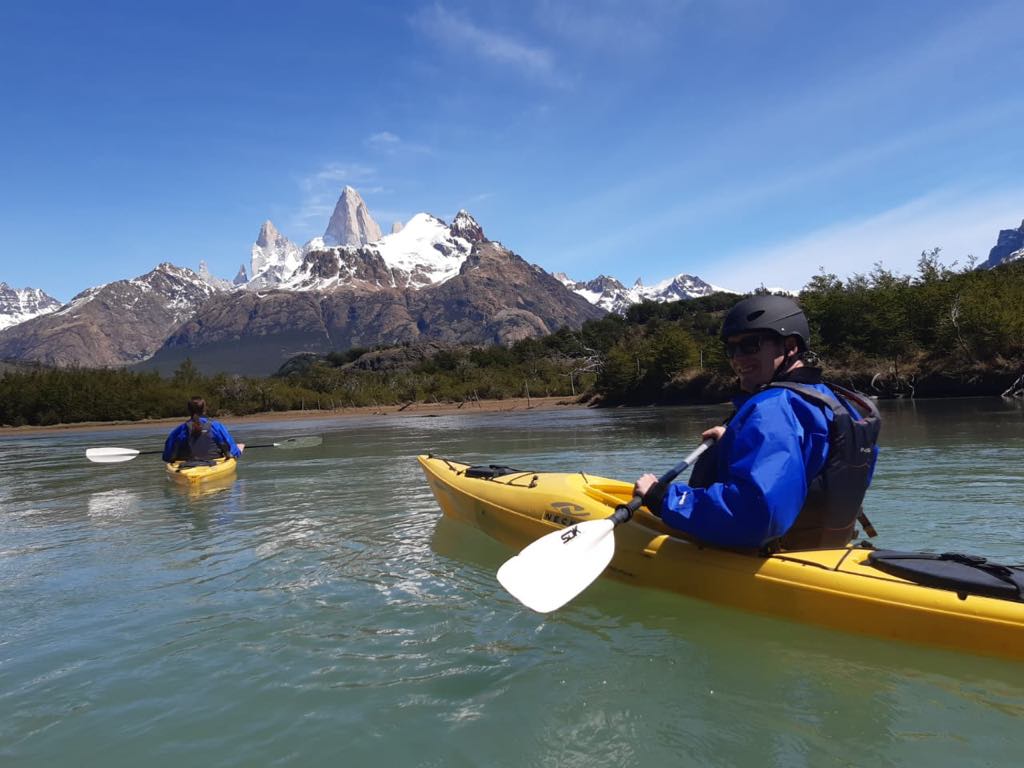 This is a unique and unforgettable experience, sailing on Patagonian lakes and rivers by kayak for an enriching visit of the El Chaltén area.
---
The Rio de las Vueltas is born in the Lago del Desierto lake and, as the name implies (literally, river of turns) descends towards Lago Viedma lake, making numerous curves through leafy forests of lenga trees and vertical walls. It is one of the most important rivers in the area as it transports the meltwater from glaciers in the region.
This experience provides a privileged position aboard a sit on top kayak, for about  20 kilometers enjoying the best views of Mount Fitz Roy and its satellite needles, with a totally different point of view from the one that you get from a trail. This is an excellent complement to the traditional trekking trip to El Chaltén!
In the morning, the adventure begins at a local tourism office in town, where we take a transfer to Laguna Cóndor. After a 17 km drive, we arrive at the mountain refuge where we meet Loli, our expert guide for the day. While we drink a hot cup of coffee or tea, he introduces us to the activity; a full briefing including the itinerary, paddling instructions and safety techniques to keep in mind during our kayaking excursion. 
We try out the equipment and put on the full outfit (neoprene wetsuit, boots and gloves, safety vest and helmet) and we're ready to rehearse the paddling movements before boarding the river.  
Finally, we get on the kayaks and properly practice our recently acquired paddling skills in the Laguna Cóndor (Condor Lagoon). If you never paddled before, it might take a couple of minutes to get used to, but overall it's an easy task.
We follow a unique descend through the river and, if the weather allows it, we'll get breathtaking views from the Fitz Roy Massif along the sail. Nature all around and the subtle sound of our gentle paddling is all we hear and observe, feeling really small at this environment surrounded by giants. 
Wind may blow and make the adventure more fun trying to keep the kayak on track. Don't worry, Loli is there at all times to help and guide you! The kayaking route is 20 km but the paddling is really easy going. There's no time pressure as the activity's duration is adapted on the way according to the group's size and skills.
The descent and paddling end at El Chaltén, where after a short walk we reach the office where we change our clothes, enjoy a deserved snack to recharge our energy and continue our friendly chat, joking around and remembering the experience that now has become a trip anecdote of an amazing day. 
GENERAL INFORMATION
Included services: Transfers El Chaltén – Laguna Cóndor mountain refuge. Enabled expert kayak guide with basic technical English. Full neoprene-suit, gloves and boots. Jacket. Personal safety gear (life vest and helmet). Snacks, tea and coffee  in El Chalten. Radio contact with El Chaltén.

Not included: Transfers not detailed specifically. Tips. Box lunch (travelers have to take their own box lunch or book it through Kallpa in advance!). Services not specified in the program.

Please make sure to bring: Small backpack 20 lts. Extra clothes and shoes. Sunglasses. Sunscreen. Cap or hat. Jacket. Waterproof camera or protection. Box Lunch.

Level of difficulty: Moderate. Activity for people with good physical condition but not necessarily with rowing experience. Both beginners and experienced rowers can enjoy it. Requirement: ability to Swim.
---