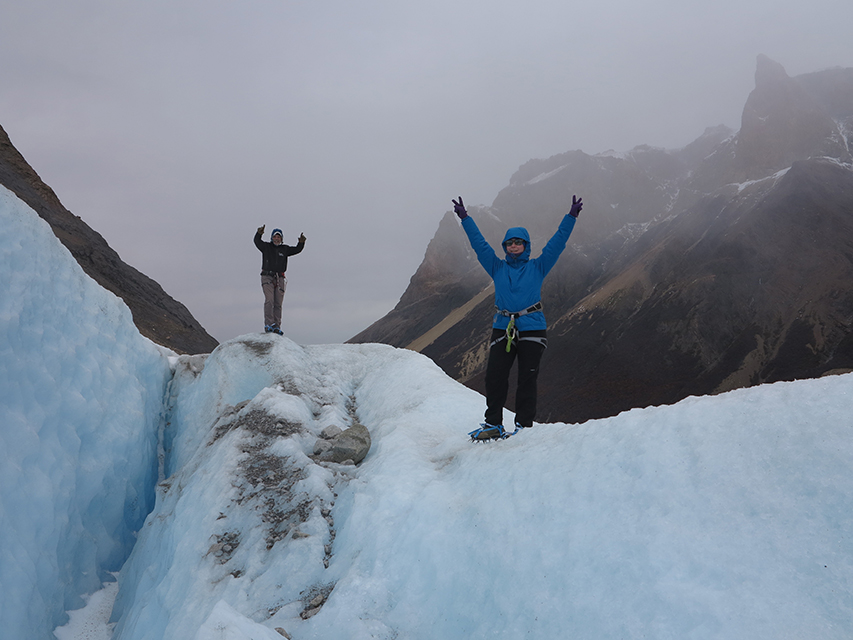 In the heart of chaltén, ice and rock merge into this extraordinary Patagonian experience to make you live an authentic mountain adventure.
---
We invite those wanderlust spirits to traverse the outermost places of Chaltén, to climb rock and ice, to cross thick forests, and to spend the night at a mountain refuge. Certainly, this is a program that promises an unforgettable experience.
This fresh proposal consists of a two-day experience that includes a guided trekking that starts at Estancia Los Huemules and leads to the impressive Cagliero glacier. The Trekking offers a variety of landscapes, including the possibility to walk the immense Cagliero's ice cap.
Our adventure begins early in the morning at Los Huemules visitor's center. From this meeting spot, we start a 2-hour walk through a thick lenga's forest crossed by a well-maintained trail up to the first lookout point: Laguna Diablo (Devil's Lagoon). This stretch of the trail is smooth therefore it doesn't require too much physical effort. From Laguna Diablo, we can appreciate the Cagliero Refuge, where we will spend the night, and part of Valle del Diablo (Devil's Valley), named after the lagoon.
As we skirt Laguna Diablo's northern margin and leave Estancia Los Huemules' property to access Campo Gorra Blanca (a private property), the path gets irregular and a bit more demanding up to Via Ferrata where the second instance of this activity takes place. Vía Ferrata is a one-kilometer rock stretch with a two hundred meter slope. Nevertheless, it was adapted with iron rungs and steel cables to ensure a secure and comfortable climbing, though it demands physical effort since the rocky and icy paths are irregular. At this stage, the guides will provide us will all the necessary equipment for the climbing and instruct us on its use.
After an hour climbing Vía Ferrata, we reach the second lookout point: Mirador del Glaciar, where we will be able to contemplate Cagliero's unexplored southern side, the immensity of the valley and the walls of Treinta Aniversario and its attendant peaks, especially Diente Del Diablo (Devil's tooth). A short walk later, the third instance of our experience takes place: the trekking through the glacier itself. This stretch will last approximately two hours and, if the weather conditions are favorable, there is the possibility to have lunch at the glacier's surface and enjoy its unique scenery.
Lunch finished, we take the same path to return to Puesto Cagliero, arriving approximately at 16:00 pm. Puesto Cagliero is an authentic mountain refuge that offers the possibility to spend the night in its compact yet cozy rooms. At the refuge, we will enjoy a simple and tasty dinner that can be either pasta, homemade pizzas or a warm vegetable soup.
The second day of our excursion starts with breakfast at the refuge, where the guides also provide the box lunch for the day. Then, we have free time to explore by ourselves and take
one (or more) of the different self-guided paths that cross  Estancia Los Huemules, perfect opportunity to get familiar with the beauty of this natural environment and its fauna.
As a final observation, it is important to mention that the ice trekking requires great physical demand, therefore, it is important to check your physical conditions before signing up for this program. If Chaltén is your next destination, this is an extraordinary opportunity to make the most of this icy region and feel like a true explorer!
For more information on this program, please contact us at Kallpa Tour Operator.
---
GENERAL INFORMATION
Feasible from November to March Duration: 2 days

Does not operate on Sundays

Difficulty: Moderate
SERVICES INCLUDED:
Bilingual high mountain guides.

Climbing equipment

Night at Puesto Cagliero

Dinner, breakfast and lunch box for day 2

Round trip shared transfers from meeting point in El Chalten town to Estancia Los Huemules
SERVICES NOT INCLUDED:
Box Lunch for day 1

Entrance fee to Estancia los Huemules