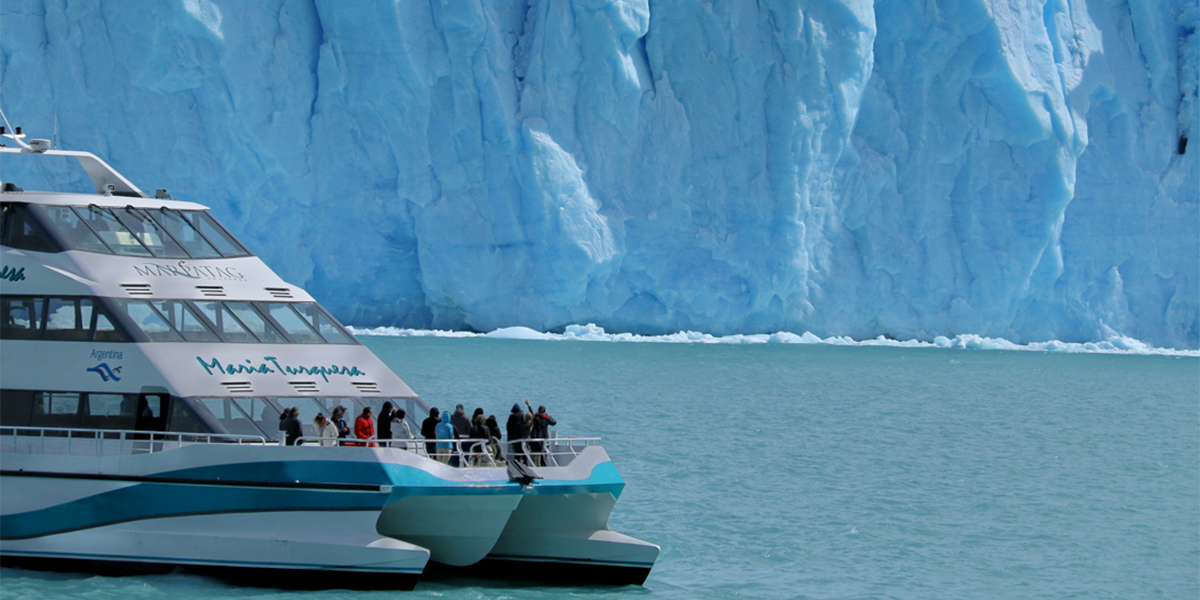 An exclusive full day visit to Los Glaciares National Park including sights of the three main glaciers, a hike into the woods and a gourmet meal on board.
---
This experience proposes not only plowing through the Lago Argentino cool turquoise waters sailing in front of 50 meter high ice walls, millenary deep blue ices and majestic icebergs; but also enjoying a delicious gourmet lunch, hiking into the woods inside the Spegazzini Canal and visiting Upsala, Spegazzini and Perito Moreno glaciers in just one day.
In the morning, the elegant cruise María Turquesa greets us on board to cross the Lago Argentino. Personalized attention and excellent service is guaranteed while enjoying the landscapes from any of its two interior decks or four exterior ones.
Leaving a private port in Puerto Bandera, the cruise heads northwest towards Punta Avellaneda and Boca del Diablo. Crossing the icebergs barrier, we get really close to the Spegazzini glacier, the highest in the national park with 135 meters ice walls. We disembark at Las Vacas station for a guided interpretive hike with a view of the old Settlers' Station.
Back on board, we visit the Upsala Canal and navigate to Herminita Peninsula, enjoying panoramic views of the namesake Glacier. During this stretch of the navigation we have our gourmet lunch. On both levels, an exquisite meal is served:  a four-step tasting menu for passengers on the Premium deck, and a gourmet box lunch at the Classic tier (see general information below for detailed menus).
In the afternoon we navigate to Canal de los Témpanos on to the last glacial visit of the day: the world famous Perito Moreno; the perfect ending for this memorable journey before getting back to port.
We recommend this full day adventure as a complement to the traditional mini-trekking or Perito Moreno walkways, as it provides a different view of this colossal glacier.
For more information, please contact your Kallpa Executive.
---
GENERAL INFORMATION
Full day shared service.

Daily departures at 9 am. Return at 6 pm.

Bilingual English Spanish guide and air-conditioned environments.

Maria Turquesa Cruise: Main deck with capacity for 180 people + space specially designed for children. 4 exterior decks and 1 Premium deck on the upper level with a maximum capacity for 20 people.

Lunch menus may vary.
Premium 4-step gourmet lunch tasting menu:
Amuse Bouche: Brioche bread, trout pâté and seasonal pickles.

First Course: Corn and pumpkin cream, olives focaccia, tomato pesto and roasted garlic cream.

Main Dish: Lamb terrine with grain mustard, smoked eggplant, figs and onion syrup, garlic and carrot mayonnaise.

Dessert: Apple and quince puff pastry, burned caramel cream, yerba mate mousse and white chocolate.

chocolate mousse.

Includes wine during lunch and non-alcoholic beverages.
Classic gourmet lunch box:
Lunch: Lamb sandwich with homemade mustard, criollo cheese and caramelized onions. Baked potatoes and smoked cheese sauce.

Dessert: Caramel mousse, brownie and preserved red fruits.

Includes one non-alcoholic beverage (soda drink or water).

Optional (additional charge): open bar with wine, sparkling wine, whiskey, liqueurs, coffee and tea.
Navigation Route (*)
8:30 am – Boarding at La Soledad Private Port
9:00 am – Set sail. Visit Escuadra Bay and Muralla de Condoreras (Condor Nesting Wall). Seco, Heim and Spegazzini Glaciers. Disembark at "Puesto Las Vacas" station for a walk. Visit Upsala Canal, panoramic view of the Upsala and Bertracchi Glaciers. Lunch onboard.
Navigation along Canal de los Témpanos towards the Northern face of the Perito Moreno Glacier.
OPTIONAL: end the excursion at Moreno Port approximately at 03:45 pm (only booking in advance).
5:00 pm – Arrival at La Soledad Port.
(*) Route and disembark subject to modifications according to the captain's criteria and / or weather conditions.