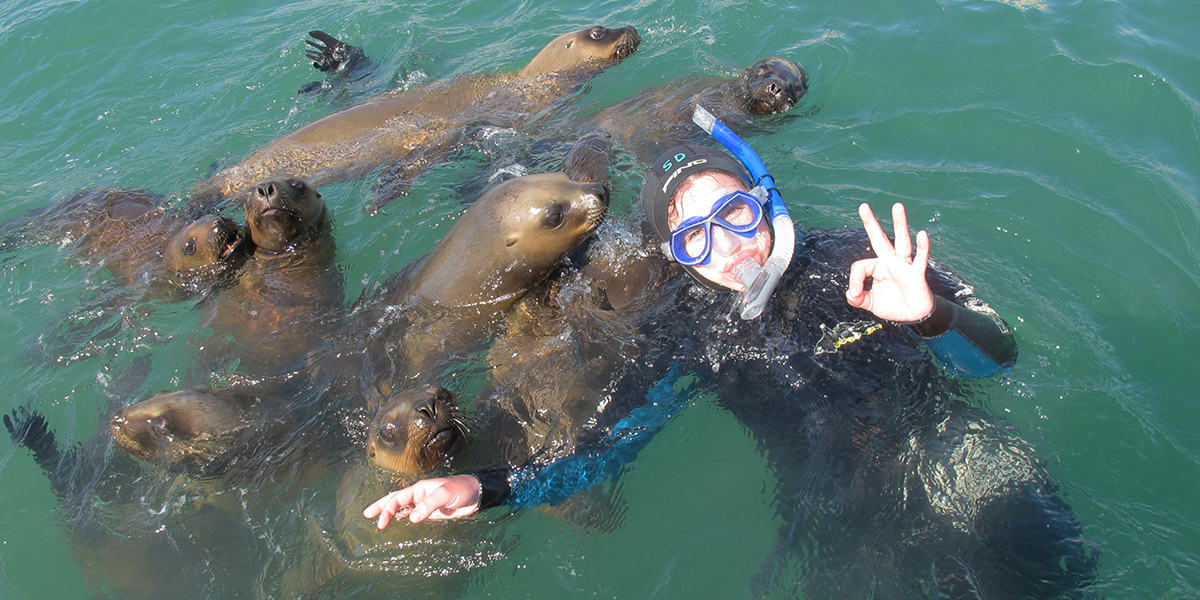 Snorkel surrounded by curious and playful sea lions, who willingly take photos, hug and even smother you with kisses.
---
Puerto Madryn is the mecca of Argentinian diving activities and only 15 km from Punta Loma, a rookery of Southern Sea Lions. There are not many places in the world where it is possible to snorkel with these marine mammals, but this is one of them. That is why this experience is one of the highlights in the city.
From the service provider office on the coast in Puerto Madryn, we board speedboats and navigate for 25 minutes towards Punta Loma Provincial Reserve, a protected natural area that restricts the permanence time and allows 18 people at the same time.
On the way, we enjoy a maritime scenario of beaches, cliffs, shipwrecks, whales, dolphins, cormorants and seagulls. Also we receive a briefing including an explanation about the animal's behaviour, how we must conduct ourselves within the protected area and an introduction to the snorkeling activity and equipment. The neoprene suit we wear maintains body heat and also provides positive buoyancy, therefore, it is not a requirement to know how to swim (although advisable).
As we get closer to the spot, the sea lion noises get louder and louder. Soon, hundreds of them are all around! Adults and cubs. It's time to get ready and dive in.
If you never snorkeled before, it might be a little uncomfortable at first to get used to the sensation and trying to breathe through the tube, but just try to relax and remember the instructions. Enjoy the experience, look around, paddle softly and when you feel more at ease, you're good to go.
It's a surreal feeling to be up close with these creatures, touching and playing with them, going underwater and see them swim so gracefully. Everywhere we turn, there are more sea lion cubs playfully swimming around us. It's clear that they are used to divers and comfy enough to even kiss us and take selfies.
We remain in the water with the sea lions for 40 minutes, always joined by the instructor. We guarantee that in the end you will wish that the experience lasted longer, even if at first you thought that snorkeling isn't your thing. To be able to have such an intense and close-up encounter, to observe and play with these curious marine mammals is a fantastic and cherished experience.
After the diving ends, we go back onboard and return to the office, where we return the equipment and change our clothes.
---
GENERAL INFORMATION
Duration: 3½ hs

This activity operates daily in the morning. Depending on the time of the year, departure time is adjusted according to high tide.

Difficulty: Moderate The passenger must be able to move with the diving fins for 40 minutes, taking into account that it is within a medium in constant motion.

Age restrictions: Minimum 7 years old – Maximum suggested 60 to 65 years old.

Min. 2 pax required.

The current regulations allow visits of no more than one hour and fifteen minutes in the area. The contact activity with the sea lions takes maximum 40-45 minutes.

Included: Neoprene suit, two pieces, helmet, boots and gloves. Coat jacket for round trip transportation on the boat. Snack service on board: water, coffee, tea, hot chocolate, alfajores and pastries. Instructor and necessary briefing according to the activity.

Not included: Transfers to the service supplier office in Puerto Madryn. Dry suit. DVD with HD photos and videos.

The program may be modified or suspended depending on weather conditions, in which case the amount paid will be refunded if it's not possible to reschedule. Sighting and interaction with the fauna depends on uncontrollable factors, such as climatic changes or reproductive time.
---