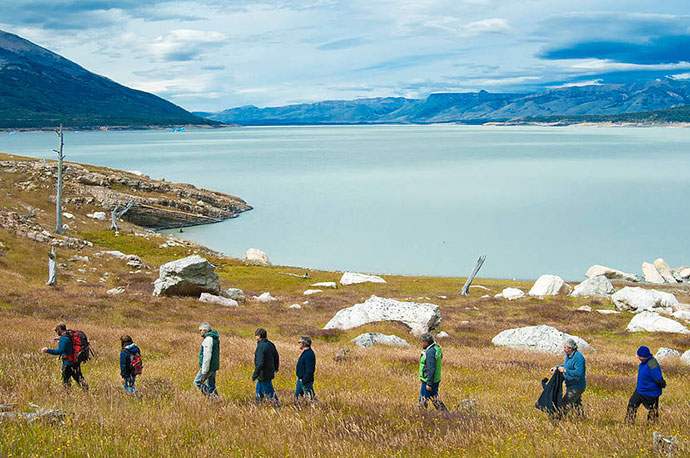 Designed for those with an adventurous spirit, who seek adrenaline without much effort and enjoying the natural environment we have for you the "Adventure by the southern face of the Perito Moreno Glacier".
---

The trip starts in Calafate. At 09:30AM our tour guide will come and pick us up to begin with the excursion. We´ll drive about 50kms along the Estancias route till we get to Lago Roca(Lake Roca). Along the way we´ll see some characteristic Estancias such as: Nibepo Aike,and Santa Anita. Once we get to the Lago Roca entrance at Los Glaciares National Park we´ll go into the camping area where we´ll rest in the Domo while enjoying of a privileged view. We set off on the right foot,as soon as we arrive we´ll have some welcome drinks and some local cold-cuts and cheeses dishes. This is a good time to relax,enjoy the views and get to know each other.
We would like to tell you a little bit about the backstage of this trip. In the domo after 20 minutes of having arrived the cooks begin to roast the beefs on a furrow-wheel as well as the grilled veggies such us: succhini,eggplants,red peppers,onions and carrots. The furrow-wheel became a tradition in the countryside for the grilling of beef and vegetables. When everything is ready we´ll go back in the domo where the tables are already set. Everything looks really good. Having lunch in such a beautiful place and sharing time with other people makes of it a unique experience.
As the local saying goes "when the stomach is full, the heart feels happy". We leave the domo behind us and we drive for 5kms until we get to the pier.Right here we embark towards Playa de las Monedas on the Brazo Rico River where we´ll disembark and go for a 20 minutes walk in the Lengas Forest until we get to a vantage point from where we´ll have a view of the southern face of the Perito Moreno Glacier.
We then go back and embark again always sailing along the southern face of the glacier.Before the end of the trip the crew "fishes" a floe to have a "whiskey or a vodka on the rocks". The happy hour on board is at 03:30PM approximate.
On the way back we´ll disembark at the Bajo de las Sombras where a vehicle will be waiting for us to go to the glacier´s boardwalks where we´ll arrive around 04PM. Once here we´ll be able to appreciate the spectacular views of the Perito Moreno Glacier. We´ll stay there until 06:30PM and then go back to Calafate along a traditional road.
An important fact to bear in mind: once we get to the boardwalks around 90% of the visitors that came from Calafate will be gone, so our visit will be a quite one.
---
FACT SHEET
The tours have a capacity up to fifteen passengers
Minimun pax requirements: 4
Attended by a working group that includes Spanish / English guides.
Pick up 09:00 am. Drop Off near 19 hours. The lunch, served in a special area of the Roca Lake Camp, consist on a disk steak served with grilled vegetables and salads, with typical dessert, drinks and wine.
To make the tour it is important to bring the adequate clothing. Basically comfortable clothes, for walking in the mountain. Enough coat to withstand temperatures of 0 ° C and intense rains. Also glasses and sunscreen lotion.
Tickets to the National Park are not included (USD 35.-)
---