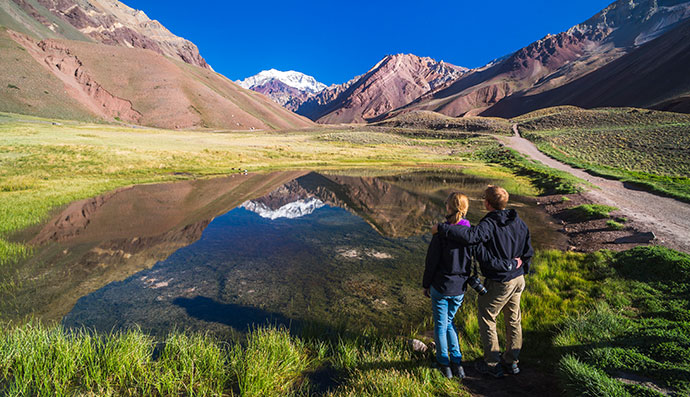 Mendoza welcomes us with its Andean beauty, the Aconcagua keeping watch like a powerful and silent giant that´s been on its feet for thousands of years. This is the land that adopted the Malbec grape as its own and saw it grow till it became the emblematic vine of our country. With plenty of dazzling views it offer to us a Wine, Trekking and High Mountains programme,travelling through unforgettable places.
---

Placed among the main wine-growing capitals,this is one of the most important destinations in Argentina, attracting both local and forign tourists that love its wines and its culture and who come here expectantly to experience the adventure and the adrenaline through its diverse mountain activities.
During this 4 days programme we´ll get on a Mountain Truck taht is a Dakar 4×4 Mercedez Benz Atego 1725 style truck,brand-new and equipped with 25 seats especially designed to be used in the "much less known Mendoza", a new experience in a new destination, that led us make the High Mountain trip by Villavicencio,a well-known hotel that belongs to the most important Mineral Water Bottling Company, which is now about to be reopened. At this place we´ll visit the beautiful gardens and the sorrounding area situated in a Biological Reserve by the same name. During this trip we´ll see impressive rock formations,beautiful landscapes and the Aconcagua Mountain in all its glory.
Something new that we could experience was a visit to Alta Vista Boutique Winery on Eco-motorbikes. These are vehicles that don´t use any kind of fossils fuels nor any kind of oil. As a result we get "neither contaminating gas emissions nor noises that have a negative effect on the environment". We rode the beautiful paths among the vineyards, tasted first quality wines, home-made liquors and olive oil. We also enjoyed a very good natural lunch at the Mercadito on the way back to the hotel.
As a farewell we´ll do some trekking in the "del 55 Ravine". It starts 20kms from Villa Potrerillos along National Route 07, and is an excellent choice for beginners. It takes about 3 hours to complete this trip that begins when we enter the Ravine after which this walk is named. Our walk starts as soon as we enter a narrow ravine "del 50 Ravine" through which the "Arroyo de las Cortaderas" flow. For more than an hour you´ll be able to appreciate the indigenous flora such as: jarrilla, ajenjo(wormwood,used to get the Absinth), thyme, different kind of cacti, the cortaderas(or Pampa´s grass), the colourful muscat rose and the wild arugula. We´ll also catch sight of Condores flying high above. The Andes condor is considered to be one of the biggest and one of the heaviest birds in the world, that can fly more than 4000mts high.
The terkking goes on following the paths of a stream that will lead us on our trip,enjoying the lush vegetation and the eroded mountain terrain, crossing at one time or another to each side of this strip of water that is born in the Andes´ higher peaks and then turns into a spectacular water-fall, 20mts high. This is a nice and refreshing surprise in the summertime. A gift from Nature to be fully enjoyed.
Well-trained guides will assist us during the different activities in the programme that we´ll treasure for ever. Our main goal is that every guest takes with him or her a little piece of Mendoza in their hearts after having passed through Argentina.
---
FACT SHEET
TIPS: At the moment of booking one of the trails excursions, some tips are necessary no matter how hard the trail we follow.
RIGHT OUTFIT: Foot-wear must be comfortable and have a good adherent sole. Warm clothing is important depending on the season of the year. A rain-proof or wind-breaker jacket is always advisable to face the sudden climate changes, especially in mountain areas. Do not forget a cap or a hat, sunglasses, sunblock, bug-spray and a small first-aid kit. We recommend to wear long trousers to avoid bites or scratches.
BASIC ACCESSORIES: A back-pack, whose size will depend on the excursion difficulty degree. On the other hand a swiss-knife, a long piece of string, a flash-light and a whistle are necessary elements that will get us through should we encounter any difficulty. From cutting up food to helping someone injured or asking for help.
Walking-sticks, although not everybody carries them, are useful to lessen the efforts, balance our weight or use it as support on the walks to avoid slipping or falling down.
HYDRATION: Last but not least, always bring the necessary water(2 lts per person minimum) and some food or some snacks such as fruits or dried fruits that will provide us with liquids and energy.
The place: Potrerillos- del 50 Ravine
Difficulty degree: easy, made for beginners in mountain-climbing
Minimum age: 14 accompanied by an adult
Length: 3 hours approximately
Pick-up: 08AM
Return: 02PM
Included in the fare: transfers to and fro. Mountain guide services.
Personal life insurance
The program includes:
* Services mentioned in the program
* 3 Nights accommodation at NH Cordillera Hotel