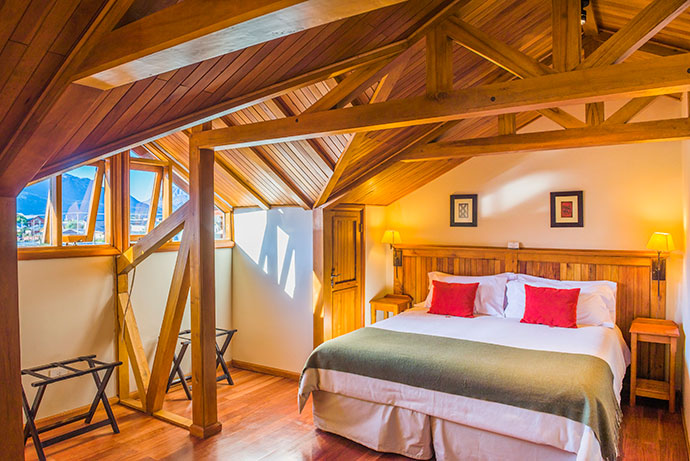 We are now a few minutes away from El Chaltén where we'll be staying at Inn Hosteria Senderos. After making a stop at La Leona (next to its river, which has the same name) and driving through the emblematic Route Nro 40 we reach Route Nro 23, which allows us to observe from the distance how we are getting closer to the stunning Mt. Fitz Roy.
---
Before the official arrival at the Bus Terminal it is necessary to make a stop at the National Parks Administration´s Office, where you will receive a briefing on the location and the different activities available, as well as recommendations for your visit to the National Park. This briefing is given to every visitor before they enter at El Chaltén.
Finally we arrived at Inn Hostería Senderos, located in front of the Bus Terminal at El Chaltén. It is a cabin made of wood and stone with a typical Patagonian style, designed in the fashion of old estancias of the 1920s
We were warmly welcomed by the owners, who treated us with utter kindness. The lobby area instantly caught our attention with its beautiful fireplace. Passing through a large corridor lies the Restaurant which serves author cuisine´s courses with a Patagonian touch, from Tuesdays to Sundays, and every morning delights their guests with a delicious buffet breakfast.
After making the check in at the front desk we were escorted to our rooms.Hosteriaa Senderos has a total of 21 rooms. We were provided with rooms which have views to Mt. Fitz Roy (Senderos is one of the few Hosterías at El Chaltén that has rooms with view to Mt. Fitz Roy, allowing travellers to enjoy the view of a unique and beautiful sunrise). There are no televisions in the rooms: the exquisite views are a show on themselves, as every true lover of nature will surely appreciate. However there is no reason to panic: there is a room for multiple uses where guests will find a 32 inch LCD Tv and a computer with access to internet. Moreover, Senderos has free wifi access in the hole building. Some times there were interruptions with the internet service due to the fact that El Chaltés is a remote location which does not always have good internet connection, but most of the time we did not even notice since we were spending a wonderful time outdoors, walking along the trails that lead to different highlights of El Chalén.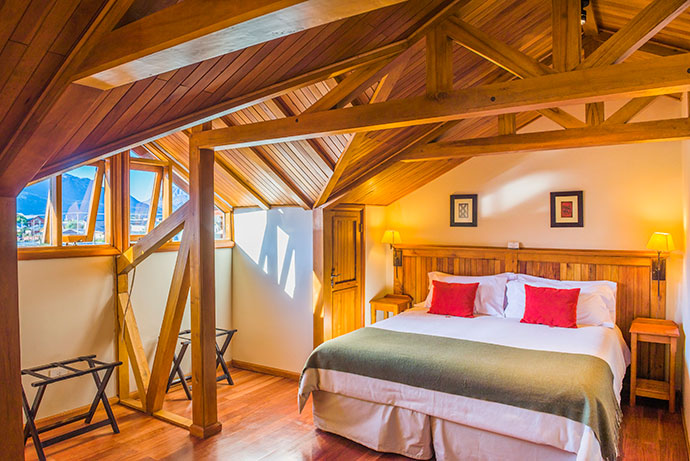 From Hostería Senderos we are really close to the meeting point where most of the treks begin. We highly recommend the Lago Torre Trek or the "Laguna de Los Tres" Trek, of which we will tell you more about in the Newsletters to come.

Hostería Senderos is without doubt the point of departure and arrival for your stay at El Chaltén. It is a place which you cannot miss the opportunity of staying during your passing through this beautiful village of the Argentine Patagonia.
---
FACT SHEET
Senderos Inn has 20 double bed-rooms and one Family Suite that can acommodate 4 guests.
The Inn was totally made of wood, with many warm details in Lenga wood and white furniture of excellent quality.
The main goal of the Inn is to treat every guest as unique, because as well as having a nice place we also have a very professional and friendly staff. We put an extra effort into that.
Senderos Inn has 3 different room categories: CLASSIC, PREMIUN and SUITE, according to the views from their windows to the Fitz Roy Mountain and the Torre Mountain.
The 9 Classic rooms have inner views, the Premiun rooms have a view to the Fitz Roy and the Torre Mountains.
In both room categories you´ll have the same furniture, the same size and the "same quality in white".
Our 2 Suites "Senderos Suites" have the best views and are bigger in size with full amenities. They are both located on the second floor.
Senderos Inn will remain closed:
2015: May 1st to September 21st
2016: May 1st to September 21st
The reopening of the Inn will take place on September the 21st 2015 and will stay opened until May 1st 2016.
Buffet Continental Breakfast is included in the rate.
These rates will be valid from November 1st 2015 until October 31st 2016