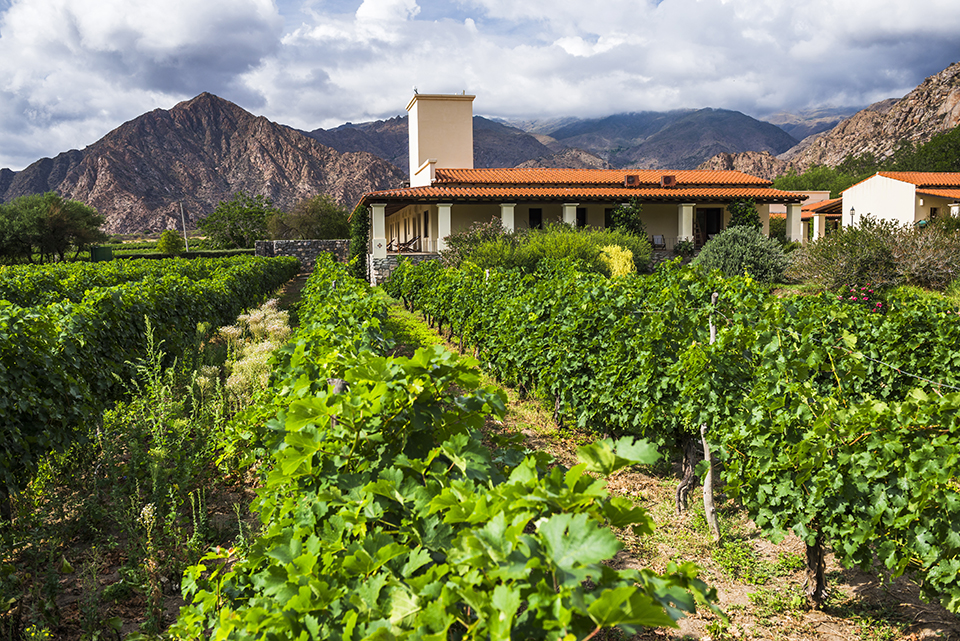 In the land of sun and wine, there is a place that invites all bon vivant lovers to do what they do best: enjoy a good time while delighting the eyes and the palate.
---
Imagine yourself waking up in a place surrounded by fresh air, green hills and vine arbors bathed by sunlight.  At Viñas de Cafayate, this dream comes true. In this hotel, you will find the perfect combination of flavor and views. Is there a better way to spend our holidays?
The facility is located three kilometers away from Cafayate's downtown on the way to El Divisadero community and Finca Las Nubes winery, one of the must-sees in Cafayate. The hotel's style is colonial, to combine with the traditional style of the northern estates.  All the rooms are fully equipped to satisfy the most demanding guests and all have direct access to the gallery that surrounds the hotel. The decoration stands out for its simplicity and elegance.
This wine resort, as they call it, certainly has it all: twenty-two single, double and triple rooms with king, twin or queen size beds. There are three different room categories, each one with different conveniences. It is also important to remark that all the rooms have a view either to the vineyards, to the hills, or to the garden. The guests will also enjoy a large communal swimming pool, great air conditioning, and superb views of the vineyards. During their stay, guests can take walks around the vineyards and delight their senses with the smell of grapes and fresh air.
In terms of gastronomy, at Viñas the Cafayate restaurant, you will taste delicious wines from the hotel's cellar, which holds the most refined selection to suit all palates, and you will also be able to savor international level dishes that mix traditional flavors with gourmet culture.  Regarding the service, the hospitality and personalized attention are present at all times. The hotel is managed by the owners, who always make sure to guarantee guests' comfort.
Certainly, this hotel is a place where you can grasp the essence of the wine culture and of the northern spirit. As an extra suggestion to finish a wonderful journey around Cafayate, we suggest to Visit the two destinations above-mentioned: Finca Las Nubes, a family owned winery, and El Divisadero community, where you can learn about farming culture by spending time with members of local communities and even stay in their houses in some cases.
If you wish to obtain more information about this hotel, please do not hesitate to contact us at Kallpa Tour Operator!