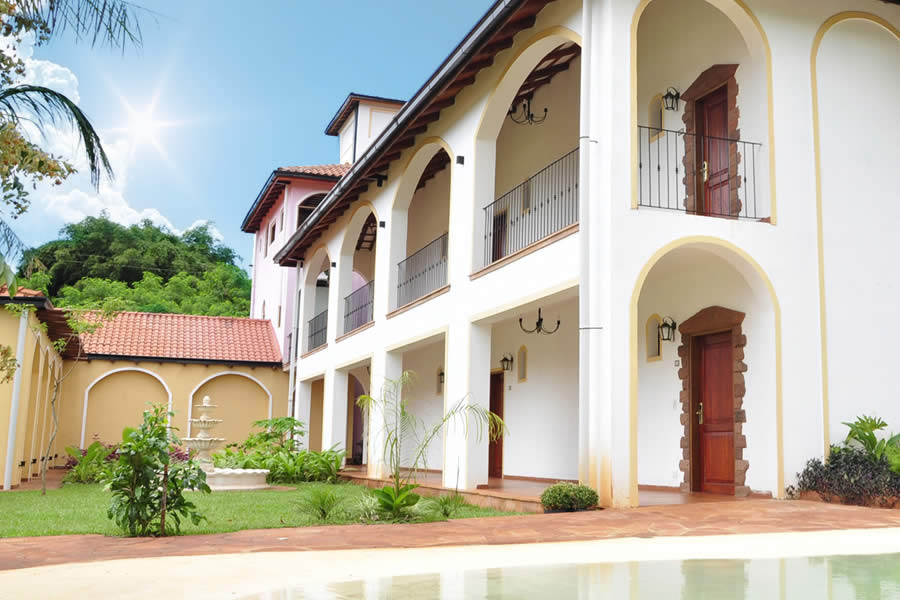 We bring you a fully eco-sustainable hotel in, surrounded by a private nature reserve on the shore of Laguna de los Pájaros in communion with the Biocentro Iguazú Theme Park.
---
Pueblito Iguazú Theme Hotel was born from the dream of its creator and its subsequent desire as a nature student and lover to bring it to life. Its design recreates some cultural historical monuments of Puerto Iguazú, created by the architect Alejandro Bustillo, such as the chapel, the Iguazú National Park and the school, among others.
The theme decoration was made by local artisans and plastic artists, highlighting the flora and fauna of the ecosystem in which the hotel is based on works of stained glass, stone and paintings.
El Pueblito not only deserves to be visited because of its magical natural and biodiverse environment, or by its cozy and comfortable rooms. What makes it even more special is its sustainability policy, planned and updated every year. It contains programs, objectives and actions to follow according to the mission, vision and values ​​that identify and characterize the hotel.
Its development is based on innovative and sustainable practices, which seek to influence different actors in the sector and society where it acts, to generate value in all its stakeholders.
Understanding that economic development must be in harmony with welfare and social inclusion, and with the valorization, conservation and defense of the environment and the natural, historical and cultural heritage of the region where the activity takes place, El Pueblito has reinforced its commitment to sustainability with these actions:
Establishing a sustainable management of the processes, based on a balance between the business, sociocultural and environmental dimensions.
Promoting the integral development of the original communities of Puerto Iguazú taking concrete actions so that they also participate in the benefits of tourism. For example, its Panambi restaurant offers regional gourmet dishes made with ingredients from local producers, with simple and very tasty recipes from missionary immigrant colonies.
Supporting and respecting the protection of human rights within their sphere of influence. In this way they protect their employees and the entire local community with their Protocol of Prevention of Social Harm Behaviors, and during 2018 they protected young girls, boys and teenagers with their Protocol for the Prevention of Commercial Sexual Exploitation of Children and Adolescents.
Sponsoring actions and projects for the promotion of sustainability and human development. They invite their guests to join the sustainable actions in compliance with the Responsible Tourist Code promoted by the World Tourism Organization.
They heat the water of their facilities only with renewable energy from solar panels and wood pellets from the residues of exotic species from the forest industry of the province of Misiones.
As you can see, El Pueblito remains busy and active in its commitment to sustainable development. For nature lovers and supporters of sustainability, this is the perfect place to rest.
---