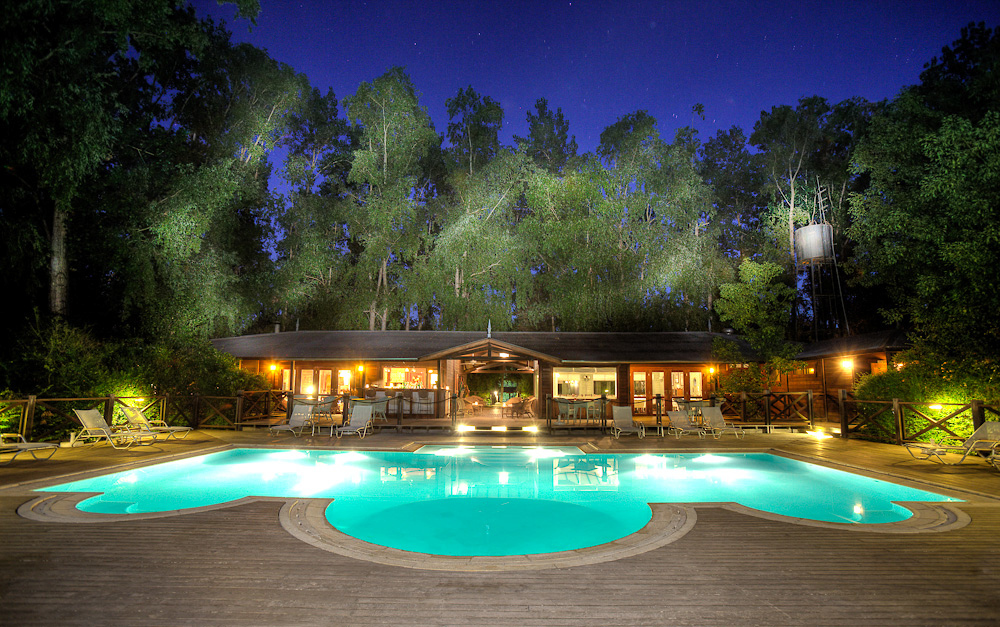 Leave Buenos Aires for a couple of days to relax and enjoy nature. Only 45 minutes north of the city and a boat ride after, recruit yourself in a bungalow surrounded by lush vegetation, be delighted with an all-inclusive gourmet proposal and benefit from a laid-back schedule hiking on the island, kayaking or swimming.
---
La Becasina Delta Lodge is an exclusive hotel located on the Tigre river delta. The complex consists of a main lodge, pool and outdoor bar, living areas, and guest cabins connected by catwalks. It was specially designed for rest and privacy, and feels like a remote sophisticated treehouse. It's all about leisure and luxury here, ideal for couples.
There are 15 individual wooden bungalows; elevated, surrounded by water and hidden among the lush vegetation. They all have a private deck overlooking the water and chaises lounges to rest. The bungalows are simple but luxurious; with white patinated walls, cane furniture and paintings that reflect the harmony of the place and converge with each other to ensure maximum well-being.
Bathrooms are constructed with quebracho wood, with an oversized bathtub and a shower box also. Large windows offer reading light and a king-sized bed topped with elegant linens provides the best rest. There's no TV and all bungalows have central heating and air conditioning to ensure greater comfort according to the different temperatures of the year.
The lodge operates according to an all-inclusive structure that provides meals and a twice–daily open bar. Before lunch and dinner, guests are welcome to the indoor or outdoor bar for happy hour and hors d'oeuvres. The varied cocktails prepared by an expert bartender are perfect to enjoy the sunset.
Lunch is usually served outdoors and dinner is in the more formal dining room. The daily menu for each meal includes an entree, a main course, dessert, drinks (mineral water, wine and soda) and tea or coffee. 
If the stillness is too much for you, there's a varied program of activities perfect for nature lovers and to explore the island: pedal boats are a great and easy option to go through the streams, swimming, fishing or simply enjoying the natural surroundings. Kayaks will allow you to explore the Delta area and you may hire an instructor to join you if you don't have previous experience. There are also several open hiking paths into the interior of the island. 
If you visit Buenos Aires, this lodge is perfect to rest and relax for a couple of days after the agitated life of the city. This will certainly be one of the most relaxing weekends of your life!
---
GENERAL INFORMATION
Min. 2 nights stay.

Rates include: Open bar of non-alcoholic drinks throughout the day. / Happy hour with free drinks and

hors d'oeuvres

before each lunch and dinner. / 

Buffet breakfast. Daily menu for lunch and dinner. / Wine in the main meals. / Internet service. / Use of all sports and entertainment facilities (pedal boats, kayaks, swimming pool, guided walks on the island). / IN / OUT River Transportation to the Hotel.
Not included: 

Telephone use. / 

Room service (available for breakfast only). / 

Tips. / 

Snacks. / 

Guides or instructors for any activity. / 

Massage service. / 

Alcoholic beverages outside the hours of Happy Hour, lunch and dinner.




---