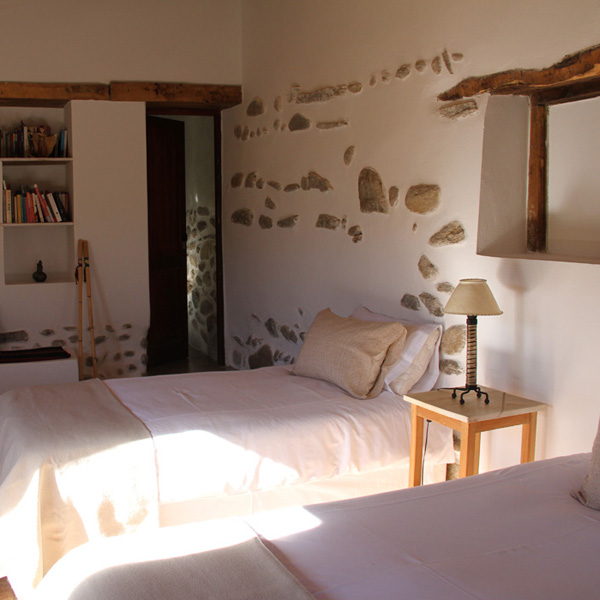 For people looking for a nice place in the north to stop by for a couple of days and rest, Finca Santana offers a unique ambience of privacy, seclusion and tranquility in the heart of the Cachi Valley, in the Calchaqui Valley.
---
10 km away from Cachi town and 170 km from the city of Salta, 10 hectares of centenary trees along the Las Arcas river make home to this lovely guesthouse with only 2 bedroom cozy suites. Contemporary and indigenous art, neutral colors and furniture can be found as thoughtful details at every corner, from the library with a fireplace, the drawing room, dining room, outdoor patio and veranda. All framed by the amazing views of the Andes and many mixture of cacti all around.
Guests at Finca Santana will enjoy a gourmet breakfast, including homemade jams and marmalades, honey and eggs from a local organic farm and a variety of handpicked natural delights from the guesthouse´s own garden, filled with vegetables, aromatic herbs, walnuts, alfalfa and beans. All the products are 100% organic and environmentally friendly.
Lunch and dinner can also be arranged if you don't feel like getting out of this quiet realm; and at 6 pm you may taste local wine and cheese.
What makes Finca Santana even more special and unique is the hospitality and warm welcome of Adriana, its owner. She is an ethno-photographer, handmade textile producer and designer who creates beautiful locally-inspired throws, tables mats, rugs and fabrics at your disposal to bring a piece of north back to your home. Adriana will also be delighted to prepare a picnic basket for you to go visiting around.
When visiting the north in Argentina, you can't miss this little piece of heaven amidst the spectacular surroundings of the Calchaqui Valley.