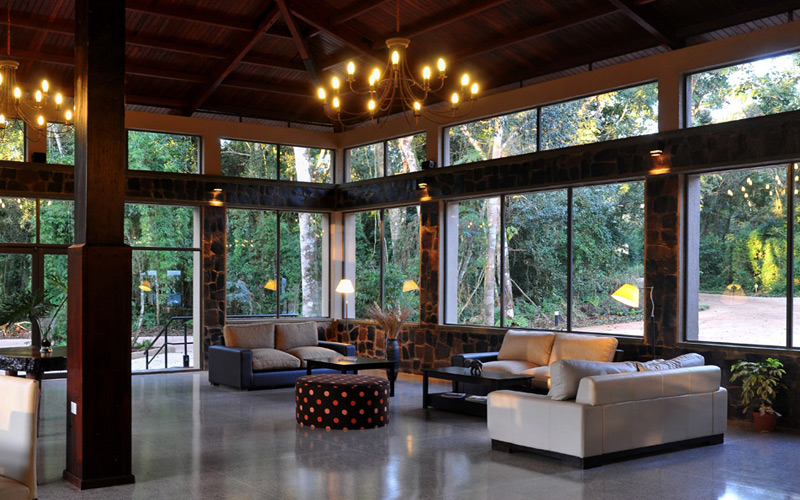 Travelling is all about experiences, and when accommodation services meet or go beyond our expectations, the journey's memories enrich. Such was the case with the Yvy Jungle Hotel, where our stay was very enjoyable. That's why we want to share it's story with you.
---
The Yvy Jungle Hotel is located in a beautiful and natural environment in the region of the Iguazu Falls: the Iryapú Jungle Reserve, an outstanding natural site that comprises 3 acres of lush greenery. An ideal place for nature lovers, since it is shared with many Guarani villages and countless species of native flora and fauna, like the Caraguatá, the Pink Lapacho and the Harpy Eagle among others. The route to the Hotel is a highlight itself.
Upon arrival, we were greeted by a friendly staff member who took us to our rooms on a small cart. In the room we were surprised with a complimentary bottle of sparkling wine and some petit fours, which we thought was a nice gesture included with all Deluxe Room Reservations. Standard Rooms come with complimentary bottles of water and petit fours.
A close encounter with nature, 24 nicely decorated beautiful rooms and the comfort of privacy get together to create a wonderful experience. We liked the bungalow style rooms in the jungle setting and it only took an easy walk getting to the main area of the hotel for meals. The rooms are very spacious and the jungle views through the windows are great. The bathrooms are small but adequate. The rooms have air-conditioning, a safety box, a TV and free Wifi.
This hotel is a couple of kilometres away from the downtown area, that's why both nights we had dinner at the hotel's restaurant. The on-site Mua Restaurant offers regional and international delicious dishes and we were able taste some of the best national and international wines at the Itakua Cava. The restaurant's service was very good and the waiters were very helpful.
Yvy Hotel de Selva also features an outdoor swimming pool, which is a bonus for guests when they come back from excursions. It was awesome to dive in the water and watch Mother Nature all around us.
Event facilities are available and there is a 24-hour front desk assistance. The hotel is located only a 10-minute walk from the city centre and 3,6 km from the bus station. Puerto Iguazú airport is 20 km away and Iguazu National Park is at 17.9 km.
If you like walking, you should go to the City Centre and visit the Three Borders Boundary Post, which is one of the few places in the world where you can watch three countries at the same time.
We invite you to ask your Kallpa Account Executive about this and other experiences in accommodation to enlighten your traveler's experience.
---