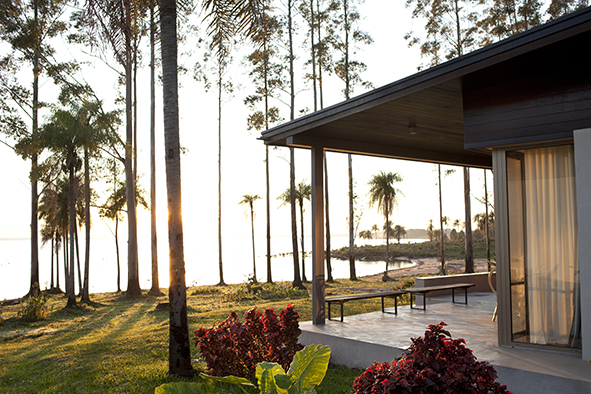 A historic estate feeling mixed with the renew touch of the modern refurbishment make of Puerto Valle a unique resting place.
---
History, nature and refinement can be found at this traditional manor in Corrientes, built in 1868. Along with a 14 hectares park, Puerto Valle Hotel provides its guests exclusive access to the rich biodiversity of this enchanting spot at Iberá Wetlands.
The surroundings meet deep into the wetlands, featuring lakes, marshlands and floating soil formations against the backdrop of the native forests and the Paraná river. Also, the estate engages in a series of productive sustainable activities such as forestry and cattle-raising.
Among the common spaces in the old mansion, the living room is the perfect place to relax and enjoy the views of the park and the river from the large windows and terraces. For visitors in the winter time, the library with its fireplace and bookcase provide an ideal cozy setting.
The park surrounding the manor was designed by the prestigious landscaping firm of Carlos Thays, including a vast diversity of native and exotic species plants, trees and flowers.
For the warm summer days, a palm roof set with deck chairs, an outside pool and a quincho are at your disposal to use and enjoy.    
The in-house cuisine promises "regional flavors, unforgettable pleasures" for every meal. Breakfast and tea time with homemade pastries including the local classic chipá (cheese bun).  
Typical local ingredients such as river fish, tropical and citrus fruits have been part of local recipes for ages. A both traditional and contemporary menu offers aromas and flavors perfectly paired with an excellent selection of national wines. All gourmet dishes are made and seasoned with herbs and vegetables grown at the hotel´s organic garden.   
Spread around the old mansion and a new building, all the rooms combine thoughtful details, exquisite architecture and design with views to the Paraná river.
Spacious and luminous with large windows, the eight Deluxe rooms in the new building have a dressing area, spa-style bathroom, a private terrace and outside shower. King-size bed or two twin beds can be applied.
In the old house, there are two Superior rooms with adobe walls, high ceilings and plenty of space. They have a king-size bed and a small living-room that can accommodate an extra bed.
To get to know the wetlands and explore nature, Puerto Valle offers a few excursions: a soft hike across the Monkey Trail and into the lavish vegetation in search of the traces of howler monkeys; birdwatching -being the Iberá Wetlands the largest protected area in Argentina hosting more than 350 bird species; horseback riding in the sunset along the exclusive pine and eucalyptus trails of the estate; navigating the Paraná river on an engine boat or kayaking these quiet waters.
Puerto Valle invites guests to relax, enjoy the silence and connect with nature as in nowhere else. For those wildlife and outdoors lovers, this is the perfect place to stay!