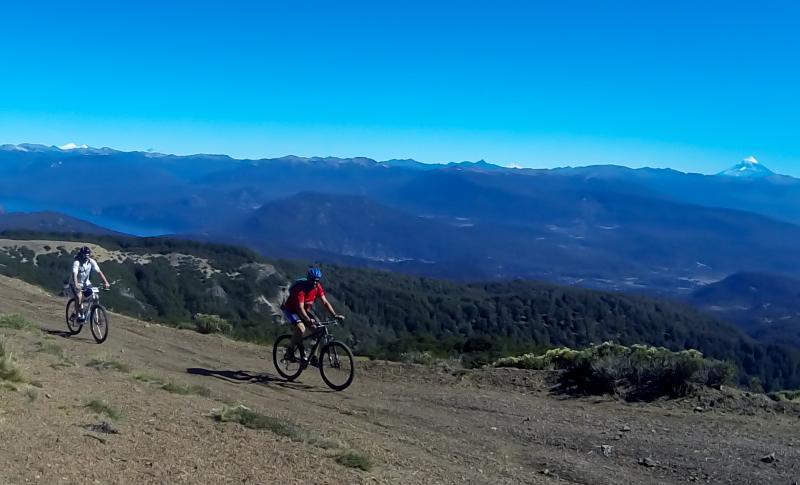 The Andes provide multiple options for mountain bike lovers. Paved roads, tracks and dirt paths into the woods lure bikers visiting the region.
---
San Martin de los Andes, located southwest at the Neuquén province and set deep into the Andes on the coast of lake Lacar, offers exceptional biking circuits, both traditional and adventurous.
From the center of Lanín National Park, many roads or tracks spread with different difficulty levels, lengths and slopes. Riding on them you can enjoy the diverse regional flora, lush woods or Patagonian steppe areas, crystal clear rivers, streams and lakes, bird watching…a full contact with nature only a pedal away.
On a half day excursion we immerse ourselves into this beautiful scenery in San Martin. We start after getting our bikes in the town, jumping on a vehicle that takes us and the bikes through the first ascending kilometres.
Once at the top, depending on the riders preferences and characteristics, the guide will recommend the path to follow with our bikes. After the choice is made, we begin to ride following the guide into the Andean Patagonian forest, observing huge trees along the way and feeling the typical freshness of such environment.
Descending carefully through the selected path, we will stop by a few lookouts with views to the valley, rivers, lake beaches and lagoons. All picture perfect spots!
After 3 hours riding, we go back to town.
Pedaling through the winding tracks into the patagonian nature is definitely rewarding: breathing fresh air, riding at your own pace, hearing the sounds of this magical place and stopping by to appreciate the overwhelming vastness of the Andes scenery. Tired? Yes, but yet so happy and relaxed.
GENERAL INFORMATION
Service available year round except on July and August, due to snow.

Feasible any day of the week upon reservation. Time may vary depending on weather conditions. In summer it is recommended at 9 am or from 5 to 8 pm. On colder months, we recommend at 10 or 11 am.  

Included: mountain bike guide (authorized by the National Park), transfer in vehicle from the starting point to the beginning of the track, bikes with frontal suspension and helmet, first aid kit, intercom and bike repair kit.

Previous experience in mountain biking is not mandatory but it is required to know how to ride a bike and have a good balance.

Circuits may be modified to make them more accessible to people with less abilities, such as the case with 14-15 year old children.