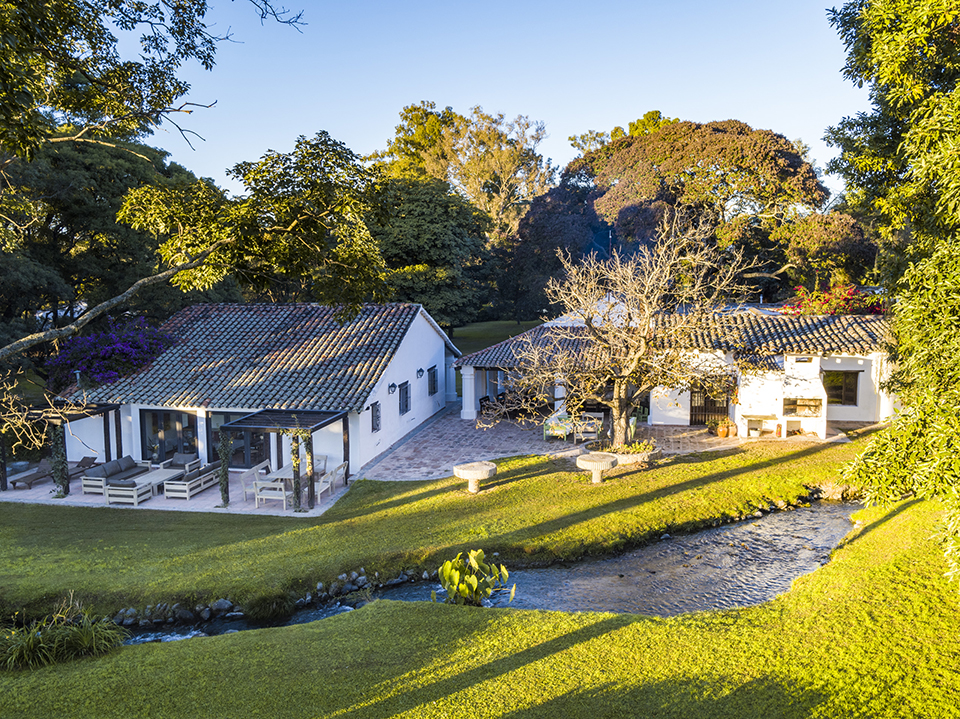 At Las Trancas, Tucumán Province, we find a traditional northern Estancia where adventure, culture, and history unite to create a unique experience.
---
As we get deeper into Tucuman northern valley, passing the thickness of the yunga's jungle and its overwhelming contrast with the surrounding mountain ranges, we reach this quiet place that waits to offer rest and relax to travelers.
Nevertheless, Estancia Zárate isn't just a picturesque place to retire but also a passage throughout history. Its historical records date from the early 18th century. The main residence was a shelter for those brave men who traversed the valleys and needed refuge for the night; and hosted under its roof governors, caudillos, and messengers from the turbulent times that forged this country.
The historic residence still preserves its colonial style and some details from the original structure, such as doors, window frames, pieces of furniture that remained intact over the years, the classic galleries and its columns, and the old well, just to mention some. The rooms also preserve the colonial identity with high ceilings, wooden beds, and antique wardrobes with elegant walnut root details.
Nowadays, the estate is an active stockbreeder, specialized in Bradford livestock and polo horses, and it has recently opened its doors to travelers who wish to witness part of the northern history and learn how an agricultural and breeding system works in such peculiar area. The project was born with the intention of preserving the environment and providing the local community with sustainable work.
As part of this integration program, all the activities and services will be in the hands of the locals who will proudly share their stories, culture, and flavors. During our stay, we will be able to see men working the fields or grouping the cattle. We can also learn how they train the polo horses with an innovating method called joined-up, based on developing a relationship with the horse with no violence involved.
Among other activities that this place offers, there are of course horseback rides, trekking paths, and an exclusive program for the brave ones, which consists of an 8-hour ride towards Las Queñuas, nature reserve accessible only by horse or foot. Also, those who are interested in polo will be able to enjoy the beautiful ground to either play, learn or watch a friendly game.
Besides the mentioned options, Estancia Zárate also counts with an indoor playroom that invites guests to relax, watch TV, enjoy several board games, or even try talent with the old snooker table, one of the surviving pieces of furniture found in the house.
All in all, this estate is an excellent option for those who want to visit the Argentinean Northwest. Due to its privileged location, it is a perfect stop point for those who want to connect the valleys of Tucuman and Salta, both top northern destinations.
If you wish more information on this or other programs, please contact us at Kallpa Tour!
---
GENERAL INFORMATION
Open all year

Special fees for Christmas and New Year

Activities are planned locally with visitors, according to their interest and subject to weather conditions.
SERVICES INCLUDED
Full board

Activities: Horseback riding, cattle grouping, trekking
SERVICES NOT INCLUDED
Drinks outside meals

Transfers in/out

Laundry service

Tips

Other guided excursions not included in the main program

Polo classes and clinics

Horseback ride to las Queñuas