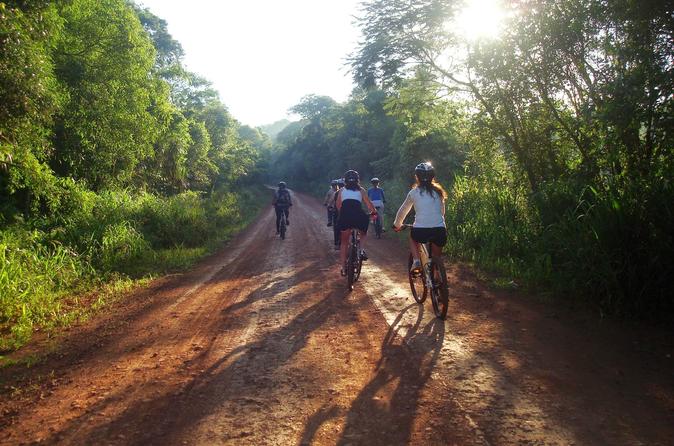 It's early in the morning. After two days of visiting the Iguazu Falls in the Argentine and Brazilian sides we wanted to explore the jungle in a new and exciting way. Away from the crowds and regular excursions we decided to get on a bike and pedal into the forest along the Jaguar Trail. Our experience was awesome!
---
At 6 am Alejandro came to pick us up. The sun is rising over Iguazu. There were dew-drops sprayed all over the ground and the vegetation. The scent of the jungle and the fresh air is something to be remembered and taken with us on our way back home. We drive along the road to the Iguazu National Park till we reach a remote location where we stop for breakfast.
The table is set and we enjoy a regional breakfast picnic-style with fruits, cereals, coffee, tea and mate, Meanwhile Alejandro gets the bikes ready for the ride. We are going to take a distant road into the Iguazu National Park which protected by the National Border Police to dive into the jungle. The excursion is great fun and relaxed. Alejandro is an excellent guide with a good knowledge of the area.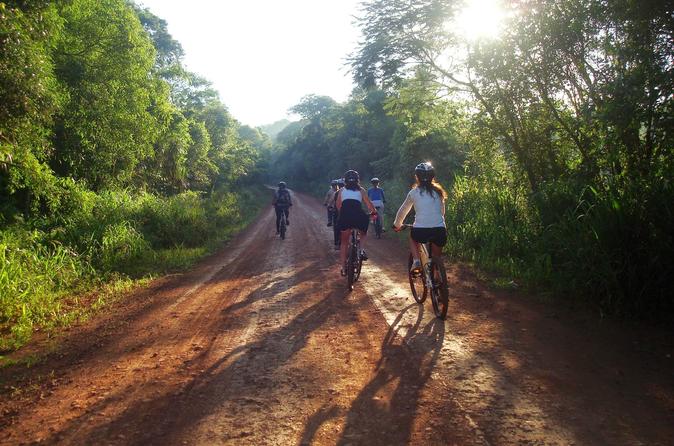 We ride our mountain bikes on the red soil which is characteristic in Misiones Province. As we are pedaling, sometimes we stop for birdwatching. Alejandro is a professional birdwatcher and he guides us with his book of birds to show us every specie that we meet along the way.
There are several species of mammals in the area. We can see footprints of Jaguars, Tapirs and some wild cats, We can also be witnesses to the interaction among animals in the forest. For example we could see the trail left by a Tapir on the trail we were riding.
We reached the coast of the Iguazú river. One of the highlights on this excursion is being able to watch the "Devil's throat" waterfall from the back. The scenery is beautiful, We stayed for a little watching the falls. We then continued on our journey and went back along the same trail.
This half-day excursion is great for those who like to get to know more about the jungle and its life. It is for active travelers who are not afraid of pedaling and having a good time. If you are one of them you have to get on this tour and many other active experiences in Puerto Iguazu. Ask your Kallpa Account Executive and they will help you find the one that´s best for each traveller.
---
FACT SHEET
Minimum pax requirements: 1

In the summer the excursion starts at 5:30 or 6am.

In the winter the recommended start time is 8am.
INCLUDED
Breakfast

Transfers

Bike with helmet

Water