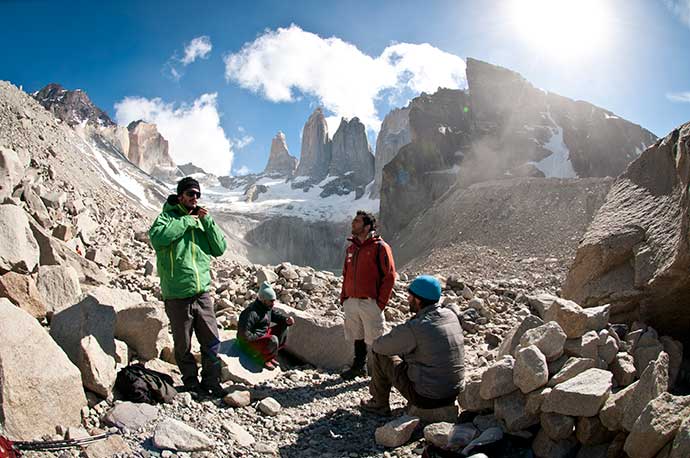 We are travelers. As such we like adventures, to learn about new cultures and to have a genuine experience. For us travelling and discovering is part of our lifestyle.
---

Maybe you wonder why this is called the "W Circuit"? The "W" is the union of the interest points visited which forms a perfect W through the paths surrounding the Paine Massif. The circuit takes 5 days long to visit the principal attractions and to have a unique experience in this National Park of the Chilean Patagonia.
The principal attractions of the W Circuit are:
Torres del Paine Base: this is the most famous trekking trip of the Torres del Paine National Park. After climbing for approximately 4 hours into the "Valle del Río Ascencio" [Ascencio River Valley] and through the millennial lenga forests, the "Mirador Base Torres" [Towers Base Viewpoint] with an impressive view of the 3 towers, its hanging glacier and its lagoon are reached.
French Valley: located at the core of the Circuit. After an intense trekking and climbing experience one of the most overwhelming sights y less visited places of the National Park is reached. The view of the amphitheater formed by a series of granitic mountains and hills is absolutely unbeatable!
Grey Glacier: hiking trip to approach the Grey Glacier Viewpoint, its trail surrounds the east side of the Grey Lake and the west area of the Big Paine. Grey Glacier is one of the glaciers part of the Southern Patagonian Ice Field, third source of fresh water of the planet.
Here you can see a map with the point of this journey:
As it is well known, the Patagonia is famous for its unstable weather and strong winds, each day you can be surprised in one way or another. So it is important to be well prepared for the walk and tour we make. In the summer it can even be very cool and rainy; therefore you should bring a jacket, waterproof clothing and specific equipment required.
Not to get sunburnt, not to get wet or to feel cold, Jeremy, a professional guide from Torres del Paine, explains on the video you can see by clicking here, the necessary equipment to enjoy the W.
In addition to your backpack, remember you should pack the following elements to spend the night in any of the shelters…
Note: The necessary suggested equipment is for travelers who stay and eat inside the shelters or who camp or rent the equipment at each camping; not needing to bring any camping equipment or food.
1.- Waterproof and warm jacket: On a regular day at the Torres del Paine you may experience the four weather seasons of the year (rain, sun, wind, snow, heat and cold).
2.- Waterproof pans: Important to protect yourself from rain.
3.- Polar vest: While you travel you may feel hot, therefore a short sleeve polar may be the appropriate one. However, when stopping the hike you may need to put on the waterproof jacket again. Another option is to use layered clothing.
4.- Gloves, sun protection hat and wool hat.
5.- Sun block and glasses: Sun is harsh even in the south of Latin America.
6.- An additional pair of socks, underwear, T-shirt and shorts are very necessary.
Accesories
7.- Personal hygiene: toothbrush, toothpaste, dental floss, soap and shampoo. In the middle of the mountains of the Andes there are no pharmacies and no supermarkets, so if you forget bringing these objects, for many days you will not look clean at all.
8.- It is always useful to carry a lantern (with extra batteries), toilet paper and some first-aid elements.
9.- A towel and sandals would also be appropriate in order to shower. Shelters have got showers.
10.- Have your video or photo camera ready to capture the magical moment. It is a sustainable place where electrical energy is limited, therefore in some places there is no electricity and if the traveler does not take batteries it may not have the possibility of charging his/her camera or device
11.- A bottle to refill with water and snacks such as dry fruits to feed yourself with while your are walking.
12.- Trekking poles.
13.- For a greater safety, inside the backpack place a garbage bag and then pack your staff, in this way, if it rains or if you ruin your backpack, your belongings will remain dry.
14.- And ready. You have everything to go an enjoy of Torres del Paine.
---
As you see, there are a lot of alternatives to travel to Torres del Paine and enjoy it in a new and awesome way. If you need further assistance about this W Circuit Excursion Torres del Paine you can contact your personal Kallpa Executive or simply leave a message in our contact form. We'll be happy to assist you!.