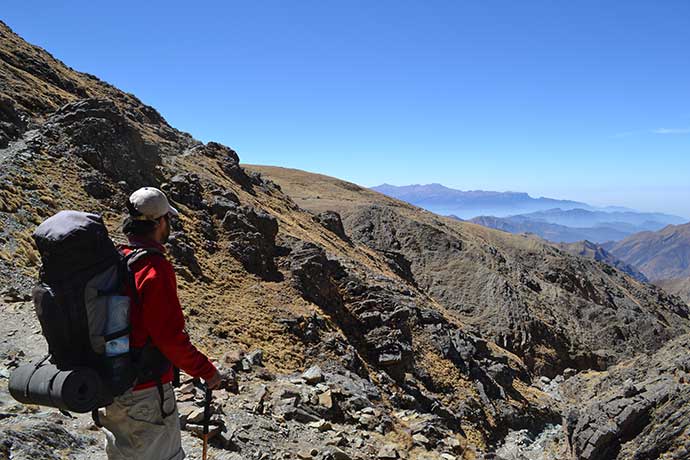 Trekking Tilcara Calilegua is one of the trekking trips that highly provoke our adrenalin and emotions. The town of Tilcara located in the Quebrada de Humahuaca in the province of Jujuy, is the starting point of this journey up to Calilegua.
---
The diversity of landscapes and proximity to history and culture of this region is the high incentive we may find to trek these 5 days.

After having been received at Tilcara, we handed in the luggage so as to get the animals that will carry the luggage during the journey prepared. We went out for a walk around the town where we can visit the "Pucará" [indian fortress], archeological site. We are going to spend the night at Tilcara so as to have a good rest and to be able of starting our trekking trip on the next day.
The second day starts very early with an exquisite breakfast which allows us to recover our energy so as to begin the hike. We are taken to Alfarcito, starting point of the path to Las Yungas. There we will set the final preparations and meet our "baqueanos" [local guides]. By the way, these are people who fully know the roads and shortcuts of the area, its physical characteristics, language and traditions of the population, to which they regularly belong.
This journey takes us to panoramic points where we have the most ovewrwhelming views of the Quebrada de Humahuaca, to a first glance of the Nevado Chañi that it is 5,896 meters above the sea level and the highest point of the journey, the walkway "Campo Laguna" (Lagoon Field). From that point onwards the landscape begins to change and as we leave the first views of the Yungas landscape behind we can observe vegetation becomes thicker due to the humidity of the area.
We will appreciate these differences in the landscape as we travel towards Molulo, San Lucas Village and finally our final part of the journey to Peña Alta.
We will spend the night in basic campsites and/or family houses. Food and assistance are included. Adventure is guaranteed from the beginning to the end while expectations are on he nature's account and these are always exceeded.