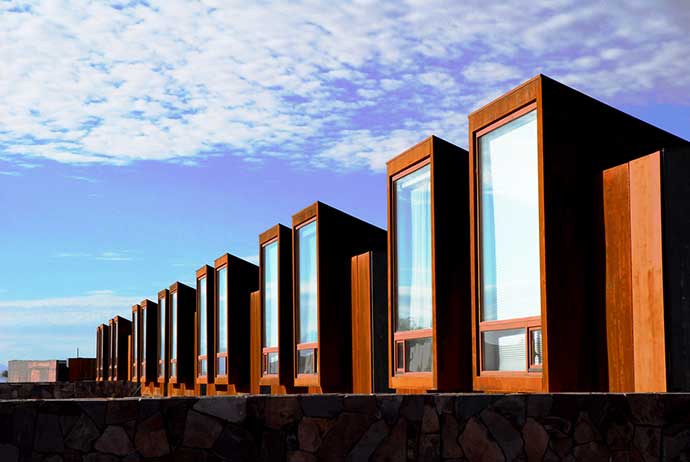 Selection of Kallpa Hotels Chile Tierra Atacama. Many hotels in Chile are characterized by the modern architecture and only some stand out due to the harmony with their surrounding landscape and environment.
For this July edition we have decided to take you for a visit to Tierra Atacama hotel belonging to the chain of Tierra Hoteles that is in the northern area of the country
At Tierra Atacama we find the secrets of the Chilean highlands, with its surprising wildlife and its touching landscapes. As a rule, a hotel always looks for visitors to feel as if they were at home, but in this case, with the quality and comfort of such a special destination. Tierra Atacama's proposal is to exceed our expectations as travelers. Therefore, in the middle of the desert you may live a unique experience.
Each of us, as a traveler has stories to tell. Each destination we visit, each hotel where we stay in, has something that makes us differentiate from others and our meeting with Tierra Atacama is an onset of experiences.
Tierra Atacama is built respecting the ancient bull corral, place where mule drivers, who took game from Argentina to Puerto de Antofagasta, stopped to feed and to make their animals rest after a hard journey through the Andes. There they would be supplied with fodder and water before continuing their trip. Tierra Atacama's architects have decided to keep these ancient adobe walls and to incorporate them to the access to the hotel and to keep them as homage to the history of the area.
The philosophy of the hotel chosen is the adventure and spa. Our travelers want to discover the beauty of a destination in an active way and with an adventurous spirit, with the security of later being received at the hotel with a variety of options for relaxing and renewing energies for the next adventure.
In addition to the 32 rooms with beds with canopy and the wide lounge areas and the private patios with a view to the desert, Tierra Atacama has got a garden with a swimming pool, a spa and a restaurant, and offers rooms with free Wi-Fi and breakfast.
Without any doubts to travel in an active way and to find a space for relax, Tierra Atacama has got the perfect mixture and as travelers we love to share these secrets with you.
Here is some useful information about Tierra Atacama
---