Salta´s wines are a true reflection of the colorful andean scenery, history and ancestral traditions. Such are the ones produced by Finca Quara in Cafayate. This is their story.
---
It is well known that Cafayate is one of the most important wine production areas in Argentina, where the special weather conditions and terroir originate high quality and refined wines. Warm sunny days, cool nights, dry climate and low rainfall make of this town the home to 70% of the vineyards in the Calchaqui Valleys.
José Fortunato Lavaque arrived from Lebanon towards the end of the 19th century and decided to settle in Cafayate, the most prosperous town in Salta at that time. Attracted by the Valley's´ unique landscape, he begun his new life here and started his own winery, which was kept on going during the next century.
In the 80s, Rodolfo Lavaque (4th family generation) took over the family business and a few years later acquired a piece of land from another winery, where he established Finca Quara. Rodolfo is known for being one of the main characters in the reactivation of the wine industry in the North of Argentina in the 90s and the years to come.
Nowadays, inspired by their father's example and vision, the 5th family generation makes world famous high quality wines: Alpaca, Quara Single Vineyard and Quara Reserva.
Finca Quara is open to visitors to enjoy different activities to learn about wine production, the winery and vineyards and the Finca's history. In their own words, Quara designs experiences to combine rural tourism, culture, regional cuisine and wine.
The winery itself is a genuine architectural monument worth of visiting; one of the oldest and best preserved building in the region and inspired by the Renaissance style developed by Andrea Palladio in the Cinquecento.
The wine cellar, surrounded by French oak barrels, creates a unique and mysterious environment with toasted aromas, which makes the perfect place to know and taste Quara's refined wines.
Under the Glorieta (arbor), it is possible to explore regional flavours paired with the perfect selection of wines, whilst enjoying the delightful mountain scenery.
Wine tasting is always present at any of Quara's proposals. Even if it is just the guided tour around the finca or including the "Picoteo Salteño" with empanadas or the special Finca Quara Lunch. There are options for every palate!
To find out more about Finca Quara and its visiting and wine tasting alternatives, please contact us. Cheers!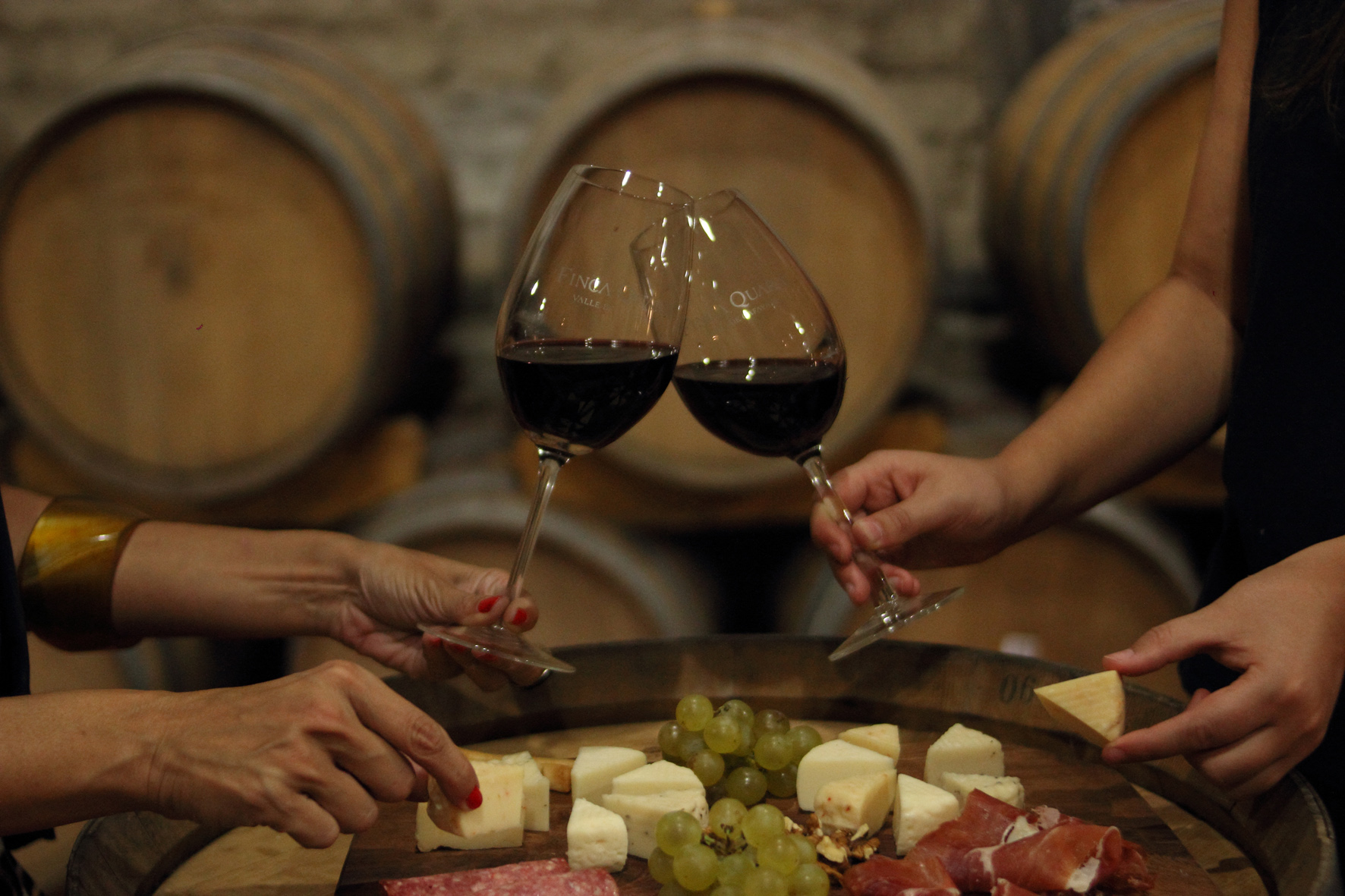 ---