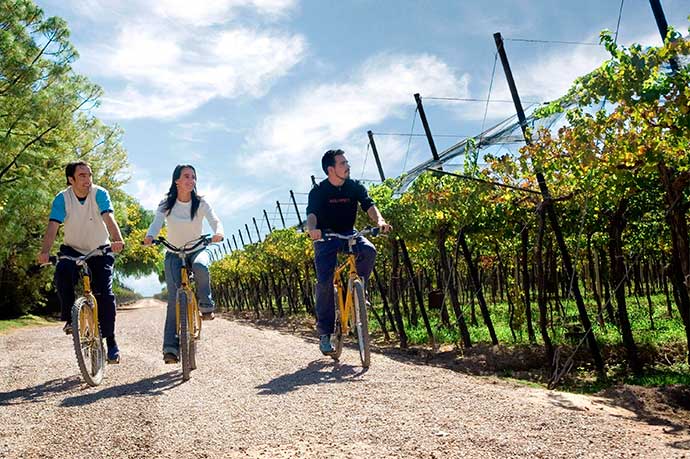 Ride a bike and wander on your own through the vineyards in Mendoza. Enjoy the scenery & taste the secrets of our wines.
---
This wine journey takes you to Mendoza, where you will ride in the vineyards of renown wineries and learn about what makes this region so special for this industry. The idea is to enjoy the landscape, the excellent wines and also to learn their secrets.
The meeting point is in Chacras de Coria town (16 km far from Mendoza), where the bikes are delivered. After an introductory briefing and suggestions about the wineries available in the surroundings, you can select the ones you want to visit according to your interests. The guide will make the reservations at the chosen wineries before you start biking. Then, start cycling!
You will make three stops according to the grapevine produced in this region: Chardonnay, Syrah and Malbec. At every stop there's a wine tasting and an expert leads you through the different varieties, irrigation systems, and the benefits of different vine training systems. Each tasting is paired with a regional cheese and cold cuts platter so the flavours of the different grape vines are accentuated.
The last winery to visit usually also has a restaurant, so you may have a regional or gourmet tasting lunch (depending on the place), also paired with the most excellent local wines.
You must be back at Chacras de Coria's meeting point by 4 pm to return the bikes, so after lunch there's still some time left to visit a couple of wineries more to complete the vineyards experience.
Bikes are sustainable vehicles and in combination with a must-see landscape this becomes a very entertaining outdoors activity. Travelers are more and more focused on experiencing and not collecting destinations, therefore this bike tour offers a fun option and the certainty of a unique experience in its style, in contact with nature and good wine, so typical of this region.
---
GENERAL INFORMATION
Departure time: 9.30 am

Estimated arrival time: 4.00 pm

Days of operation: Mondays through Saturdays.

Includes: bike with helmet, map and a bottle of water.

Not included: roundtrip transfers to the meeting point, entrance fees to the wineries, meals, tips, extras.

Some of the suggested wineries for visiting are Clos de Chacras, Nieto Senetiner, Alta Vista, Vistalba, Lagarde, Kaiken, Carmelo Patti.