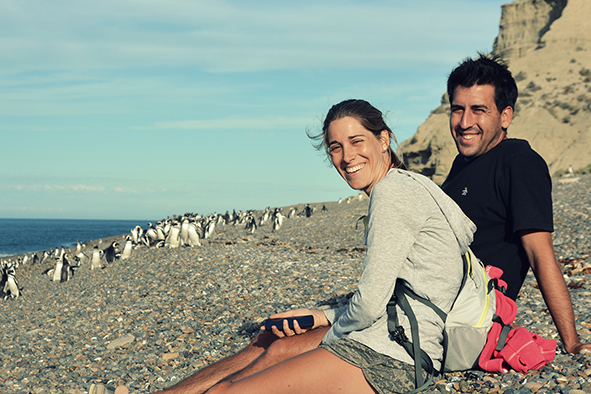 This full day excursion provides wildlife sightings and an authentic experience of the Atlantic Patagonia from the eyes of the pioneers who populated the area in the last century.
---
Only 70 km from Puerto Madryn and along Patagonian steppe, we reach the southern end of the mouth of the Golfo Nuevo where we find the Punta Ninfas lighthouse, a valuable reference for navigators entering the gulf. From the cliff we can see the breeding grounds of elephants and sea lions on the surrounding beaches.
We continue on our way to El Pedral, an authentic Patagonian farmhouse built at the beginning of the 20th century. The materials and furniture were brought from Europe by boat and landed on the shores of the estancia itself. The house was inaugurated in 1923 and still keeps the aesthetics and style of those times. 
Minutes away, there's a Magellanic penguin colony established on the shores of El Pedral. There were 13 couples in 2008 and today there are more than 5000 penguins. We're lucky to take a guided walk between their nests and learn a bit more about these curious animals while standing really close to them.
El Pedral takes care of a beach control and cleaning scheme, collaborating with the GPS Foundation (Global Penguin Society), which monitors the Magellanic penguin colony of Punta Ninfas.
After the walk, we taste a typical barbecue with a variety of salads, dessert and coffee. Lunch includes drinks and house wine.
In the afternoon -if the weather is right- we can enjoy the pool or the small football field, as well as walk around the property or have a tea accompanied by a typical Welsh cake before leaving the estancia. The way back to Puerto Madryn provides the right time for a nap.
This full day excursion is an excellent option for those who want to avoid long journeys to visit a colony of Magellanic penguins; an ideal family experience!
---
GENERAL INFORMATION
Full day regular excursion. Departs from meeting point in Puerto Madryn at 8:30 am and returns at 5:00 pm.

Departs every day from September 15th to April 15th.

Includes: Visit to the Punta Ninfas Lighthouse and sea elephants and lions observation. Guided walk to the Magellanic penguin colony at El Pedral reserve. A Patagonian lunch in the

quincho

of the old part of the

estancia

(wines included). Tea and coffee service with Welsh cake. Transfers to and from Puerto Madryn.

Free of charge for children up to 4 years old. 
---