This month we have this feature presentation of the best navigation through the beagle channel. Enjoy the flora and fauna and do this amazing Trekking on H Island with Tres Marias.
From all the ships you can hire at Pier to explore the marine fauna and enjoy a Navigation through the beagle channel in Ushuaia and running away from traditional excursions the best is Tres Marías. A small ship with 10 people capacity in which the navigation through this waters becomes more exciting and interactive.
A small and family run business, which was started by Hector Monsalve in 1990. Since then, the company has been the pioneer of Nature, adventure & unconventional sailing tours in Ushuaia.
With the focus on optimizing the visit to this awesome place, and highlight the contact with nature, they are specialize in small groups
"Roughguide to Argentina" once published: "H-Island :The southernmost bit of Argentine territory", and Hector added: "….a Nature Reserve with amazing flora, fauna and thousand  years of human presence"
A "magic" place from which, since 2003,we  have been Environmental Custodians  by  appointment of Tierra del Fuego State Government-Natural Resources Bureau .
High mountains, and beach type vegetation: lichens, mosses and flowers, give good shelter to different birds species, that chose the "H Island" to mate and breed their chicks just in front of  you. Due to the abundance and variety, this " H " shape island, has given  thousands of years of food and shelter to the Beagle´s Native people: the Yamana, protecting them from the SW/W prevailing gales.
Its captain and Guide: Héctor Monsalve, is an experienced fisherman and professional diver. More than 30 years of experience fill his resume and ensures the quality of the information provided and sites visited in this navigation through the beagle channel. He is also a well known submarine photographer and documentary video filmmaker. He was selected as a guide for multiple cientific and tv expeditionists such as Jackes Cousteau among others. 
Actually his son Mariano as the Captain and Lucía as a naturalistic guide share with the diverse and fantastic journey. Through this waters full of history of shipwrecks and pirates we can watch indefinetely amount of birds, sea wolves who enjoy their peaceful life en this places.
Only this ship has permission to disimbark in H Island where you will be able to enjoy a short trekking visiting cormorant nests and being able to watch geese. Cauquenes with their youngs, steam ducks, seagulls of different species, escuas, plants and amazing sea bottoms. In front of us the Navarro island in chile and at the of the fearful drake passage in Cape Horn. Incredible wies of Ushuaia and its mountains are waiting for you in this journey of 4 hours long worthy to be realized with such guides.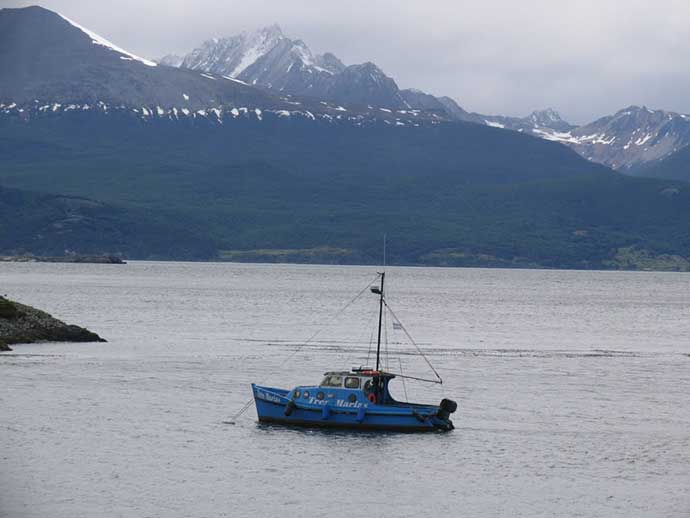 As you see, there are a lot of alternatives to navigate the Beagle Channel in a new and awesome way. If you need further assistance about this Navigation through the beagle channel and H Island you can contact your personal Kallpa Executive or simply leave a message in our contact form. We'll be happy to assist you!.