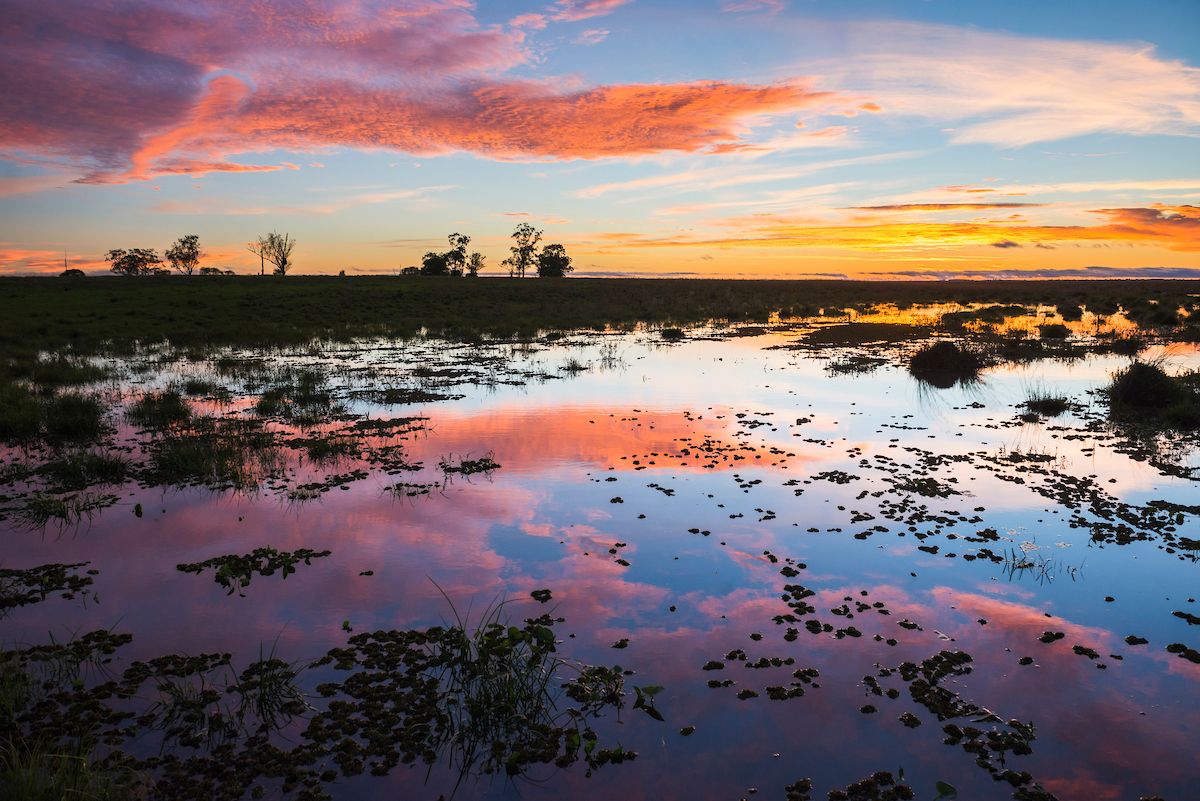 Right by the mysterious Iberá Wetlands, find a colonial and cozy natural environment, home-made meals and daily activities in the first touristic estancia in Corrientes, with the personalized attention of its owners.
---
Located northeast of Corrientes province, on the banks of the Iberá Wetlands and close to the San Ignacio Jesuit ruins, the Estancia San Juan Poriahú is a traditional ranch, nowadays dedicated to breeding cattle.
Once upon a time a Jesuit residence itself, its origins date back to the 17th century when the Society of Jesus founded its famous townships in Paraguay, Brazil and Argentina. Today, Ana María is the current owner of the estancia and Marcos -her son- is the one who takes care of it. The story goes that Marcos' grandfather, Don Ernesto, surprisingly inherited the colonial farmhouse and 5.000 hectares from a friend that passed away. In time, more land was acquired to reach the final 13.000 hectares that the estancia occupies now.
Marcos used to spend his summer vacations here when he was a child and today he has become a renowned naturalist and expert of the area. Also he may be one of the guides that take you on a boat ride, drive or hike through this ecosystem and tell you everything he knows about it.
Visiting and staying at Poriahú is to travel back to colonial times. The aged Jesuit farmhouse has thick adobe walls, a palm roof (typical of this region), a gallery and an outdoor pool to relax and contemplate nature. There are also nine wide and simple twin rooms with private or shared bathroom. The family keeps an eye on the details and makes an effort to create a homey atmosphere in the rooms and common areas, such as the shared dining room and the living room. Meals are always homemade and include regional dishes. You may even taste our traditional asado!
Surrounded by an ancient and exuberant grove and the characteristic humidity of the marshlands, Poriahú is the best alternative to not only visit the historic ruins nearby but to take part on any ecotourism activity available at the region.
Among the activities that the estancia has to chose from, you can´t miss the boat ride through the wetlands. Jump onto a canoe conducted by a guide and navigate this magic aquatic environment girdled by colorful vegetation and rich native wildlife that you will be able to see and listen everywhere. You may spot roseate spoonbills, maguari storks, whistling herons, yacarés (caymans), marsh deers, aguará guazú (maned wolves), river otters and the cute capibaras or carpinchos.
Other daily options include horseback riding joined by the resident gauchos, photographic safari, guided hikes for bird and fauna watching, night tour for yacaré watching, off-road 4×4 ride within the ranch and rural activities such as cattle branding and bath, among others. Keep in mind that the activities are subject to weather conditions.
After an active day you will certainly enjoy to relax by the pool and share a mate while the sun sets in this enchanting place, where nature and wildlife have open access at anytime.
Please, contact your Kallpa Tour executive for more information about the 4 days / 3 nights program with accommodation and activities at Estancia San Juan Poriahú in Esteros del Iberá.