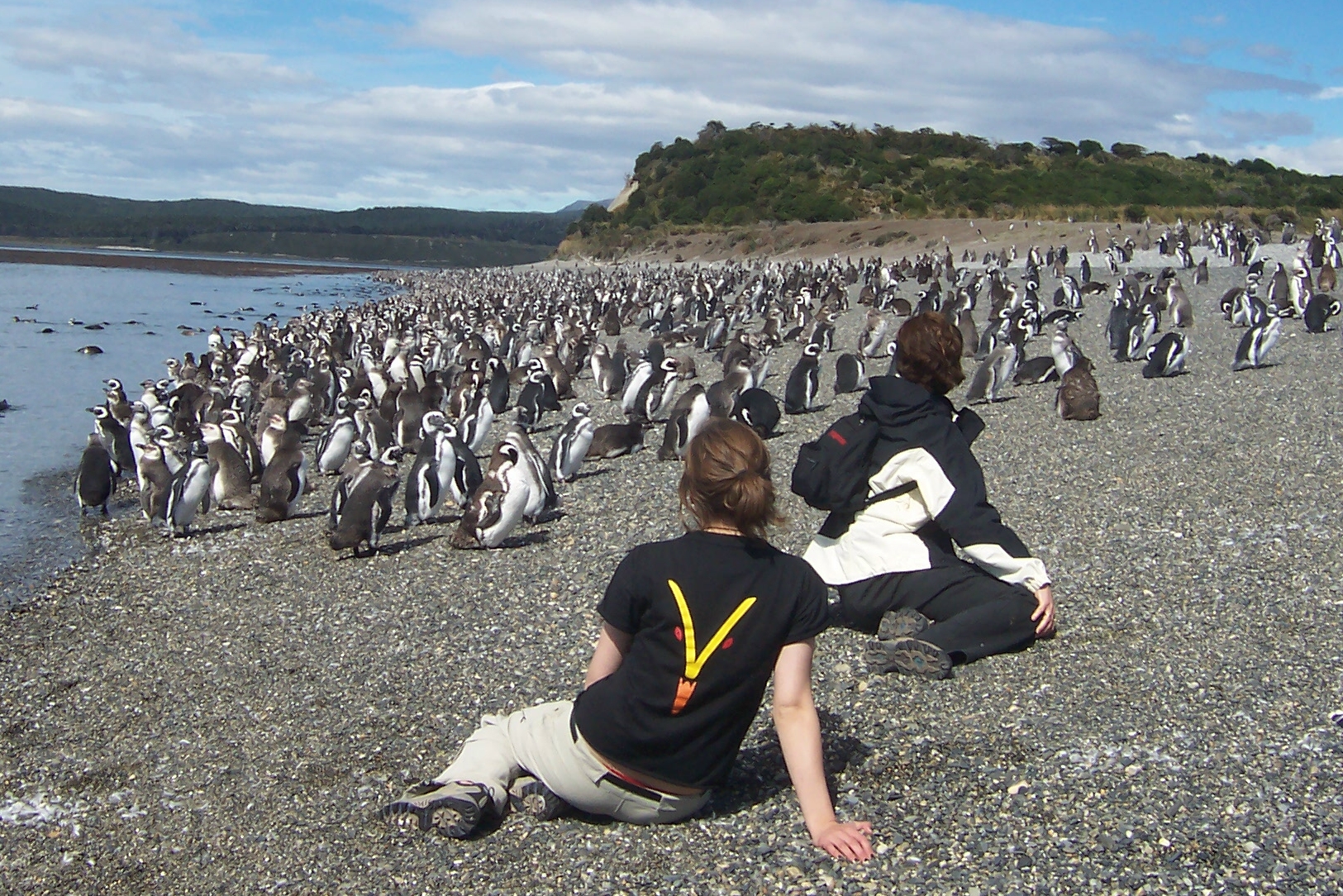 There are few Magellanic Penguins colonies in Patagonia and one of them – the only one in Tierra del Fuego – can be found close to the oldest estancia in this province.
---
This full day adventure begins at Ushuaia´s town pier, where we board a board and head southeast to discover the Beagle Channel and finally arrive to Estancia Harberton, located 90 km away from the city.
The channel´s natural surrounding offers a mountainous landscape and a few islands that we can see from a short distance. On the way, we stop at the Birds´ Island where it is possible to spot a colony of imperial shags and other birds such as skuas, southern giant petrels and black-browed albatross. Next by, there´s the Sea Lions´ Island, where we can watch these big south american mammals relaxing one over the other.
The picture perfect moment takes place once we spot the famous Les Éclaireurs lighthouse, also known as the lighthouse at the end of the world after the homonymous novel by Jules Verne. A curious fact: in the novel, the writer did not refer to this particular lighthouse but to the one located at the Isla de los Estados, the San Juan Salvamento.
Finally we arrive at the pier in Estancia Harberton, which is the closest to Martillo Island. Here, we embark on a semi rigid boat to reach the penguin rookery and start the walk.
Since 1978, the estancia has been also a working natural reserve, covering over 50.000 acres of mountains, forests, lakes and islands. Martillo Island – which native name is Yécapasela – is on this territory and since 2009 has a growing colony of Magellanic and Gentoo Penguins and also rock Cormorants nesting on the cliffs to the south.
This island is a great habitat for these species since there are very few predators in the area, abundant food and the ground and vegetation provide adequate shelter for their nests. Every year the penguins start arriving early in October for the the annual breeding and raising season, and then leave around late March to begin their usual migration northward for more than 6 months in the sea.
By agreement, only 80 persons per day are allowed to walk on a designated trail among the Magellanic Penguins in this island, joined by a specialized guide that teaches about their habits and behavior. Today, we are one of those lucky people to walk for an hour among these curious birds and learn about them. It is a magic experience to be so close to these animals, free in their natural habitat.
Once the time for joining the penguins is up, we sail back to the estancia for lunch (not included) and also a visit to the Acatushún Museum, where a collection of over 2700 marine mammals and 2300 birds skeletons can be appreciated.
About around 3.30 pm we begin our way back to Ushuaia but this time on a minibus, driving through the Provincial Route J and the National Route 3, making a few stops on the way to see the iconic flag trees.
As the day ends and we approach the
city, it is amazing to think that only a couple of hours ago we were so close to nature and one of the most loveable and funny birds ever. A once in a lifetime experience, only in Ushuaia, Argentina.
Please contact a Kallpa Tour Executive for more information about this and other tours available.
---
GENERAL INFORMATION
Daily operation from December 12th 2016 to March 31st 2017.

Departs at 9 am from Ushuaia´s town pier. Returns by bus at 3.30 pm and arrival at 5 pm.

Full day shared excursion with other guests.

Requested group size 8, max. 20 guests.

Not suitable for disabled people.
SERVICES INCLUDED
Beagle Channel navigation, walk in penguin rookery and return by bus to Ushuaia.

Entrance fee to the estancia.

Bilingual English/Spanish guide.

Port tax.
SERVICES NOT INCLUDED
International/domestic flights.

Transfers to and from hotel to the pier.

Lunch and beverages.
CANCELLATION POLICY
Full refund in case of bad weather conditions or any other factor that exceeds the pax.

48 hs in advance, 10% administrative cost.

Between 48 and 24 hs in advance, 50% penalty.

Within 24 hs, no refund.
---