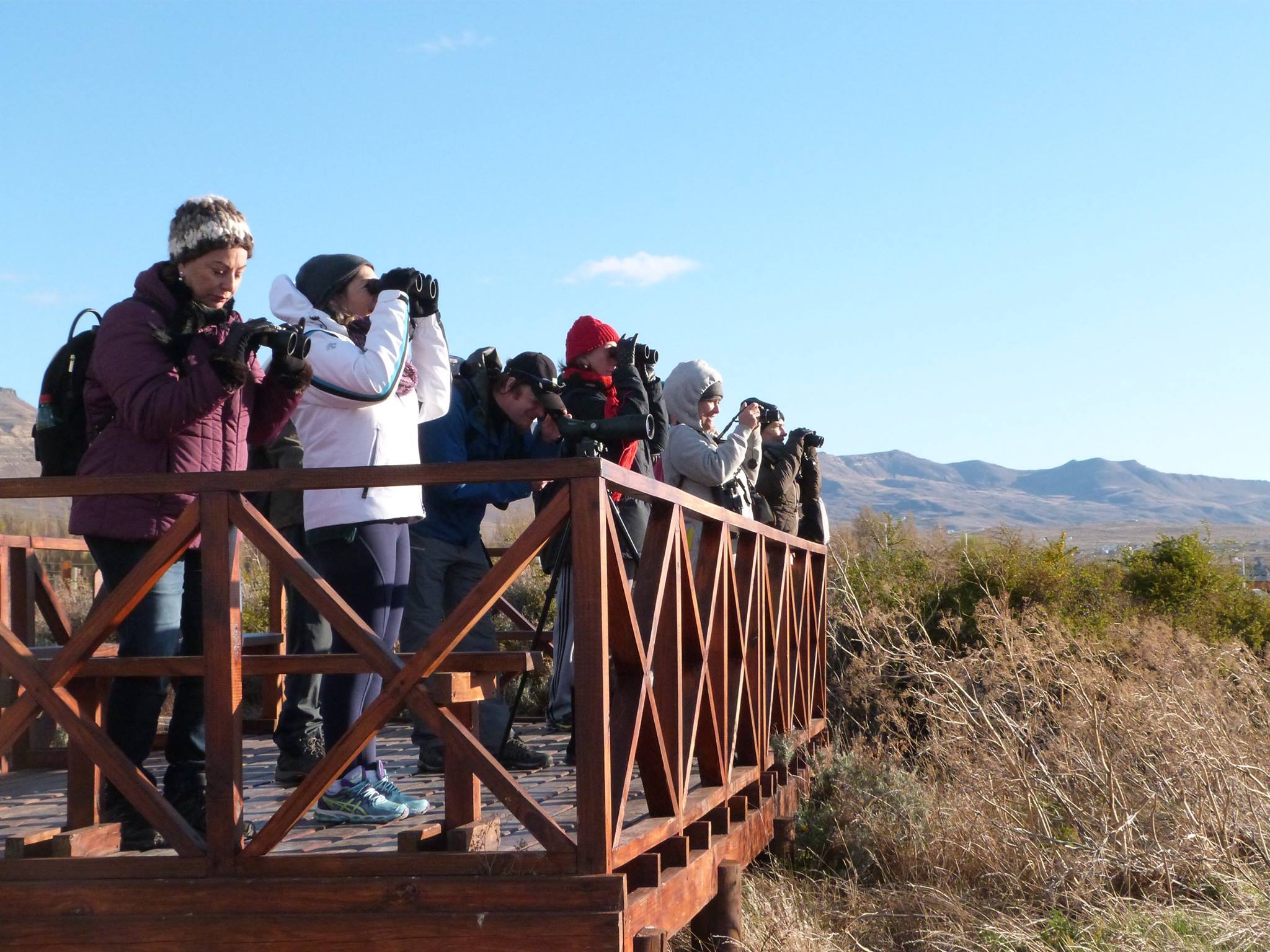 Only 1 km away from El Calafate´s downtown and really close to the Argentino Lake lies the Laguna Nimez Ecological Reserve. Being one of the best urban reserves in Patagonia, this is an ideal place for birdwatching.
---
Laguna Nimez hides beautiful natural treasures: almost 80 bird species -permanent and migratory- show off at this lagoon, bragging on their beauty, diverse colors and flair. Besides the bird life, the reserve presents typical patagonic steppe vegetation, characterised for different short bushes, reed beds and meadows that blend perfectly with the fauna.
At dawn we met our guide at this patagonic bird sanctuary for a relaxed and instructive walk. For anyone curious about exploring a natural environment, this is certainly a contemplative stroll to appreciate, learn and get closer to nature,
Along the trail, we moved slowly and stopped at the panoramic spots to observe quietly the birds´ different feeding and nesting habits and also to discover the scrubs and reed beds where they rest around the lagoon. Learning about their behavior and characteristics helps to understand their relationship with the ecosystem.
Around the reserve, there are several explanatory signs about the flora and fauna that can be spotted in the area. Also, the guide helps to interpret and understand this natural environment using all the senses and paying attention to details all around.
This is how we were able to spot black-necked swans, groups of flamingos, upland geese, ducks, sparrowhawks, silvery grebes, lapwings, red-gartered coots, black-faced ibis and chimangos. But don't forget that there almost 80 species all around!
Through the path we got to several panoramic viewpoints. At Argentino Lake´s lookout, the most amazing 360 degrees view showed us not only the lake itself but the whole reserve, the Isla Solitaria, the Andes and El Calafate city surrounded by mounts Huiliche and Calafate. A scene to remember!
The interpretive walk of the wetlands is about 3 km long and it takes approximately 2 hours. There is enough time for taking lots of pictures, observing the specimens, receiving the guide's complete explanations and even to have a snack whilst enjoying the view of this delightful lagoon.
For anyone willing to make an incursion into the birding world or simply relax and enjoy the nature and its wonders, this experience sharpens the senses to discover scents, sounds and pictures in the environment, so that nothing is left unnoticed.
Don't forget to contact your Kallpa Tour Executive for more information and exact rates for this birdwatching excursion.
---
GENERAL INFORMATION
Half day excursion.

Regular daily operation at 5:30 pm, starting at the Reserve.

For private excursion, min. 3 pax required and max. 10 pax (suggested).

No age limit.

No cancellation upon bad weather.

Occasionally, exceptional floods may difficult the access to the trails. If this should happen, the condition and accessibility to the reserve will be previously notified. If the excursion must be cancelled, 100% of the paid fee will be refunded or we may suggest to do it another day, as long as the passenger is available to do so and the if paths are in the right conditions.

Recommendations: dress in layers and wear comfortable and warm clothes, preferably a windbreaker or waterproof jacket for the exterior layer. Wear shoes suitable for walking and preferably waterproof. Bring sunglasses, sun lotion and a hat or cap, extra warming clothes just in case and a bottle of water.
SERVICES INCLUDED
Bilingual English/Spanish specialized guide at the Reserve.

Binoculars and telescope for borrowing.

Snack (tea, coffee or mate with some cookies).

Entrance fee to the reserve.
SERVICES NOT INCLUDED
International/domestic flights.

Travel insurance.

Personal expenses.

Transfer from and to hotel (upon request).
CANCELLATION POLICY
48 hs in advance, free of charge.

24 hs in advance, 50% of the fee will be refunded per person.

Less than 24 hs in advance, 100% of the fee will be charged.
---