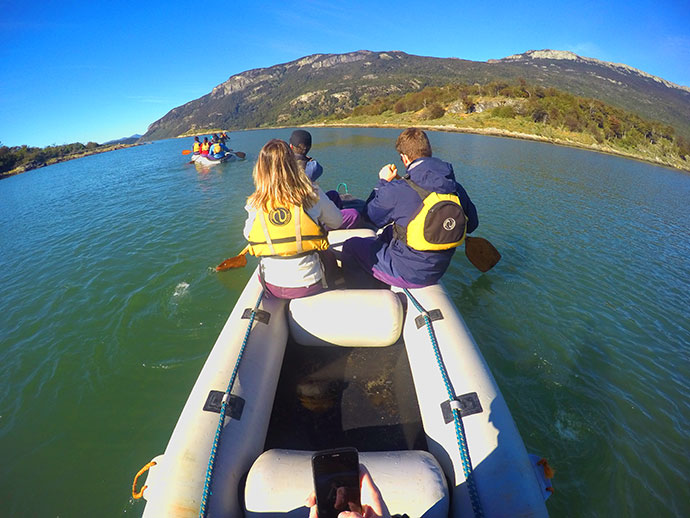 We wake up early in the morning It´s a cloudy day but then the sky starts to clear and we can see a piece of its blue and the sun as an anteroom to our Trekking and Canoes trip in the National Park.
---

Two hours later we are on our way to the National Park Tierra del Fuego, where we'll spend the day trekking and canoeing on Lapataia Bay.
As we walk through the National Park the highly trained guides tell us about the geology, the history and the flora of this region. We pay our admission fees and then we move on to our starting point.
We are divided into two groups of six people each. The first group starts with the trekking, our group gets on the canoes and starts with the sailing. We then get on the van and we head towards Lapataia Bay. We are briefed about safety measures in the water and we are given the necessary gear: life-jackets and water-proof pants and boots.
In a few minutes we find ourselves on the calm waters of Lapataia River that flows into Lapataia Bay, a northern bank fjord of the Beagle Channel, about 15 kms from Ushuaia.
On this trip we watched different kinds of birds, and we had the chance of seeing some penguins swimming, something that doesn't happen very often. The nature around us is indescribable. Ushuaia is the only place in Argentina where lakes, sea and forest get together. This is also the place where the old Yámanas or Yaganes sailed. They were nomads, hunting and fishing on canoes. Their ancestors from 6000 BC years used to walk all over the islands and the channels south of the Beagle up to the Hornos Cape. They also got around the Fueguino channels west of the Beagle, Kawesqar´s territory, all the way to the Magdalena and Cockburn channels in search of the iron pyrite they used to light fires.
After walking for two hours approximately, we got to Lapataia Bay where we docked our boats and got on the van that took us to have lunch. A good and delicious roasted chicken was waiting for us. We then set off on a 3 hours trekking through the Fueguino forest along the banks of the Beagle Channel. It was a unique chance of getting to know this place in Argentina full of beautiful spots.
At around 04:45 PM we will be already on our way back to the hotel, tired but happy about having spent a wonderful day full of adventure and adrenaline, in the company of our guides that turned the TREKKING AND CANOAS PARQUE NACIONAL into a unique experience.
---
FACT SHEET
Itinerary:
08:30/9:00 Pick up from the hotels
09:20 Arrival to the National Park
09:30 Trekking along the Pampa Alta path -2 ½ hours- or Coastal path -3 hours.
12:30 Arrival to Lake Roca and lunch.
13:45 Paddling technique briefing and canoe prompting -1 hora y media-
15:15 Lapataia Bay.
15:45 Return to Ushuaia.
16:30 Arrival to Ushuaia.
Duration:
8 hours
Meals:
Argentine-style nibbles, chicken breast filled with ham and cheese and dauphinoise potatoes. Drinks Included: bottled water, red wine, soft-drinks. Vegetarians: Please let us know in advance.
Capacity:
Up to 12 passengers. Please ask about services available for larger groups.
Season:
All year round except June. (check the winter vers
Attractive:
Ensenada Bay, Beagle Channel, Lapataia Bay, Roca Lake, rivers Ovando and Lapataia
Included:
Transportation: Minibus. Up to 12 passengers.
Guides: Spanish – English. Please ask for services available in other languages.