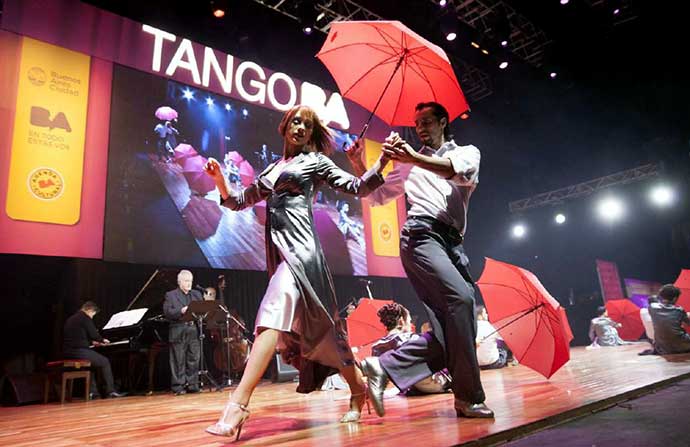 As good Argentinians, we love the tango. Therefore, we want to share this passion with you, our colleagues, because of that we have created a special program dedicated to the Buenos Aires Tango Festival (Tango World Cup).
---
Tango is from Argentina and lives in Buenos Aires. Each year Buenos Aires receives thousands of people, who are passionate, curious and willing to meet the tango, either watching the show or giving the first tango steps following these tunes from the poor neighborhoods. From 2003 Buenos Aires is Buenos Aires Tango Festival venue where creators and performers star in concerts, dancing shows and contests; and where the best world performers participate.
In 2015 the Tango Festival will be conducted from August 12th to 25th at the "Teatro de la Ribera" [Riverbank Theatre] which from 2010 became the house of the tango in the Autonomous City of Buenos Aires, at the neighborhood of "La Boca" [the mouth].
At the festival two styles are performed: tango scenario and tango salon (ballroom). Tango salon is characterized by the popular tango style where the close embrace cannot be broken or dancers cannot jump. On the other hand, tango scenario is characterized by the free and acrobatic choreographic style, which includes movements not allowed in the salon tango, as jumps and losing the embrace.
In 2014, a new venue was incorporated to the Festival: "El Galpón de La Boca". A big ongoing dancing room, with live music, DJ sets, dancing exhibitions and classes was run at that place: "La Milonga del Puerto" [the milonga of the port area].
In addition to the above-mentioned Festival, and for those travelers who would like to experience this event from close we have organized a 4-day itinerary which includes: the events organized by the Tango Festival and World Cup according to each passenger's interest, such as seminars, conferences, contests, milongas, films. The guided walk will finish at a restaurant, where we'll share a
glimpse of argentine cuisine at your choice.
We invite you to find out about this proposal with the executive staff of Kallpa.
Once again, you can participate of the largest annual tango meeting that celebrates the tradition, promotes the innovation and contributes to the generational and interdisciplinary encounter. This meeting gathers emerging artists, tango historical referents and a multitude of tango lovers and dancing amateurs. Kallpa wants you to become part of it.
---
Minimun pax requirements: 1
The program includes:
Airport transfers.
Welcome drink at the hotel on arrival.
Meals as mentioned in the program.
Services as described in the program.
3 nights in the chosen hotel, including breakfast.
English-speaking referent & guide for 4 days as per description.
3 Nights' accommodation at your chosen hotel & type of room.
Not included
Arrival and departure flights.
Tips and personal expenses.
Services not mentioned in the program.
Drinks.
Optional activities/ our recommendations.
Entrance fee to a milonga.