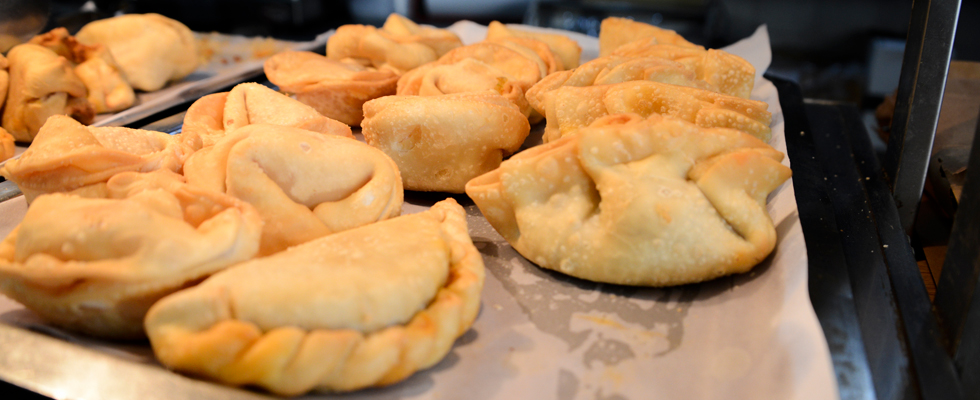 A walking gastronomic tour in Buenos Aires to try some of the national street food icons.
---
The influence of immigration and the creole imprint made of Buenos Aires an important gastronomic reference worldwide. The culinary diversity and creativity, each time larger and more innovative, have positioned the city as a gastronomic and cultural destination chosen by millions of tourists. This is why Buenos Aires is the 2017's Iberoamerican Capital of Gastronomic Culture, a recognition given by the Iberoamerican Gastronomy Academy (AIG).
Chefs from all over the world choose the city to educate themselves and travellers arrive looking for the typical asado, Andean dishes, traditional inherited recipes and many other local flavours, textures and aromas.
We want to celebrate gastronomy in Buenos Aires introducing a special tour that takes you on the search for classic street food that we all Argentineans love. Exploring the city by foot, in the company of one of our expert guides and foodies, this four stops / four fast meals gastronomic experience will give you a taste of what this amazing and diverse city has to offer.
Our guide will pick you up and take you towards the first stop. Then, you will walk around for about 3 hours making a few stops more on the way while he/she tells you all about Argentineans and food, out traditions and tastes, our legacy and influences, and also the full story behind what you're about to try.
The first tasting stop will be at a food truck in the Costanera Sur for an exquisite and unique choripan. Its name is an acronym from the words chorizo (spicy sausage) and pan (bread), which are the two basic ingredients. It is said that the choripan goes back halfway through the XIX century, when in the countryside the gauchos organized asados to celebrate any occasion, and then started the habit of eating chorizo inside a bread. The choripan has three fast food main characteristics: it's easy to cook, fast to eat and relatively cheap. Today it's a main character in any Argentinean barbecue and it's usually the first treat to serve while waiting for the rest of the meat to be done. Without a doubt, it's a national classic street food and one of the Argentineans' preferred dishes.
Then you will try an empanada, which is actually a traditional dish from most of the Spanish speaking kitchens. An empanada is, basically, a piece of fine dough stuffed with a salty or sweet filling and cooked in the oven or fried. In Argentina, the empanadas usually have a semicircular shape, a distinctive repulgue (the technique used to close the piece of dough and give it shape) and the filling varies: meat, ham & cheese, corn, tuna, spinach & cheese…these are the classics but there are many more. There are also many varieties of empanadas in most of the country's provinces, such as the famous empanadas salteñas or the tucumanas, with different kind of doughs, fillings and condiments. We strongly recommend to taste empanadas wherever you go in Argentina.
The last two stops of the tour will pair you up with two Italian inherited and adapted delicacies.
As the final salted course, a slice of pizza. Of course, this is an international specialty nowadays, but what makes it different in Buenos Aires is the dough's thickness. From the Italian recipe disembarked presumably in La Boca, we created the pizza al molde, which literally means "mould pizza". This version has a thick dough, maybe 2 o 3 cm thick, and very oily mozzarella cheese drips on the sides. It's typical from the pizzerias in the neighborhoods, where hungry people in a hurry pass by and have a slice standing up. The main flavours for the porteños are the fugazzeta (cheese, onions and oregano), ham and peppers and the plain but eternal mozzarella. Probably you didn't know this, but Argentina is one of the biggest pizza consumers.
Up to this point you should be not only thirsty but also craving for something sweet, which takes us to the final refreshing tasting of the tour: ice-cream, or as we call it, helado. Also brought to the city by Italian immigrants halfway through the XIX century, more and more artisanal ice-cream shops appeared all around. The national ice-cream flavour king (and it is said for foreigners visiting too) is the dulce de leche (caramel). Probably there is no other classic flavour as famous as this one. And although you may find original and new flavours, even seasonal ones, the classics are ever present: chocolate, vanilla, strawberry, lemon and crema americana (plain cream). You can't miss the tramontana (cream with dulce de leche and crunchy pieces of biscuit).
Empanadas, choripan, pizza and ice-cream. As we like to say, panza llena, corazón contento: a full belly makes a happy heart!
Now that you had just a taste of what Argentine cuisine can provide, you surely want to try some more. There are many options in the city and throughout the country where you can enjoy delicious meals. Make sure to contact us for suggestions!
---
GENERAL INFORMATION
Private service up to 8 people.

Includes described street food meals with drinks, roundtrip transfers and bilingual guide.

Operation: Daily tours year round.

Pick up at 11.00 am (by taxi or van, depending on the number of pax).

Duration: 3 hs

The places to visit and/or order of the meals may vary depending on the guide's criteria and pax preferences.

The last stop can be replaced for a coffee instead of ice-cream.

We recommend to dress informal and to wear comfortable shoes for walking.

Published rate valid from 30/06/2017 to 31/12/2017.