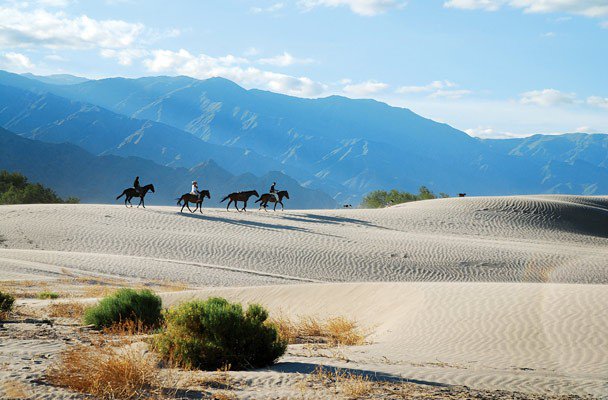 Only 10 km away from Cafayate, Estancia Chimpa rests in the middle of the Calchaqui Valley, waiting for you to enjoy a day in the northern countryside.
---
This fascinating estate is at your disposal for spending the night but today we will tell you about one of the many activities it has to offer.
The Nanni family, passionate for the valley, its mountains, grapevines and horses, made of this 7600 hectares plot a beautiful relaxing place to rest and spend the day.
The estate´s main house stands out for its architecture and style; with two wings that define its structure: the South Wing, antique and original from the XXth century; and the West Wing refurbished between 2004 and 2006. In the summertime, a big exterior pool at the back to enjoy the landscape provided by the immensity of the surrounding mountains.  
The adventure of the day at Estancia Chimpa involves a one hour and a half horseback riding in the surroundings of this dreamy estate. Authentic creole gauchos who know the area as the palm of their hands, will lead the ride. Starting at the horse's corral, you'll be riding through the green vineyards where the Nanni family grow cabernet, torrontés and malbec grapes, among others.
Soon after, the scenery changes dramatically into a dazzling mass of white sand: behold the Cafayate dunes, a sandy area that enlightens the panorama drawing the visitors attention because of the curious figures formed on the surface by the wind.
This wonderful ride is available year round. During the winter, the ride takes place between 10:30 and 14 hs, trying to make up the most of the sun and avoid the coldest hours. In the summer, the best is to go out at dusk or dawn. Also, night rides are a classic at Chimpa; a wonderful experience with a different perspective of this natural environment, amazing starry sky view, a cozy bonfire and the nocturnal noises of this unique place.
For those who like the countryside and riding horses, while visiting Cafayate this is the estate to stop by. For more information, contact your Kallpa Tour executive.
GENERAL INFORMATION
1.30 hs excursion. Minimum 2 pax per riding.

24 hs advanced booking required.

It is advisable to bring sunblock, comfortable clothes, sunglasses and a cap.

Conditions: Min age 3 years old / Max age: 60­-65, depending on physical conditions. Traveller max weight/height permitted 100kg / 2 mts.