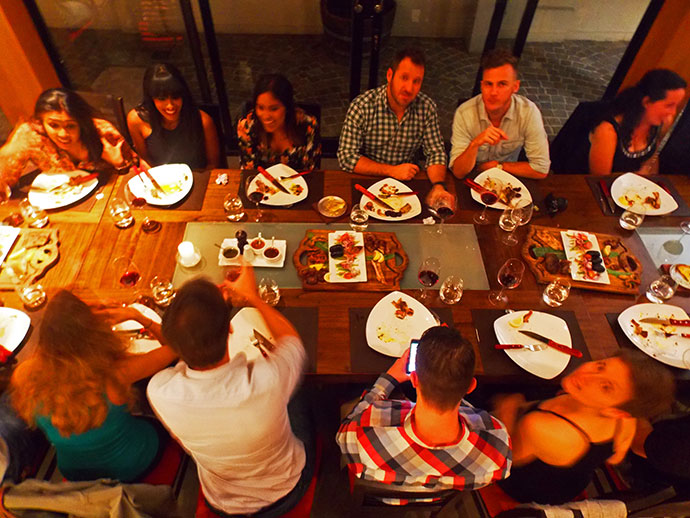 This month we reveal the mistery every traveller wonders about. How do Argentinians live? What´s their traditional food? In "Gastronomy experiences behind closed doors in Buenos Aires" we´ll give you the answer to the questions you ask yourself about in the company of locals enjoying a fun and good moment while trying our delicacies.
---
Food is ready and everything laid on the table. The cook is getting the coal ready to start the fire. The beef is ready to get "its intense tan".
Everything is ready to begin with the "having dinner at an argentinian family´s home" experience. It´s time to share what we call "the table" and have a close encounter with warmth and affection which are important ingredients in our society. We´ll tempt you with tasty "empanadas" and we´ll teach you how to cook them while having fun in the process,drink a glass of good wine and chat with the cook while he is getting everything ready for the big barbecue and the best beef in the world. For those vegie-lovers we´ll also cook some vegetables on the grill. All this in the middle of fun and relaxed ambience.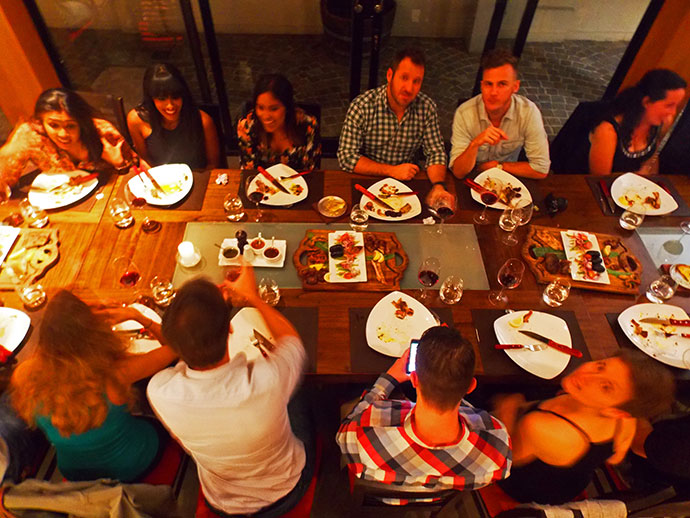 Another good choice is to enjoy of a"true Argentinian grill" where we´ll try our "picadas"(different cold cuts,olives,dry sausage and cheese) a good wine and share in the experience of preparing and cooking a delicious "asado".
As soon as we are welcomed into the house they´ll offer us a tray with different cheeses and cold cuts on it(our picada).
Then the salads will start coming plus the sweetmeats and the insides that locals like so much.All that to work up and appetite. Then we´ll have the big "bife de chorizo"(350grs) a very tender cut that reap up all the applauses.
Every different dish comes along with different kinds of wines specially chosen for the meal.
That´s why to be a part in the process of cooking an asado is a "must" for every visitor who wants to learn about our secrets and traditions.

We are thinking of every kind of visitor to Buenos Aires that´s why we also offer the "Exclusive tour of Buenos Aires parillas(grills)".
This tour is an opportunity to visit several rastaurants and try our traditional dishes while enjoying of a nice and friendly ambience.Learn about our culture,our customs,the way we live and think.
The top of the cake is a visit to an icecream-shop,because not only is Argentina famous for its food but also for its icecreams. The work of true artisans of this creamy dessert.And we thought why not end this great experience having a good ice-cream?
Let all travellers get their palates ready for a true "FOOD EXPERIENCE" in Buenos Aires.
Every tour must be booked in advance when visiting the "closed doors gastronomy" places and due to the reduced numbers of guests on every tour that make of it a wonderful and truly relaxed experience.
---
LUNCH OR DINNER WITH A FAMILY IN BUENOS AIRES
INCLUDES:
Transfers in / out
Lunch or Dinner ( 1 empanada / Grilled meat with salads – dessert and coffe)
Alcoholic beverages ( 1 bottle of red wine Malbec or white wine Chardonay Latitud 33 or simil )
Non alcoholic beverages – free ( soda and mineral water )
Souvenir
IMPORTANT INFORMATION
Schedules
Lunch from 12 to 15.30 or Dinner from 19 to 22.30
Availability: Everyday
Languages: English / Italian / German
Vegetarian Menu optional
Quantity of passengers:
Regular: mínimum 2 pax / máximum 8 pax
Exclusive: mínimum 4 pax ( 2 pax, pay for 4 ) / maximum 15 pax
Guide cost: Until 4 pax, pay 50 %, more than 4 pax – free of charge
We offer flexibility as regard quantity of pax and schedules.
Location
The house is in Vicente Lopez (North area of Great Buenos Aires).
AN ASADO AMONG FRIENDS
Includes:
Tray with different cheeses and cold cuts on it(our picada)
Starter: Mix salad with gourmet touch
Second Dish: Sweatbreads
Third dish: Premium Quality 350 gr Steak
Dessert: Traditional Argentinian Sweets
Every different dish comes along with different kinds of wines specially chosen for the meal.
No incluye:
PARRILLA TOUR BUENOS AIRES
Parrilla Tour Buenos Aires conducts tours in Palermo every Tuesday, Friday and Saturday, and in San Telmo on Mondays and Wednesdays
Tours start at 12 pm (noon) and last 2.5 hours
Meeting point is the restaurant. Pick-up service not Included.
Tours conducted in English by native or uent speakers