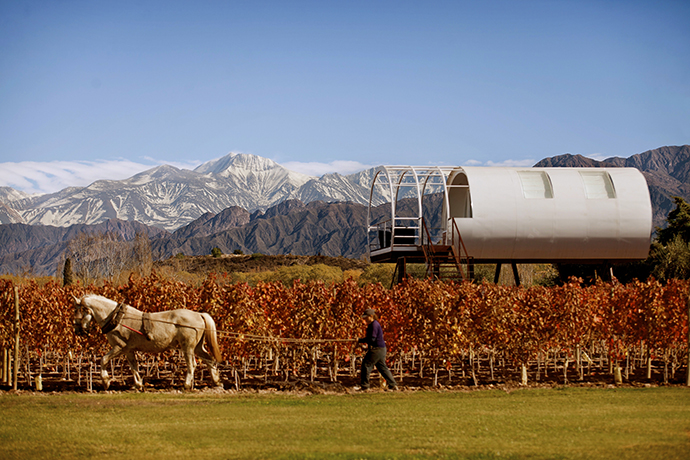 Welcome to the land of sunshine and fine wines. Welcome to where wine is celebrated. Home of vineyards, where one of Mother Nature's favourite sons, The Malbec, works as a host welcoming travelers from all over the world. At the foothills of the Andes, we'll feel among the skies at Entre Cielos Hotel. A sanctuary for anyone wishing to spend a little time "Viviendo la Vida", inspired by the outstanding natural beauty of the region.
---
The hotel's modern design creates an elegant, poetic environment, respectfully integrated into the magnificent Argentinian landscape, surrounded by vineyards that produce the world's finest Malbec wines. Located in Lujan de Cuyo, an important city of Gran Mendoza (Greater Mendoza) which is the name given to the large urban area around the city of Mendoza in Argentina.
At Entre Cielos Hotel there's the belief that each of the senses must be stimulated to fully relax and recharge the body and soul. All aspects are combined to blend the principles of harmony and adventure that define this frontier of wine making.
It's a unique experience, we stayed there for three nights. We went with the idea of exploring the wine region and its various options for wine lovers and living the "Entre Cielos" way, a unique combination of experiences, paired with impeccable service to make  every stay unforgettable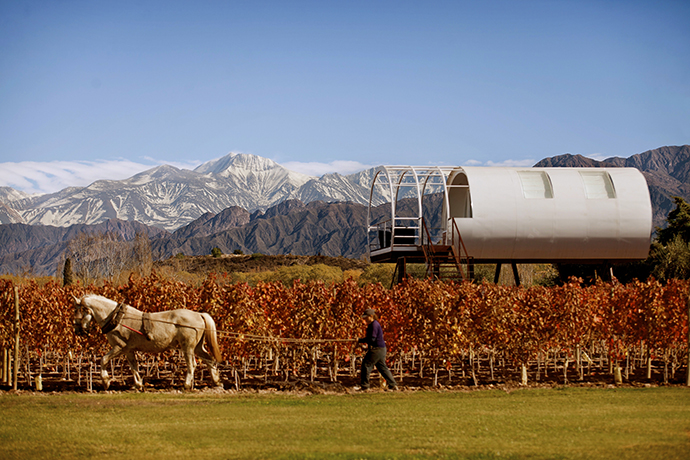 Entre Cielos Hotel has six types of bedrooms. Every room's style has to do with the  types and quality of wines such as "Limited Edition", the one we stayed in. 
Having the courage to take a risk, and the confidence to do what feels right can lead to exceptional wines that are as enigmatic as they are enchanting. This certainly applies to a room that stands above the vineyard on stilts, offering a protective cocoon. Futuristic in its styling, with rounded, flowing forms, it boasts a bathtub on the terrace and a window in the roof that offers views of the extensive starry sky. It is named after the aroma of Rosa Blanca (White Rose).
Another great experience is having dinner at Katharina Restaurant. We are offered a feast for the senses, something that for sure, we've found in the restaurant with the amazing view to the mountains. Talented chefs work with the freshest local produce and hand-selected ingredients to create a host of delicacies that combine elegant simplicity, excellence and flavor.
Design and architecture, gourmet experiences, the authentic Hammam + Spa and Mendoza's great outdoors, all combine perfectly for 'Viviendo la Vida', or 'enjoying life through all the senses'. That's what we'll find if we stay  at Entre Cielos Hotel. Ask your Account Excutive for this and more experiences. They are full of ideas for enlightening your traveler's  experience on their way through Argentina.
---
FACT SHEET
Rates Include:
Buffet Breakfast

Internet WiFi connection in public areas and bedrooms

Outdoor Jacuzzi and Swimming Pool

Parking with Security  

Welcome drink at check in and at the bedrooms  

Concierge Service

24 hour Front desk