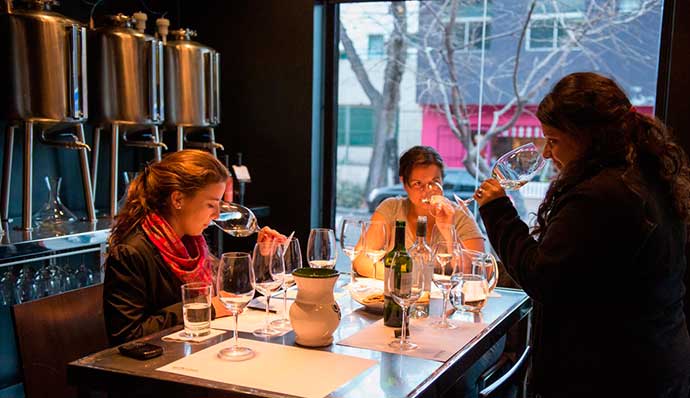 We dedicate this article to present the exclusive wine tasting Mendoza. Mendoza is one of the largest winemaking regions of the world. With more than 1500 wineries distributed in three regions -Luján de Cuyo, Valle de Uco and Maipú– large open fields together with grapevines, mountains and blue skies.
The Vines of Mendoza, a place difficult to forget for those who have the possibility to lodge there, since it offers the perfect balance between a natural landscape surrounded by vineyards with a first class cuisine. Lots of wine lovers recommend staying here so as to enjoy of one of the 33 hotels selected by Condé Nast.
On this opportunity we are focusing on The Vines of Mendoza Tasting Room where wine tasting is offered with more than 100 products from regional "Boutique" wineries. Visiting the Tasting Room is like visiting several wineries all in the same place.
Each wine tasting includes detailed and personal information on the wines from the specialists who conduct the experience in a very amusing and entertaining way.
Since we are also travelers, we like getting more involved therefore we joined the experience and prepared our own wine with The Vines of Argentina. We elaborated our own wine with the help of experts in the high tech The Vines of Argentina laboratory and got to take the wine bottle with us in order to share it with our friends.
Every Wednesday 20 pm from October up to May, the Tasting Room receives enologists from prestigious "boutique" wineries of Mendoza, who talk about their wines. This bilingual guided wine tasting called "The night of the oenologist". This is the only event of this type in the city, and it is considered to be a unique opportunity to share and learn from the best enologists of Mendoza. There you have the direct opportunity of discussing about their wine production. When organized with time your clients may participate of this differentiating opportunity.
Wine tasting is a must-do in our journey, as well as wine-tasting from the best enologists of the world. We have learnt more about wine through the tasting: comparing it, analyzing it, interchanging opinions with others and sometimes making new blends. We believe Mendoza is one of the most interesting places to directly learn from relating with experts.
At night we can enjoy the best cuisine at the "Siete Fuegos" Restaurant from the well-known Chef, Francis Mallmann. You can always have dinner inside the restaurant or for those people who wish to eat in the outdoors area, you can enjoy of a front line seat at the open air kitchen watching how fire artisans passionately transform Argentinian foods into delicious meals.
We invite you to share with your clients a perfect combination of rustic experience and unique flavors, offering a visit to the Tasting Room of The Vines of Argentina in Mendoza where wine and nature become a real experience.
---