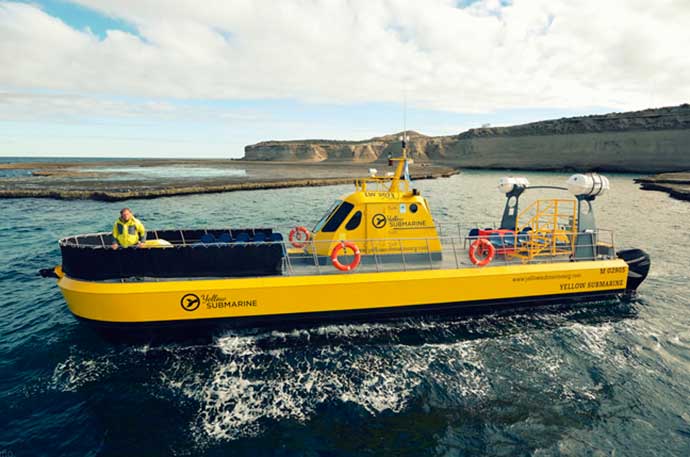 We invite you to a new experience in whale watching. Our adventure starts really early when we are picked up at the hotel to get to "Puerto Pirámides". We had heard about this new way of whale watching and we were very excited about the trip.
We decided to embark at 11:30 in the morning, from the Southern Spirit's office at "Puerto Pirámides" where we had to show up one hour before leaving. Besides, there is another departure time at 13:30 in the afternoon which is ideal for those who find difficult waking up and getting up early. During September, October and November there is a schedule of two departures a day and in December there is only one at 11:30 am.
The boat –we are embarking- is yellow which reminds us of one of the most emblematic Beatles' songs. It is the first semi-submersible model specially designed for watching the Southern Right Whales and Sea Lions. It offers the possibility of having an underwater view since the hull is designed with windows which enable you to watch the whale in a unique way. This possibility is not offered by the rest of the traditional whale watching trips at "Puerto Pirámides". At the under the water level, passengers have 40 windows for submarine watching, each one with his/her own seat.
You also have the possibility of watching the natural spectacle from the boat deck which also offers a more panoramic and not less attractive view.
The combination of submarine whale watching together with panoramic view from the deck has really been an unforgettable experience!
The trip took us through "Golfo Nuevo" [New Gulf], within 10 miles from the starting point, depending on the location of the animals, for an hour-fifty minutes.
After having sailed for some minutes we reached the whale area and we started the whale watching. During the whole journey the guide explained the behaviour and uses of the animals, he was interpreting the whale activity at that time and responded each of our questions very professionally.
Our experience was incredible therefore we share it with you. In addition, we also want to profit this opportunity to remind you ok the Kayak Whale Watching, an experience suitable for those who love to be more adventurous.
---