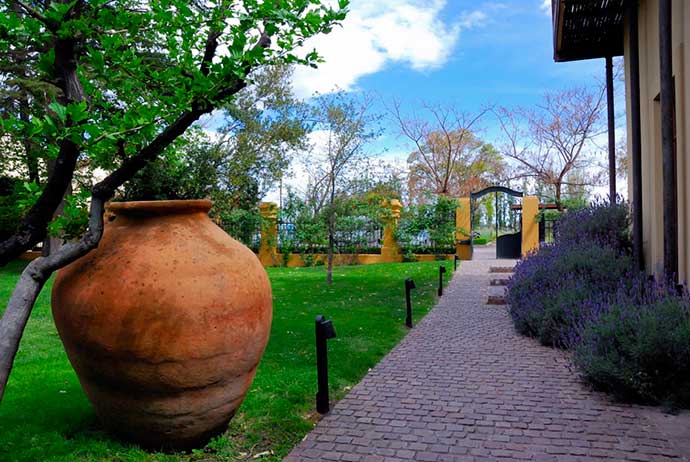 Combining relax, cuisine and good wine is an experience an is not something easy to perform, however, Club Tapiz in Mendoza was very successful in doing so.
As lovers of tourism and fine cuisine we cannot miss the opportunity of telling you about this product Kallpa-like.
Club Tapiz proposal offers us is specially devised for lovers of the fine cuisine, the good wine and throughout a true personal experience by the active participation in activities in the vineyard, the wine tasting and cooking lessons.
We have stayed in Club Tapiz. It is located in a residence built in 1890, surrounded by 10-hectare vineyard. We highlight that the house was restored respecting the original structure and its architects were in charge of keeping the identity which is unique together with the surroundings and the magnificent view of the Andes mountain range. This house was declared Historical, Architecture and Touristic Heritage of the District of Maipú at the City of Mendoza.
When visiting the Hotel we could appreciate that attached to the Club there is an old wine cellar where wine was produced until 2002. We walk along aisles flanked by large oak barrels, we reach 'Pour le Galerie' room which has a beautiful mural of 22 x 4 meters painted by Sergio Roggerone, an artist from Mendoza, the room has got a 200-person capacity, it has got an own winetasting room, a wine cellar and a sparkling wine racks. It is that Pour Le Galerie was created out of love for art and it may be used for cultural events and social gatherings.
The Club has got a restaurant open the whole year where you can taste delicious meals prepares with local products and from the own organic vegetable garden.
We also enjoyed of the spa with sauna, Scottish shower, jacuzzis and massage rooms with different therapies that after a day of walks and degustation are definitely rewarding. Activities proposed by the Hotel are interactive. We had the possibility of trimming, harvesting and performing all of the vineyrad tasks and observing at the time of harvest the production of olive oil also produced at Club Tapiz.
We also rode horses; hiked and wandered around under the trees of the Andes. These are activities to be done in Mendoza during the day; and then to return to the Hotel to relax.
Nights were dedicated to sharing experiences in wine tasting or to enjoying a cuisine lesson.
Club Tapiz has got 11 rooms classically decorated, with wooden classic floors. Each room has got air conditioning, free wi-fi and cable tv, in addition to one of the most impressive views of the mountain range of the Andes.
Find below the Fact Sheet with more details about the Hotel. And as you already know, should you need further information about this activity proposed you may contact your Kallpa Personal Account's Officer.