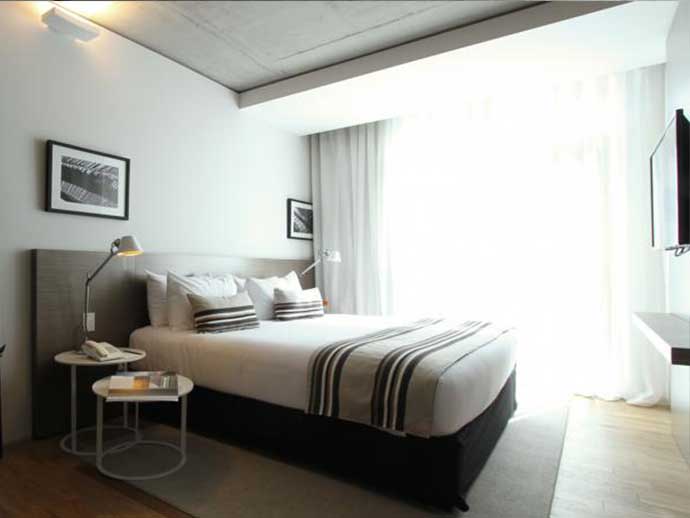 San Telmo District is famous for its antique stores, colonial architecture, narrow streets and the smell of tango music on every corner. Right in front of the most emblematic square "Dorrego" is set this charming accommodation in San Telmo District, Anselmo Boutique Hotel. The new boutique accommodation in the heart of the Tango District!
Our first impression was really good, a Hotel of this characteristics and the location where it was built makes it a great option. You can be staying in the heart of the neighborhood, go for a walk and, once you step onto the street, visit the antiques fair, watch tango dancers and walk down memory lane in San Telmo Market. Just a few steps from cafes, bars and shops.
Featuring an elegant exterior that reflects the area's traditional architecture and blends beautifully with San Telmo's attractive, cobblestoned streets; Anselmo Boutique Hotel's open and modern interior provides a wonderful visual contrast.
We feel welcome the moment we step into the airy, light-filled lobby. The staff is friendly, professional and very polite to check travelers into one of the stylish rooms.
Visiting the rooms we find elegant, modern décor which meets homelike comfort. Warm wood flooring, beautiful floor-to-ceiling windows and a striking lamp – each one unique to every room, and a piece of art in itself – make each of the room's restful. Each room is equipped with contemporary amenities including complimentary WiFi, a 42-inch HDTV and a mini-bar.
The buffet breakfast is served with a great variety of fruits, breads, delicacies, all homemade and very enjoyable. You can also dine on international dishes, expertly prepared using only the freshest local produce in the restaurant, Café Anselmo. There is also a wine tasting room that you have to visit, in which the best wines from boutique and prestigious wineries are poured.
Our Marketing Manager, Daniela Pisani stayed at Anselmo Boutique Hotel and this is her impression "Anselmo is a very nice option if it´s a boutique hotel what you are looking for in the heart of San Telmo. Its modern style includes local elements in the decoration. The staff was very friendly and helpful and I was particularly impressed by the variety and quality of of the delicatessen served at breakfast".
Good news for those travelers who love maintaining their exercise routine it is easy at the compact fitness center that is well equipped with state-of-the-art cardio, resistance and weights technology.
Take a break from exploring San Telmo's cobbled streets and enjoy a cup of coffee in one of the traditional cafés sitting around Plaza Dorrego, home to a myriad of street performers, artisans, vendors and tango dancers. When the sun goes down, experience world-famous nightlife in San Telmo's bustling bars, nightclubs and live music venues. Anselmo Boutique Hotel in Buenos Aires is ready to make your experience in Buenos Aires something worth sharing.
FACT SHEET
Rates include
Hotel part of the Curio Collection by Hilton
Complimentary Buffet Breakfast
Free WiFi access
Access to the State-of-the-art fitness center