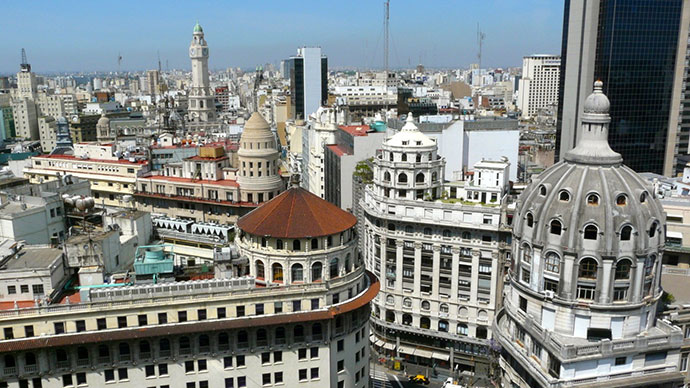 You already visited our city. You need to go deeper. Feel the Buenos Aires 360 degrees immersion.
You already had contact with locals, experienced our great gastronomy, probably went to an Estancia in the countryside or enjoyed a great Tango Show.  Now what is left is to  experience Buenos Aires from the top of some buildings, taste our flavours in selected cafes and venues (including breakfast, lunch and afternoon tea) and get a different view of this cosmopolitan city from the River. That's the experience you'll have in this Buenos Aires 360 degrees Immersion. Keep reading and you will  know why we love this outing!
---
During this "unique" Buenos Aires 360 degrees immersion we learnt more about Buenos Aires, its spirit, its mystique and its charm. A way to go back in time and discover a different and  unforgettable city.
So we are ready to start the tour: We meet our guide and after a small introduction talk we begin to walk along the renowned Avenida De Mayo until we reach Café Tortoni, this famous Notable Bar epitomizes the "porteño café", Little is known about its origins. Just that a French immigrant named Touan decided to open it at the end of 1858, and name it after an establishment on Boulevard des Italiens in Paris where the elites of the Parisian culture used to meet. Time seems to have stood still like in an old photograph, when people used to come here to play billiards, cards, or just to share a coffee with friends. Here, we stop for a typical porteño-style breakfast.
After having coffee we walked three blocks along Avenida De Mayo up to Plaza de Mayo where we are  able to see monuments and buildings related to our history. The surroundings  show us the Cabildo( old town hall), the Cathedral and the Casa Rosada (or Government House as it is popularly known).
We continue on our trip walking along  Roque Saenz Peña Avenue where we can enjoy a direct view of the Obelisk, and find ourselves just one block from the pedestrian Florida Street and half a block from the Guemes Gallery (arcade). This beautiful gallery built in Art Nouveau over spectacular passages, has a viewpoint on the 14th floor, where you can see the tops of the wonderful domes of Buenos Aires. This building used to be  considered  one of the skyscrapers of the city at the beginning of the 20th century with its 87 meters in height. From the 14th floor were able to take amazing pictures of the city.
We walked down four blocks along Reconquista Street to go to a private restaurant, the Club Aleman (German Club) located in a building situated on Corrientes and Alem Avenues where we'll have lunch. This restaurant has, unquestionably, the best panoramic view of Buenos Aires. It gives you a nearly 360° degree view of the city scenery.
Just a few blocks away is Puerto Madero: We walked four blocks along Corrientes Avenue until we reached  Puerto Madero and then up to the Juana Manuela Gorriti dam. We walked past the Buenos Aires city harbor´s attractions, such as the Bridge of Women (Puente de la Mujer). And on our return, we walked past the Cossetini and Pierina Dealessi dams, and then visited a Havanna Coffee-Shop, a trade mark famous for its coffee and "alfajores", and also past the Amalia De Fortabat Art Collection Museum. This museum´s main collection is about  Argentine artists ranging from the 19th Century up to the present days.
Finally we found ourselves passing by the Pierina Dealessi dam, Then we walked up to the river in Puerto Madero. where  we took an enjoyable  Boat ride. We were able to see the City of Buenos Aires from the water as we sailed the Rió de la Plata while having great panoramic views.
It is important to know that this is a full day and small basis tour (max. 6 pax). The tickets to the Guemes and Fortabat Galleries are included. The breakfast at the Tortoni Cafe, Lunch at the Club Alemán (German Club) and the snack at Havanna Coffee Shop, the transfers and the navigation through De La Plata River are also included.
If you are a true traveler you'll want to take this tour and take a great experience back home with you. If you are interested in this or more experiences in Buenos Aires, you can contact your Account Executive to enlighten your trips to Buenos Aires.
Also try the navigation through La Plata River to visit Tigre and Delta
---
FACT SHEET
Minimun Pax Requirements: 2
INCLUDED
Transfers
Breakfast at Tortoni Cafe
Entrance at Guemes Gallery
Lunch at Club Aleman Restaurante (German Club Restaurant)
Entrance to Amalia Fortabat Gallery
Snack at Havanna Coffee Shop
Navigation through La Plata River
NOT INCLUDED
All that is not mentioned as included.