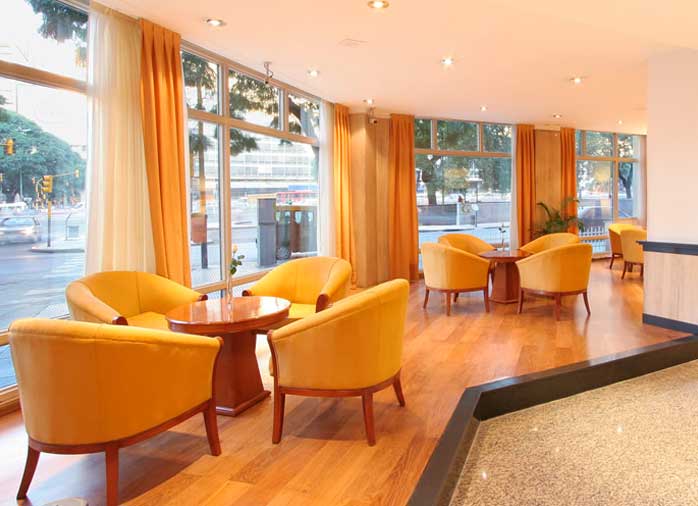 This month we decided to revisit Bristol Hotel Buenos Aires. A great option in Downtown near to very interesting places of the city. We share our experience!
When you enter Bristol Hotel Buenos Aires you have no longer the feeling you are in Buenos Aires Downtown. Even when the hotel is in front of 9 de Julio Avenue, noise is not heard. The staff at the reception is very warm and polite. Well provided with information and suggestions for the passengers. One of the things that i've noticed talking with Haydee, manager of the hotel, is that they take good care of the personal relation to provide a customer care focused on exceeding expectations.
The Hotel Bristol offers a great location on the 9 de Julio Avenue, across from the Obelisk. You can walk out and watch the widest Avenue in South America, July 9th. and standing in the center you will see the obelisk. You are three blocks away from Florida Street and also from Colon Theater, two emblematic points of interest in Buenos Aires. Also 6 blocks away from plaza de Mayo and the Pink House. Bristol is also 10 blocks from Puerto Madero, a typical touristic spot and stylish restaurant area, and just one block away from Corrientes Avenue, a major theater and entertainment venue. Is 200 metres from 9 de Julio subway station and 6 km from Jorge Newbery Airport. Visits to the local points of interest can be arranged through the tour desk.
"Hard to find a better location in Central Buenos Aires. Very good value, and extremely helpful staff." Says Alan Morgan on his review on Trip Avisor.
We started visiting the rooms. 125 to be exact. They have ample windows and laminated floors, some of them with a view of the city lights at night. I was amazed specially with the view from room 915. You can see the obelisk and most of the avenue. This room is requested by professional photographers to capture the essence of Buenos Aires during the day and the night. Amenities include air conditioning, cable TV, and queen or king sized beds.
You can also exercise in the exclusive gym.
Hotel Bristol's restaurant is situated on the mezzanine floor and serves breakfast buffet with croissants, pastries, regional and international specialties, and snacks. Our CEO Gabriel Barok was impressed with the variety of options included. I also had the opportunity to be there when passengers were having breakfast and i can tell that they were very satisfied. Room service is also available if you would like to stay resting in the room and enjoy the great view.
Everything is very well maintained. The hotel is not flashy or fancy but a great option for those travellers who wish to enjoy a warm atmosphere in a strategically located place to get the most out of your visit to the city of Buenos Aires.
Bristol Hotel a great option in Buenos Aires that we reccomend.
You can request more information about Bristol Hotel Buenos Aires contacting your personal Kallpa Account Executive or at Incoming Kallpa Tour