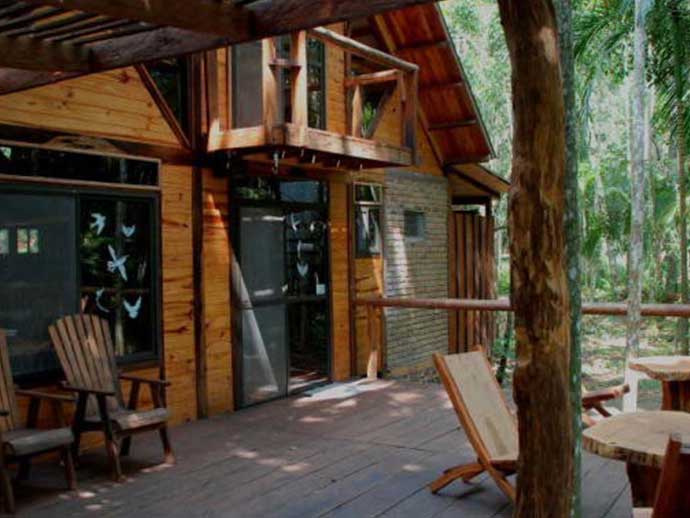 We've visited several times Puerto Iguazu and it never ceases to amaze us. Everytime we go we find a hidden treasure, an experience worth sharing. This time we got away from populated areas and head towards the northeast to spend a night at Surucua Lodge located near to Andresito Town.
Surucua Lodge is a family-run business which offers lodging, cuisine, ecotourism and adventure activities as part of the unique experience of being in close contact with nature.
This marvelous natural atmosphere invites you to discovering learning experiences as you hear the chirping of a wide variety of birds, feel the presence of big mammals and search for their footprints, plus a great variety of butterflies, orchids and insects.
Like us you can have the adventurous experience of kayaking along the Iguazu River, which is surrounded by the rainforest. If you prefer, you can just relax, get disconnected from everything and lay down to rest in this natural environment.
Surucua Lodge has four rustic-style detached rooms, based on the region's building style and made of local raw material. The rooms have box-spring beds, private bathrooms, and individual decks with a fantastic view to the rainforest. You can seat on the deck and be there for hours hearing the sound of the forest. They also have ceiling fans, cold/hot water, wardrobe, bedside lamp and the rooms are heated by a wood-burning stove. There is housekeeping service, bed linen, and amenities (toilet soap, shampoo and hair conditioner) as well.
The main house is designed in rustic style, which gives warmth and comfort to our guests. There are wide windows, through which you can see the amazing environment all around, and you can make the most of natural light. Surucua also has a swimming pool for a refreshing dive in a natural landscape.
There is a restaurant which offers an original menu based on regional cuisine. The dishes are prepared with fresh ingredients grown in the area.
Guests can enjoy a number of common areas including a bar, a living room, a library, board games and spacious outdoor decks. A trail with high footbridges has been designed to connect the rooms to the main house, allowing for a safe and easy circulation.
You will find trails where you will learn about nature, photography, bird-watching, butterflies, orchids, insects, etc. There is also a deck by the Iguazu River where you can contemplate and enjoy the natural landscape.
There is Internet and wi-fi service at the house in the lodge. Since the ecolodge is located in a remote area, no phone service is available. It represents a great opportunity to disconnect yourself from the outside world as one of the main pursuits of Surucua Reservation & Ecolodge is that you have a unique bonding experience with nature. No television sets in the premises either.
An unforgettable experience worth sharing as we discovered and learned how life in the rainforest really is. That is why we recommend Surucua Lodge as your next traveler's experience.