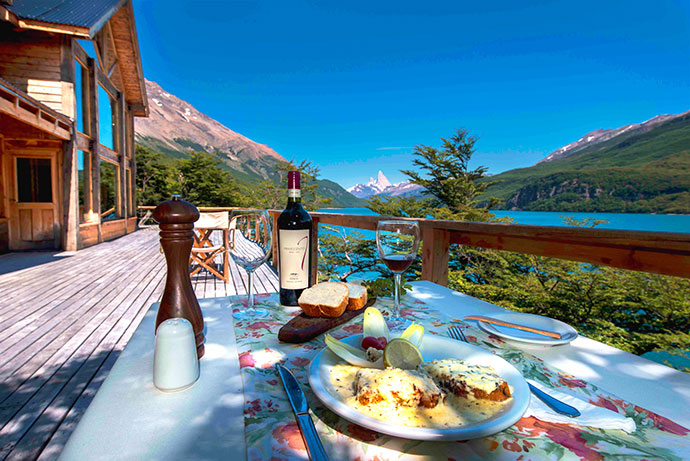 A luxury experience in Aguas Arriba Lodge starts at El Chalten when we set off on our transfer to Lago del Desierto, not included in the price, to get the transfer to Aguas Arriba Lodge.
---
A ride that shouldn't be missed skirting the Rio de las Vueltas and surrounded by mountains such as the Fitz Roy Mount behind us standing like a proud watchman over the natural paradise we are driving through.
At Lago del Desierto Mr. Igor and his troop are waiting for us on the boat that will take us to his house at the shores  of the lake to share with us a unique experience in the region. The thing is that Aguas Arriba Lodge is the only one of its kind in this place. It is located on the banks of Lago del Desierto just 15 minutes away from the pier where we'll board our motor boat. It is in a Provincial Natural Reserve bordering with Los Glaciares National Park.
During the boat trip Igor tell us that it took him four years to build his house because the materials had to be transported on motorboats and many times the winds or the climate slowed the progress of the construction.
The Lodge is a mountain cabin, rustic, partially made of wood that he got from a burnt forest in Patagonia. When we say that the house is rustic we mean that this is a talking house, full of imperfections, marks; a house that shows her heart, its  beamed framework with virgin columns, its wild and natural streaks that in a very respectful manner fuses together with the environment so as to have the very same essence.
Within its rusticity it offers great warmth, every nook was designed to be enjoyed very comfortably and quietly. There is no need for internet. The days go by in a natural atmosphere. Relaxing in our armchairs, listening to the soothing music, some us read others idly chat and some other guests spend their time touring the many trails that leave from Aguas Arriba Lodge in the company of an expert Mountain Guide. Luminous and open vistas filter through the windows into the house.
That´s what all this is about. Everyone of us enjoy the trip in its own personal way, like a family of travellers that do not know each other but get together in a  time and space determined by life to share some days with Igor and his family where peace is the guest of honor.
Fresh, natural, local. Granny´s recipes. That would be the best way of referring to Aguas Arriba´s table. Trouts from the lake, vegetables from their own orchard, home-made jams. All home-made, everything that let us live in total isolation. Customize each meal as much as we can. To know our guests personal tastes is a premise. This and many things more, that you'll have to discover by yourself, is what makes Aguas Arriba Lodge a true  exclusive experience in El Chalten.
If you are interested in getting to know about some of the activities in Lago del Desierto you can find  them in our "Trekking on Huemul Glacier" article. For more information on Aguas Arriba Lodge you can contact your Kallpa´s Account Executive that will inform you about this and other custom-made products.
Thank you for reading and traveling with us.
---
FACT SHEET
Included:
IN/OUT pre-scheduled transfers over water from Punta Sur Lago del Desierto (a 15 minutes navigation skirting the Eastern bank of the Lake).
Full board with non-alcoholic beverages during the meals. Coffee and tea included throughout the day.
Scheduled activities by Aguas Arriba according to daily timetable.
Not included:
Alcoholic beverages
Ground transfers to or from El Chalten or El Calafate
Activities non-scheduled by the Lodge
IN/OUT navigations to Punta Sur  required by the guests outside the specified times in accordance with the pre-defined terms arranged by Aguas Arriba.
Medical insurance
Bar, tips and extras
Fishing permits
Fishing guides & equipment rental.
Subcontracted local excursions such as horseback riding, Patagonia Adventure navigation, bicycles, Chinook salmon fishing, expeditions with Mountain Guides, baggage carriers and/or nights in a tent, etc.
Important notes: We suggest taking the evening flights on your flight out just in case there is any delay when leaving the Lodge due to climate conditions. In this case leaving the Lodge in the morning should be foreseen so as to provide a more operational margin.