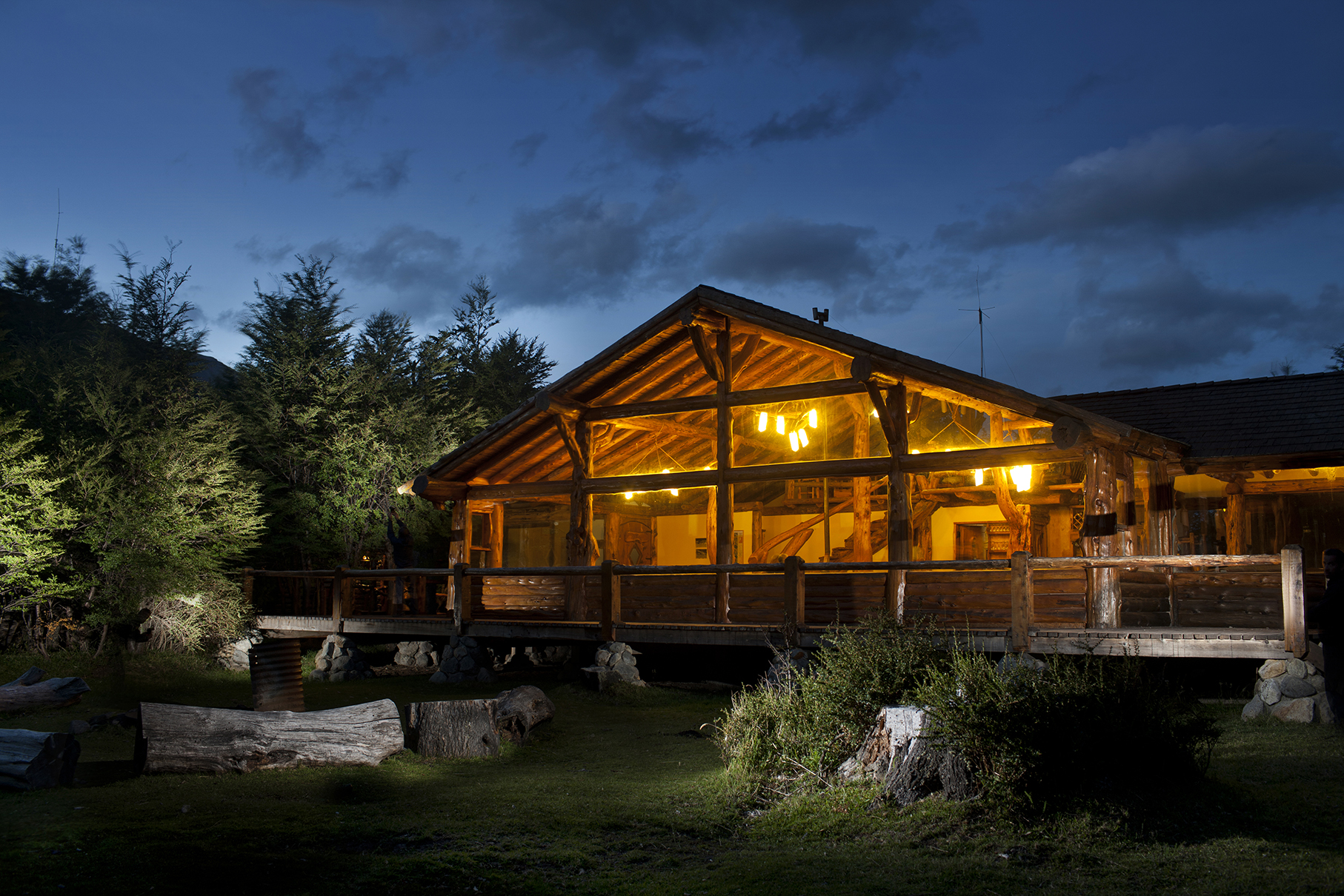 Imagine yourself in the middle of the Patagonian nature with amazing mountain views, the sound of silence and time at your expense to connect with this surreal environment.
---
Laguna Cóndor Mountain Refuge provides this experience to anyone willing to unplug from everyday life and technology.
This exclusive refuge is located on the west bank of the Río de las Vueltas, 17 km north of El Chaltén. Surrounded by an imposing scenery, this new lodging alternative combines the wild beauty of a nearly explored place with the facilities of a luxury camp.
The proposal is to enjoy the peace and quiet of the surroundings without the interference of technology, Hence, there is no mobile phone signal, Wi-Fi or TV available. Although there is permanent electricity provided by a hydroelectric turbine that uses the natural river torrent, reducing any impact or pollution that may be produced by a power generator.
Wood is the main element of the refuge. There is a main cabin that works as a common living room with a fireplace where you can sit and read a book, a breakfast room and a restaurant; all with beautiful views of the northern face of the mythical Mt. Fitz Roy.
Laguna Cóndor has eight small cabins located in the best spots of the property. Each one has two beds, a salamander and a deck; offering a complete privacy and comfort experience, an intermediate between a campsite and a hotel. There are also spacious locker rooms with toilets and hot showers; a multipurpose room with a fireplace and view to the mythical Fitz Roy.
The refuge offers different activities and excursions with the objective of providing and intimate contact with nature and the possibility to enjoy the peace of the place. There are many hiking trails and places to go over, from classic full day treks (such as Laguna Torre) to longer and more difficult options.
One of the preferred treks is the ascent to Loma del Diablo; a demanding but rewarding one, given the spectacular view from above of Mt. Fitz Roy. Its top is at 1800 meters, providing a great panoramic view of the whole area.
It is also possible to kayak across the waters of the Laguna Cóndor itself or to ride a mountain bike along the paths crossing the andean patagonian forest and lakes on a self-guided circuit that borders the Río de las Vueltas, including a few stops to contemplate cascades and the local flora and fauna that may come across.
Overall, Laguna Cóndor grants an unusual and reserved experience deep in the patagonian forest, where nature and relax are the protagonists.
Please, do not hesitate to contact our Kallpa Executives to learn more about this lodging option in El Chaltén.
---