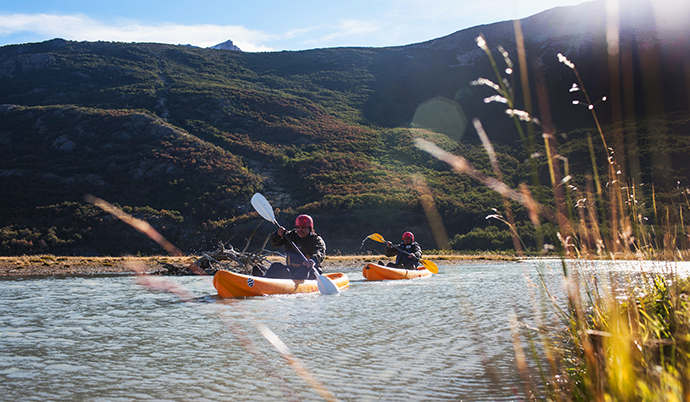 The act of traveling through Patagonian lakes and rivers enlightened our experience adding great value to our trip. While  staying in El Chalten, away from traditional trekking trails, looking for something different to explore we decided to try the
Las Vueltas River Kayak Experience
.
---

The Las Vueltas River (Río de las Vueltas), a.k.a. Gatica river, belongs to the Basin of the Santa Cruz river. A large portion of its waters has glacial origins and receives the tributaries, which are fed with water from snow drifts coming from the extreme North of Los Glaciares National Park. Headwaters in Lake Desert (Lago del Desierto) and as the name implies it flows into Lake Viedma meandering through lush beech forests and vertical walls.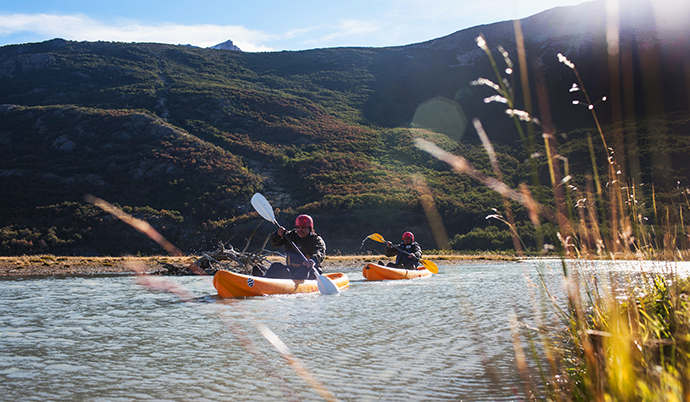 The way to the starting point of the tour it's a highlight in itself. With Mount Fitz Roy behind us, walking past the side of the famous Chorrillo del Salto waterfall and bordering Rio de las Vueltas. After 21 kilometers  we reach our destination. Upon  arrival, we´ll be welcome with coffee or tea, you can choose the one you like best,   be briefed about our activity and test the required equipment suited  to the activity we'll be doing.. The equipment and the safety elements are provided  locally:  the suit, the boots, a pair of neoprene gloves,a  life- vest and a helmet.
As soon as we're ready we´ll start descending and rowing through the river in our 20 Km. trip across the river. A few minutes later we´ll find ourselves  paddle practicing on Condor Lagoon. We continue our trip getting back to Las Vueltas River, enjoying the ride, and  if we have good weather we´ll get magnificent views of Mount Fitz Roy on our front. Luckily our guide knows how to  pick a great viewpoint to stop for lunch, have small talk and rest by the river.
It's necessary to do the activity if you are in great physical condition. No rowing experience is required, but some parts can be demanding and the trip is long. So make sure your travellers know this before the experience.
Eventually we arrive in El Chalten at Inn Hostería El Puma where we´ll be  able to leave the equipment and put on our own dry clothes.
Contact your Kallpa Account Executive and get more information about this and other experiences, they are full of great ideas and tips to enlighten your travelers´ trip and get the most of their experience in Argentina.
---
FACT SHEET
Minimum age: 14 years old and they must be accompanied by a parent.
Minimum pax requirements: 2
Difficulty: Moderate
Program description:
09:00 am. Transfer from El Chaltén to Fitz Roy Adventure Camp, 21 km.
10:00 am. Arrival at Fitz Roy Adventure Camp. Coffee/Tea. Briefing. Equipment test and waterproof gear try-on
11:00 am. Beginning of the descent through Río de Las Vueltas. A few minutes away, paddle practices on Condor Lagoon. Continue of descent.
Between 12:30 and 1:00 pm. Box Lunch on designated viewpoint selected by the tour guide.
2:00 pm. Arrival to El Chaltén.
2:15 pm. Transfer to Inn Hostería El Puma. Here the travelers can take off the suits and put on their clothes.
3:00 pm. End of services.
Included
River Guide.
Full neoprene-suit, gloves and boots.
Personal safety gear (life vest and helmet)
Snacks, tea, coffee and lunch according to program.
Radio contact with El Chalten.
Minibus transfers.
Not included
Services not specified in the program