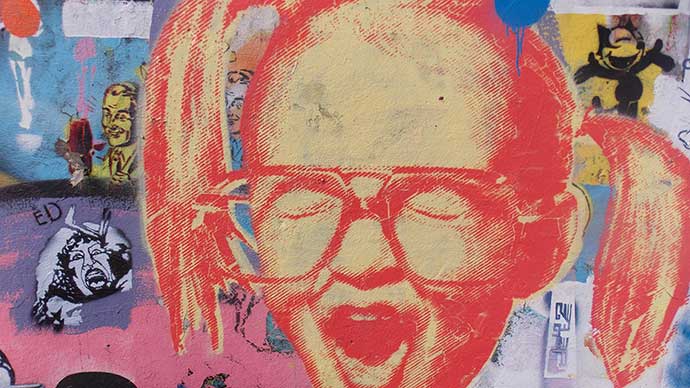 We are always looking for those hidden treasures in the city and in this opportunity we found Graffiti Tour in Buenos Aires. I love this kind of excursions that are no traditional and the experience was far from my expectations
Graffitimundo is a non-profit organisation which promotes the urban art scene of Buenos Aires and supports local artists.
I had the opportunity to participate in one of their guided tours. The one they do starting in Colegiales and Ending up in Palermo and also the one that starts in La Boca and finishes in Palermo. I was amazed about the paintings on the walls, how every artist captures the essence and reveal the extraordinary history of the city's vibrant urban art culture, from its fiery political origins, to the modern context in which Buenos Aires has become one of the world's most exciting cities for street art.
They took me off the beaten path to visit hidden graffiti hotspots and open air galleries. Stopping by an artists' studio and the city's only street art bar and gallery, the tours also give you the chance to meet the artists themselves and buy affordable artwork.
Their tours have been developed in close collaboration with the city's leading artists, enabling us to share their personal stories and motivations, together with the most spectacular art the city has to offer. This helps the traveller to understand the aspects of their work in relation with the experience they have and the look about society that they have.
There are several options to enjoy this tour. If you'd like to join on a tour, this are some of them:
GROUP TOURS
Our group tours provide a visually stunning introduction to the vibrant world of urban art in Buenos Aires, sharing the art and its compelling history. Meet artists and visit the only street art gallery in the city.
PRIVATE TOURS
We are happy to arrange private tours at any time or day of the week, whether you have a particular interest or would just like a private introduction to the scene.
BIKE TOURS
For those who prefer to cruise the streets on two wheels, we run bike tours every Sunday in collaboration with Biking Buenos Aires. Spaces are very limited so it's recommended to book well in advance!
HIDDEN WALLS TOUR
Explore the hidden historical barrios of Buenos Aires to discover huge scale works by international artists such as Blu & Gaia. Ideal for architecture enthusiasts and photographers.

Some of the artist that we are going to watch during the tour are:
Triángulo Dorado
Formed in 2007, Triángulo Dorado is one of the newer art collectives to join the urban art movement in Buenos Aires. The group consists of three artists; Santiago Panichelli (Nemer), Pedro Panichelli (Hombre Tiki) and Francisco Ferreyra (Lema).
After a relatively short amount of time painting together, this group already has a remarkably well developed and recognizable style. Influenced by everything from urban art and graffiti to muralism and expressionist painters, Triángulo Dorado explore techniques and styles from a wide range of both contemporary and classical art movements.
Though combining the talents of three different artists, this collective works cooperatively to create dazzling murals that are collaborative works of all three. Triángulo Dorado explores both elaborate geometric compositions as well as striking figures that combine abstract patterned bodies with startlingly realistic faces. The group is known for their use of darker tones and a palette of regal colors.
Gualicho
Gualicho grew up in the suburbs of Buenos Aires, and first began painting graffiti in 1998. In 2006 he adopted the artistic pseudonym "Gualicho", a name stemming from the spanish verb "to bewitch".
Gualicho creates dense, interconnected landscapes which feature complex combinations of natural and industrial elements. His murals combine organic structures with machinery, creating retro-futuristic scenery in a post-graffiti style.
Gualicho uses a strange language of symbols and ambiguous figures to explore different facets of human nature, and his works are heavily influenced by folk art, religious icons, comic graphics and 60's psychedelia. His style has also been inspired by his formative influences, and elements of graffiti, skate culture, comics, tattoo art and rock can be seen in his work.
Gualicho's surreal and provocative works have transformed store fronts, private houses, abandoned buildings and public walls, along with trainers, illustrated books, and even a series of ceramics. He is a creator constantly on the move and is as comfortable working on walls as he is with other materials.
Stencil Land
Stencil Land first began cutting stencils for advertising in 1997. In 2003 he became inspired to use the technique for art and expression and has continued on this path ever since.
As an artist who uses stencil as his primary medium, Stencil Land does more than simply appropriate images for his own use. He creates original concepts through the manipulation of images, which often subvert the associations we have with them. Stencil Land often plays with national icons; Michelangelo's David can be seen throughout the city clutching a kettle and sipping from a mate, whilst life-size gauchos rest against the city walls, strumming electric guitars.
Stencil Land's pieces are striking both in terms of their content, and in their level of complexity and detail. His creations can be appreciated on a number of levels. Whilst he often creates artwork inspired by a specific theme or historical event, his pieces are always open to creative interpretation.
Having begun creating stencils measuring just a few square centimetres in size, Stencil Land now prefers to create imposing pieces up to three metres tall. His works can be seen in various galleries and museum exhibitions, though he reminds viewers that the essence of street art is always best experienced in its natural context.
You can request more information about Graffiti tour in Buenos Aires contacting your personal Kallpa Account Executive or at Incoming Kallpa Tour