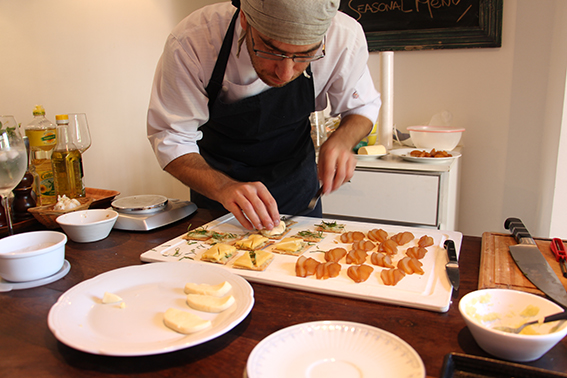 Share your travel experience back home delighting your loved-ones with traditional Argentine dishes learnt at a professional Chef's house.
---
In the porteño neighborhood of Palermo, a Chef and his girlfriend -a young couple specialized in culinary tourism- open their own home's doors to tell you all about Argentina's cooking & eating culture and teach you some traditional recipes that you will be able to recreate back home.
The class is pleasant and relaxed, in a private and intimate environment. The idea is to have a good time whilst drinking wine, learning about our country's culinary customs, cooking and eating.
On this experience, you will meet other travelers and cooking apprentices and have fun exchanging facts and personal impressions of your visit to Buenos Aires. Sharing with the home´s local owners and also with other people will enrich your stay.
Learn how to prepare the dishes using the freshest ingredients and, after the class, enjoy them paired with specially selected Argentine fine wines. The menu includes: traditional empanadas from scratch -dough and all- with two different fillings and cooking techniques. Llajua, a typical northern spicy sauce used for empanadas. Flan, a classic inherited dessert traditionally served with dulce de leche, a sticky, sweet, caramelized milk and sugar sauce that you will also learn to prepare. During the class, you will try three different wines from three different wine-making regions of our country: Salta, Mendoza and Patagonia.
Once the class is finished and the food is ready, buen provecho (bon appetite) and let's eat!
---
FACT SHEET
Half day regular shared excursion.

When: Tuesday & Thursday 6:00 to 9:00 pm; Saturday 10:00 am to 1:00 pm.

Where: Palermo, Buenos Aires.

Pax requirements: from 2 up to 9 people.

Private lessons available upon request.

Classes are given in English.

Any dietary restrictions should be previously advised.
INCLUDED
Cooking class, ingredients and cookware.

Three course dinner after class.

Wine tasting during the class.
NOT INCLUDED
Transfers from and to hotel.