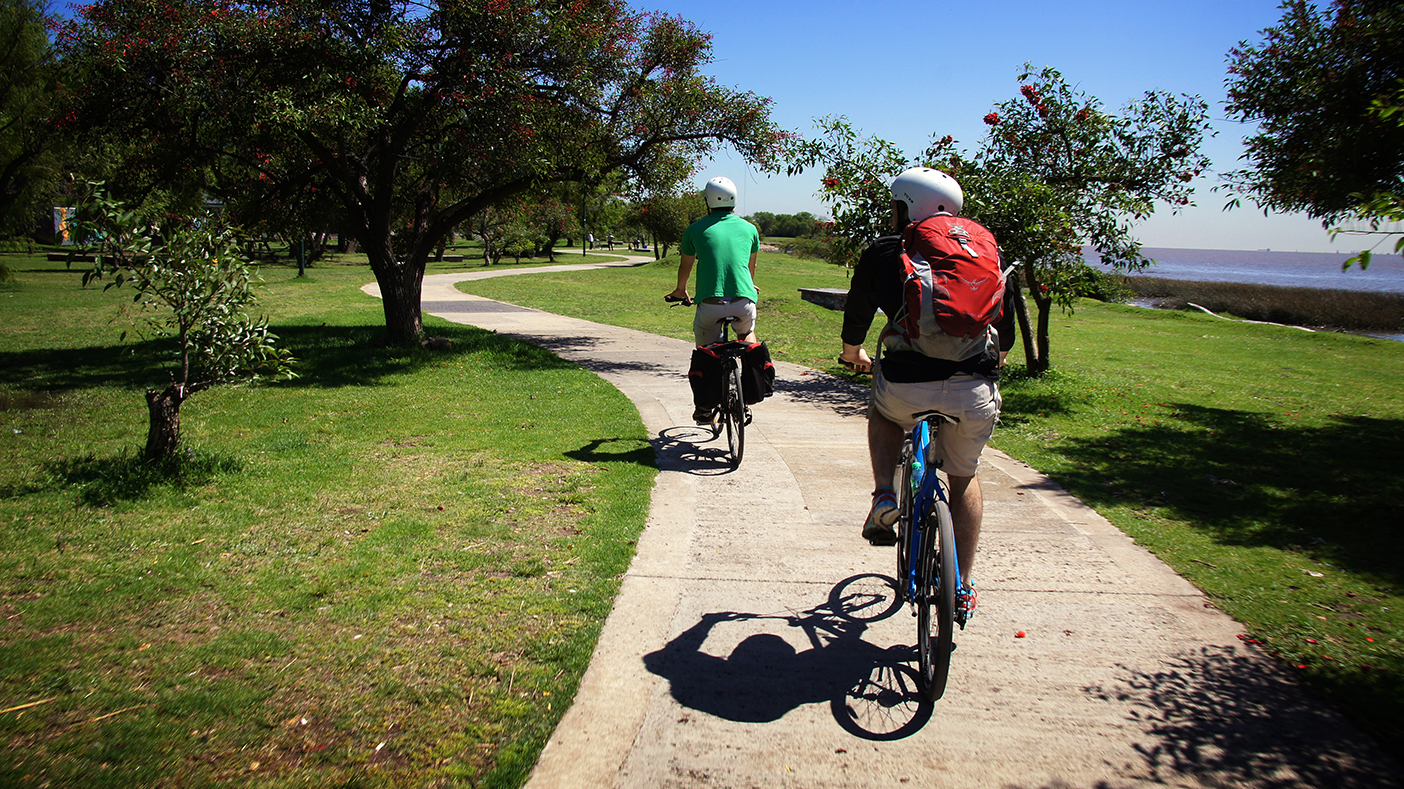 An adventure day: riding a train, biking and kayaking in Tigre and the Delta.
---
32 kilometers to the northwest of Buenos Aires we find Tigre town and the Delta of the Paraná river, a special place where nature invites to a unique experience. A cycling tour of Tigre and kayak rowing into the Delta offer a wide range of possibilities to combine both sport and culture in a beautiful setting.
This tour starts at the meeting point at the Botanic Garden in Palermo, where after picking up our bikes and helmets from the shop we have a technical and safety briefing. Then we start pedaling towards the green parks of Palermo until Lisandro de la Torre train station. Here we take the public train and soon we are out of the city of Buenos Aires and into the northern suburbs. The change of scenery is very noticeable along the way!
We get off in La Lucila and ride our bikes to Tigre. On the way we make a few stops to learn about the surroundings such as San Isidro, San Fernando and the Río de la Plata itself.
According to tradition, a jaguar (yaguareté, popularly called tigre) used to live nearby a stream, which later was named Tigre after the local people killed the animal to preserve their homes and lives. This zone used to be inhabited by jaguars but with the forward move of human population they became extinct. Nowadays just a few remain only in the Misiones' jungle.
The Tigre Delta is one of the largest in the world and also one that doesn't flows into the ocean but into the Río de la Plata, which separates Argentina and Uruguay. With its islands and canals, Tigre is usually called the "Venice of South America". Also, during colonial times, this area was used as a smuggling port, where the portuguese passed through their merchandise.
Going over Tigre town, we pass by two classic spots. First, the Puerto de Frutos, which used to be a fruit market in the old days but nowadays is a place where the traditional values and new design concept coexist. This is one of the main attractions in Tigre and can be visited every day. An open air colorful market and shopping mall with diverse and eclectic shops such as antiques, furniture and decoration, artisanal products in leather and wicker, candles, garden centers, fruit shops, pickles and cold cuts.
Then we ride along the Paseo Victorica, a picturesque short street along the edge of the Luján river that provides different gastronomic options, museums and rowing clubs. At one of these clubs we leave our bikes and get into the kayaks for the paddling adventure. After a short briefing and instructions, we get into the Delta waters and row slowly, enjoying the drift, towards an island.
At the island, a tasty asado is waiting for us. We share this Argentine ritual by excellence within a natural environment, at a table by the river. We try different meat cuts, have a drink, relax and enjoy the quietness of the Delta while we rest for a while.
Before getting too comfy, we grab our oars again and return to the kayaks to row back to the club where we left our bikes. With the sun going down, we ride again towards the Tigre train station, where we take the train again towards Lisandro de la Torre station. The bike tour is not over yet! We have a last stretch back to the meeting point in Palermo.
Biking and kayaking are two sporting activities that complement each other perfectly for an active tourism trip. The town of Tigre and the islands of the Paraná river are an oasis of natural landscapes and beautiful scenery unparalleled by other Buenos Aires sightseeing tours.
---
GENERAL INFORMATION
Full day regular excursion (9 hs).

Departs Monday to Friday at 9 am from meeting point in Palermo.

Roundtrip Transfers to/from the meeting point not included.

Difficulty: Low / Medium, but the activities are done at a peaceful and relaxing pace.

Total biking time: 2-3 hs

Total paddling time: 1.5 hs

Private service available upon request.

Weather: Only in the event of pouring rain will biking trips be cancelled or delayed

Minimum Age Requirement: 12 years and older. Ages 18 and under accompanied by an adult.
INCLUDES
Bike, helmet & Kayak.
Mate and snacks.

Lunch in Tigre (asado).

Bottle of water.

Roundtrip train tickets.

Insurance.

English speaking guide (ask for other languages).
---