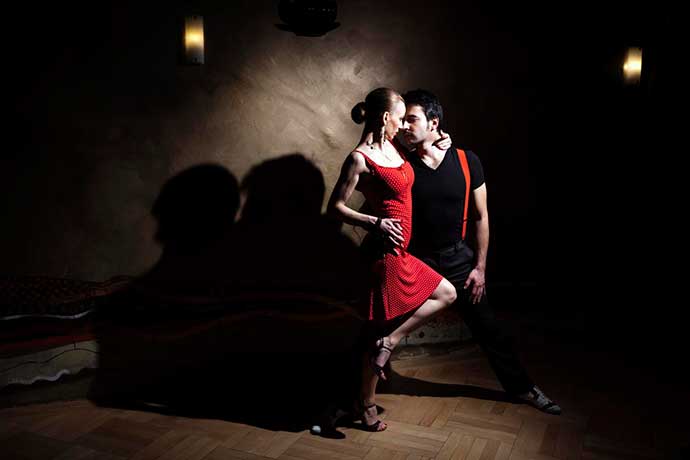 We started the year with tango in our veins and revisited La Ventana Tango Show. As always we were very satisfied and this is our review… enjoy it!.
If you are looking for a tango show which keeps the essence of real Tango and not much detail to Hollywood and style of the city of Buenos Aires, La Ventana Tango Show is one of the best options. The dancers show is first class rate and the gaucho receives special mention.
In the heart of San Telmo, La Ventana Tango opened its doors to the world in 1982. This fully restored historic tenement is a classic tour of Buenos Aires culture through time. The interior, preserving the purest of the building are ideal for a single proposal with 32 artists on stage area, two tango orchestras, a collection of folk music, dancers and singers. The atmosphere at this long-running venue, located in an old converted building, will take you back in time. There are two salons, both with rustic brick walls and ceilings, and rough-hewn wood beams; one has an impressive stained-glass ceiling.
My impression about the decoration is that they have all those classic ornaments and small figures, antiques that are a pleasure to be watched and provide a special atmosphere to the decoration.
The menu is provided with several options that makes it out whta is considered conventional. Includes international and typical dishes of our country, with the traditional charcoal grill and an extensive list of Argentinean wines.
One of the surprises and most aclaim part of the show is the folklore show which includes Andean musicians and a display of boleadores (balls on cords that gauchos used to tangle up prey). The tango show is also excellent, and there are 30 performers in total. They play traditional tango keeping the magic tha once Tango used to be.
We highly reccommend the Show at la Venta not only because of our experience but most of all because of our client experiences which talks better about it.
You can request more information about La Ventana Tango Show contacting your personal Kallpa Account Executive or at Incoming Kallpa Tour