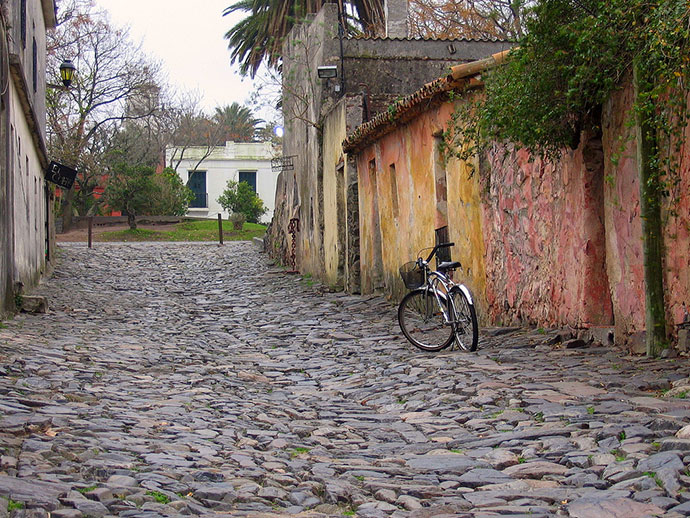 We are travelers, we love visiting cultural places and be able to do active tourism, get a bike and pedal around towns or cities to get the most of them. One of these experiences took us to Uruguay. We got our bikes, embarked them on the ferry and enjoyed a Self guided bike tour Colonia del Sacramento.
Let's talk about the Self Guided Bike Tour Colonia del Sacramento. This is a great option to get to know the city. We rented our bikes in Buenos Aires, the bikes were delivered to our hotel and we pedaled from the hotel to the pier where the ferry was set to leave for Colonia. They asked us to remove the front wheel so they can accommodate the bikes in the hold of the ferry.
After sailing for half an hour we arrived in Colonia del Sacramento. We disembarked and got our bikes back to start our trip. We visited the famous Calle de los Suspiros (Street of Sighs), the historic district passing through the Citadel Door, the light house, the governor's house as we pedaled along the coast amazed by the contrast between the white sands and the brownish color of the water of the river. We also saw the outside of the Bullfighting Arena, and the port.
Colonia del Sacramento has a lot of contrasts that are highlights to discover. It is a great place to take pictures. The contrast between the historic place and the local architecture. If you want to have a cup of tea in a vintage wagon we suggest you pay a visit to the Railway Museum and Cultural Space.
Another place you should visit, which has great trails to ride on a bike, is the Ferrando Park (Parque Ferrando) located at the entrance of the city, 1 kilometer away from the downtown area where you will find great examples of the local flora and fauna.
Discover this and more ways to enjoy bike tours in Colonia and in many other places around Argentina. If you need more assistance please contact one of our Account Executives and they will be happy to help you make the best of your trips or keep surfing our website and discover all you can do when traveling to Argentina.