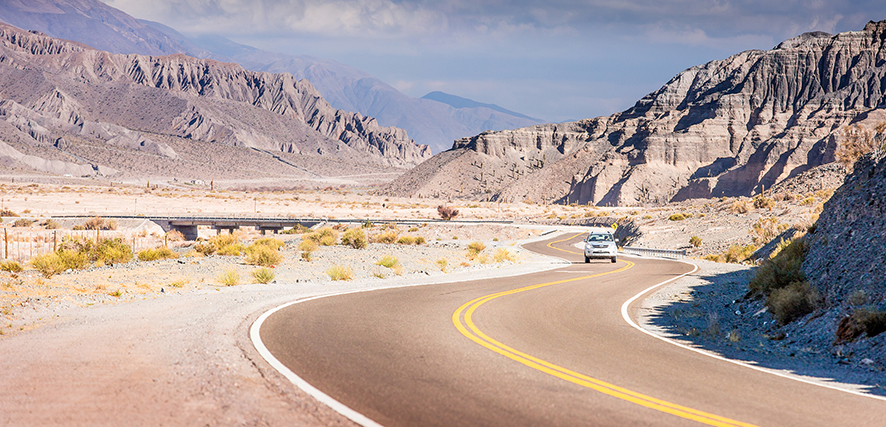 Visit the most emblematic sights in the North of Argentina on this journey through valleys, hills, rivers and gorges where tradition, culture, regional cuisine and relax await.
---
Get to know the northern culture taking part everyday in different and unique experiences of your choice where local people open their doors to share their hospitality and lifestyle. A cultural exchange where each person you meet will teach you and let you take a part of their daily activity.
On the way, stay and rest in charming boutique hotels specially selected for this trip. With typical Andean architecture and details, these hotels are built with regional materials and combine avant-garde design with woven items, craftsmanship and paintings by local artists.
Day one will take you on the first drive of the trip from Salta City to Castellanos, a town 15 km away, nearby Villa San Lorenzo. This is one of the most exclusive areas of Salta, surrounded by lush vegetation and majestic mountains.
Once in Castellanos, the choice of activity for the day will be between a visit to a local woman's home to learn and participate in the artisanal making of homemade regional specialties such as quesillo salteño, tamales and humitas; or meeting the students of a local country school to learn about their agricultural activities.
In the evening you may relax at the enchanting Hotel Amalinas.
After a 3 to 4 hours drive from Castellanos, the next morning will bring you to San Antonio de los Cobres. This is a typical town in the Puna and the second highest urban center in Argentina. Its plateau is over 3000 meters above sea level and is an enchanting place for its unique characteristics: the aridity of the soil, the salt flats, the high peaks of strong colors due to the rich variety of minerals and its flora and fauna which can survive under such extreme weather conditions.
One of the experience options to select here is a walk with llamas, where a shepherd will tell you everything about this ancestral camelid -once a working tool for the salteños ancestors-  and you will be able to pick your own llama to join you for a walk around town, recreating the former local custom when these animals were used to transport merchandise up on these heights.
Or you may want to visit Turu Maky (which means mud hands in quechua language) a ceramic workshop where you will see the complete artisanal process of the clay with ancestral techniques and also you will be able to do a piece on your own to take back home with you.
The night will be spent at Hotel de las Nubes.
The third day of this cultural adventure takes place approximately 160 km away from San Antonio. Purmamarca is located  in the province of Jujuy, in the Quebrada de Humahuaca gorge, declared World Heritage site by UNESCO. Purmamarca is an originally pre-Hispanic village from the early XVII century, located 65 km away from the capital city of Jujuy. Its name means Pueblo de la Tierra Virgen (Virgin Land Town) in aimará language. The main attraction here is the Cerro de los Siete Colores (Seven Colors Hill), which gives an impressive and colorful contrast to the town. The buildings are made of adobe and roofs of cardón and mud, all of them constructed around the main church from 1648 -Santa Rosa de Lima- nowadays a National Monument. At the main square you will find the handicraft market where it is possible to get regional items such as ceramic pots, woven carpets and blankets, ponchos, musical instruments and typical garments of the region.

Here you will be able to take an easy walk down Los Colorados. It is advisable to do it early in the morning, when the light is better and the temperature is cooler. The path is winding and flat and goes behind the famous Cerro de los Siete Colores. The hike offers perfect views of the red mountains. You will discover many shades of red on them and different mineral layers as well. The rustic rocky formations are the result of many years of erosion and sediment stack.
At the end of this active day you will find relax at Hotel La Comarca.
Already on the second half of the journey, the next day you will drive to Iruya where you will stay two nights. A location known for its geographic beauty and fantasy-like town with stone streets that go up and down, in Iruya the aboriginal culture mixes with the Hispanic. The name of the town has many meanings, but the most common one comes from the quechua or aymará languages from the word iruyoc, which means: iru -hay- and yoc -abundance-, so: abundante paja, which means many hay.
Today you may take a walk to San Isidro town, which is almost 8 km away from Iruya and would take you between 2.5 or 3 hs. San Isidro is another high-up village -located literally on a rock- that seems frozen in time with stone and adobe houses. The path to trek is by the riverbed of Iruya until the union of rivers San Isidro and La Cueva. The hike is interesting because of the colors of the mountains and the chances of seeing local inhabitants with their donkeys and also guanacos, llamas and condors in the wild.
The next day you may relax at the hotel but also enjoy the daily experience. You will visit a local lady's home for a regional cooking class. She will teach you how to cook empanadas salteñas -recipe secrets and all- and you may collaborate too. After the lesson, you will taste the delicious meal prepared by you.
On this location you will rest at the delightful Hotel Iruya.
Day 6 will take you back to Castellanos along the Quebrada de Humahuaca gorge, driving from 5 to 6 hours. On the way we recommend a stop at Maimará to admire the Paletas del Pintor (Paintor´s Palettes) which are magnificent geographic accidents and its many colors are better appreciated with the afternoon light.
You will spend the night again at Hotel Amalinas, where you will enjoy the facilities and relax at the gallery or garden. If the weather allows it, you may use the swimming pool too.
After a good night sleep and a week full of cultural experiences, the journey comes to an end with a final drive to Salta Airport
Hospitality, culture and imposing landscapes merge on this peerless Andean voyage that will give you memorable experiences to tell back home. Please contact your Kallpa Account Executive for more details and rates.
---
GENERAL INFORMATION
Daily experiences may vary depending on local people availability and regional festivities.

Program not valid for Carnival and Easter Week.

All experiences are provided in Spanish. English speaking assistance for the daily experiences upon request, subject to availability and with extra cost.
SERVICES INCLUDED
One daily experience of choice at every destination as detailed with mentioned services.

Pre-loaded GPS

Private arrival transfer from Salta airport to Car rental Office.

6 nights accommodation including breakfast at mentioned Hotels.
SERVICES NOT INCLUDED
International/domestic flights.

Car rental (see rated detailed below).

Travel insurance.

Personal expenses.

Tips and gratuities.

Meals not detailed in the program.
OPTIONALS UPON REQUEST
Half-board at hotels.

English assistance for daily experiences upon request.